Here's an opportunity to get rid of those unwanted bicycles cluttering up your garage or shed: donate them for a good cause at the charity bike drive being held Saturday, October 24, 2020 from 9 AM to 1 PM at the Franklin Recreation Department Headquarters located at 275 Beaver Street in Franklin, MA.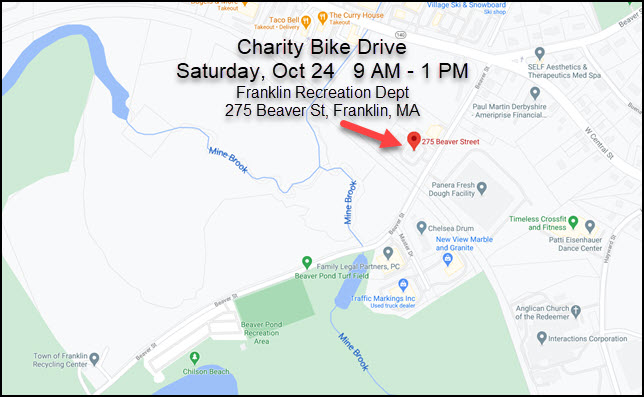 What you can donate
The drive will accept bicycles that are usable as is, or which could do with repairs or refurbishment, and even bikes that are good only for parts. Just no rust, please!
Eagle Scout project
The bike drive is being held by Franklin High School senior Alex Gardenier, who is an Eagle Scout candidate with Boy Scout Troop 99. He is conducting the bike drive to benefit the charitable organization Bikes Not Bombs.

Pick-up service
Can't get your bikes to the drop-off area at 275 Beaver St on October 24? No problem! Alex is offering a donation pick-up service – he'll come to you! Just email him at:
Copyright ©02038.com