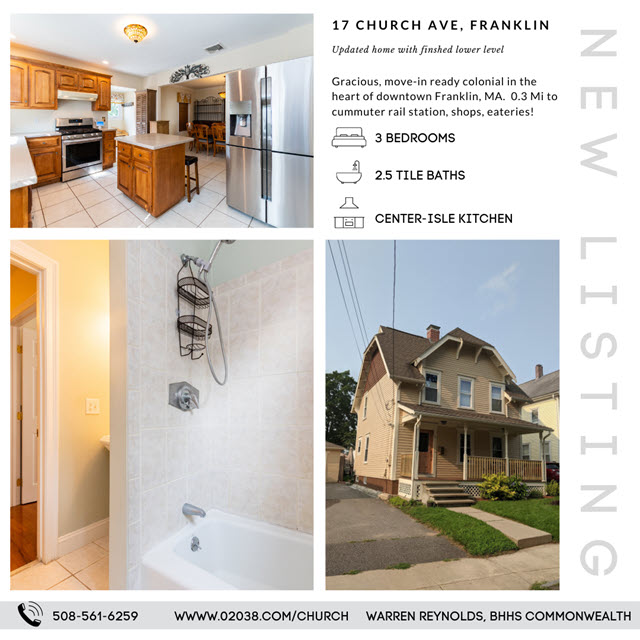 17 Church Avenue is a nicely updated colonial home for sale in Franklin, MA. The asking price is $430,000. Contact listing broker Warren Reynolds for details and a private showing.
Strategic location
17 Chuch Ave is set on a level lot with a fenced yard in the heart of downtown Franklin, MA.
The home is just 0.3 mi from Franklin's downtown commuter rail station, many eateries and shops. Follow the hotlinks in the icons in the map to learn about the recreational, educational, cultural, and shopping resources close to the 17 Church Ave.
3D tour of the home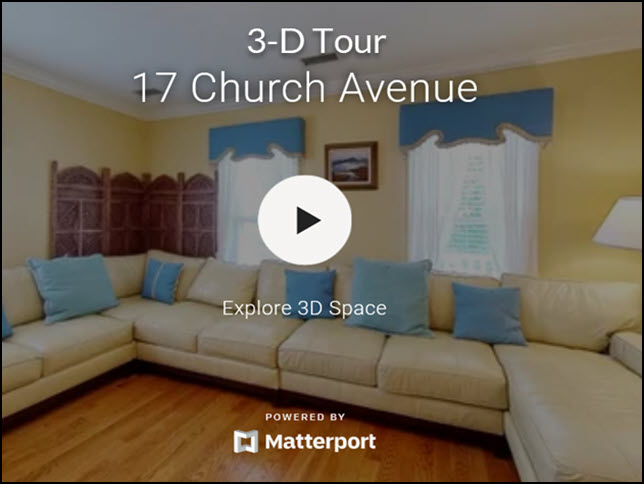 Follow the hotlink in the image above or at right to access the 3-D tour for 17 Church Ave in Franklin, Massachusetts.
Floor plan with photos, room dimensions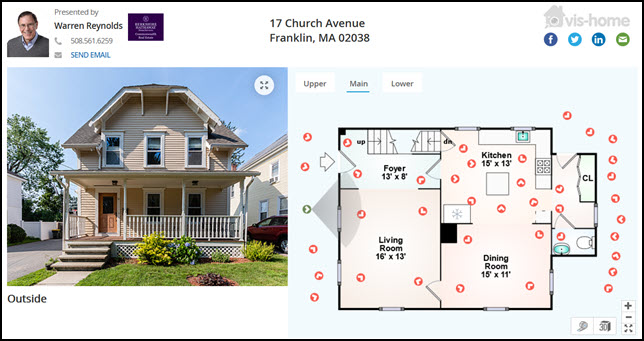 Click on the hotlink in the image above or at right to access an innovative floor plan for 17 Church Ave. You'll see a lot more than just room dimensions and photos. The plan has a furniture placement function. You can size and insert furniture pieces into the rooms' icons. You'll be able to see how well your current furniture works in the house – amazing!
Video of the home
The video below highlights the special features of the property and is well worth watching!
Photo gallery
As you'll see in the photo gallery below, 17 Church Avenue in Franklin, MA is well-cared for, with neutral decor, a fresh and bright interior, and white woodwork. This means you can move in without delay or hassle!
The home was substantially renovated in 2004 and further improved by the current owners. A lot of the expensive work has been already been done! Vinyl windows, recent roof, central air, beautiful center-isle kitchen open to formal dining room, modern tile baths and a finished basement with family room, home office and full bath – WOW! There's lots of antique charm with high ceilings, crown molding, rich hardwood floors, attractive French doors and a lovely front-entry staircase.
Use the form below to ask questions, set up a showing!