The Massachusetts real estate market was pulled in two opposite directions during the first quarter of 2022.  On the upside, home prices rose 11.7% over 2021's first quarter. Open houses were mobbed by buyers and just about every new listing got multiple offers. On the downside, the number of homes sold during the first three months of the year fell 12% from year-ago levels. This marked the first significant drop in first quarter home sales volume in many years.
The video above reviews the events for the MA housing market so far in 2022. Here's a quick snapshot of Massachusetts real estate for the quarter just ended: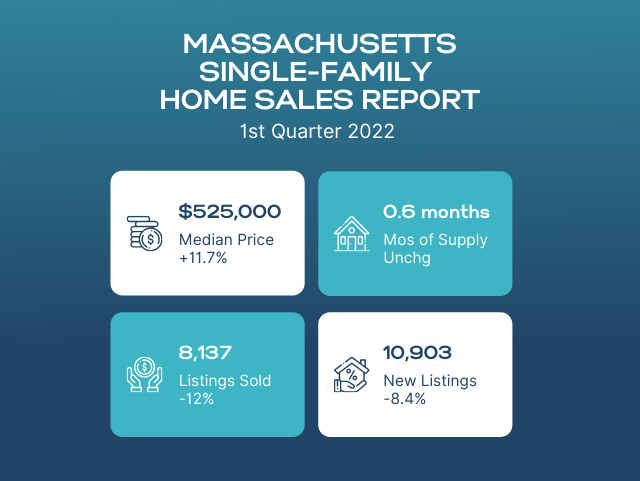 The above stats are for single-family homes listed and sold on MLS-PIN, the main Multiple Listing Service in Massachusetts.
Median home sale price rises 11.7%
First, the bullish news about Massachusetts housing market so far in 2022: home prices continued their run of price gains.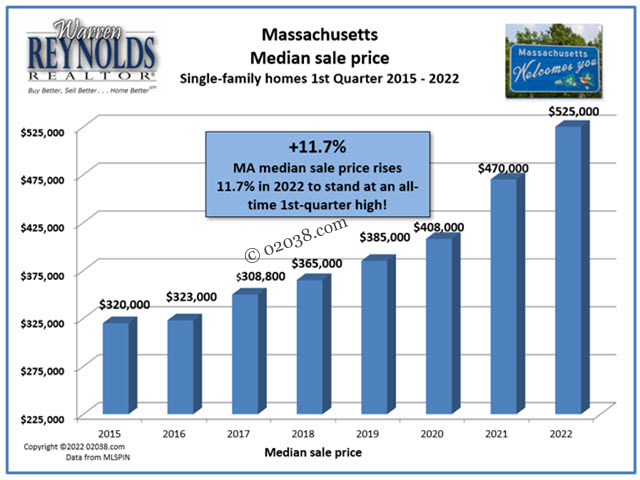 The median sale price of single-family homes sold on MLS-PIN so far this year has risen 11.7% to $525,000, compared to $470,000 in the first quarter of 2021. The median sale price now stands 29% above where it was only two years ago. That's a sizable increase, especially since it came during the economic and social uncertainties of the pandemic.
Home listings and sales volume fell
There was some bad news in the sales figures for the first quarter of 2022: listings and sales volume on MLS-PIN both fell this quarter, compared to the first quarter of 2021.
The number of home listings has been dwindling for over a decade in Massachusetts. Take a look at the appallingly low inventory of available homes in Massachusetts: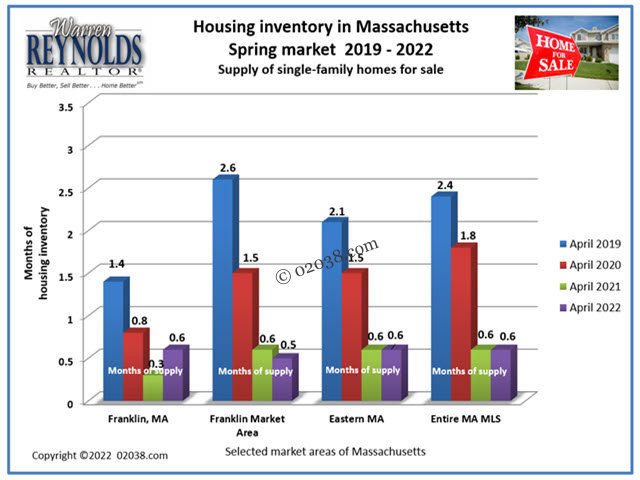 With only one-half of a month of supply of single-family homes for sale in the Commonwealth, the decline in new listings during the first three months of 2022 should not come as a shock.
But it is significant that first quarter home sales volume fell sharply. Home sales were off 12% in 2022, compared to the prior year's first quarter results. We may be seeing the effect of high home prices driving some buyers out of the market.
Inflation eroding home buyer demand?
Housing demand also may be being negatively affected by raging inflation.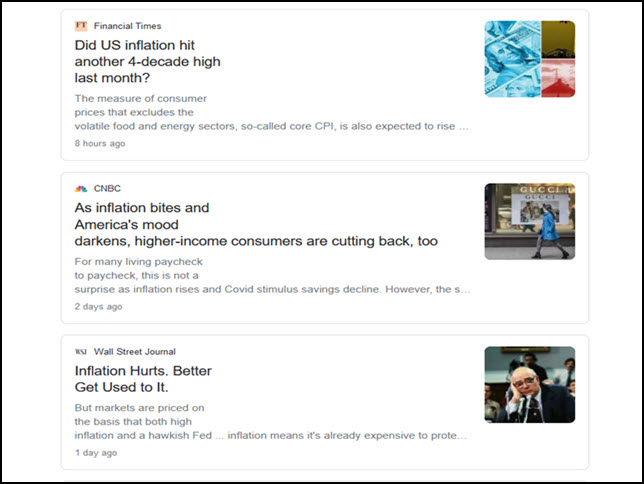 The huge increase in the cost of oil and gas and pandemic-related supply chain problems have driven the price of just about everything higher nationwide over the last twelve months. It is plausible the high cost of living is pushing some home buyers to the sidelines.
Mortgage rates on the rise
Another factor that may be slowing the pace of home sales in Massachusetts is the accelerating rise in mortgage interest rates.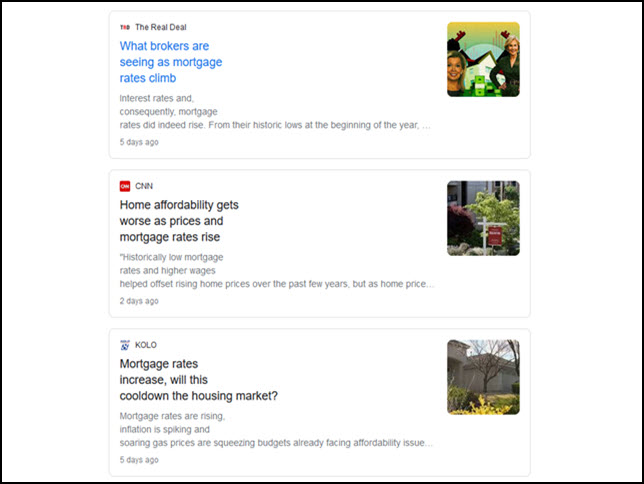 The interest rate for 30-year fixed-rate mortgages has neared 5% in recent weeks. This has made mortgage carrying costs a lot higher than what they were just six months ago. If the uptrend in mortgage rates continues as 2022 progresses, more and more buyers could drop out of the housing market. Home sales figures for the second quarter of the year will bear watching!
Bull market for housing to continue?
No one currently is predicting that the booming Massachusetts real estate market is soon to go bust.  As we pointed out at the start of this post, attendance at open houses remains overwhelming, and new listings generally are still going under agreement quickly after receiving multiple offers.
But the decline in home sales volume may be signaling that another round of double-digit increases in home prices this year will not be in the offing. Any pause in the relentless rise of MA home prices might be a good thing, given how over-heated conditions have been in Massachusetts real estate for the past two years.
A slowdown in home price appreciation during 2022 would certainly help give home buyers some breathing room. Blunting another home price spike might help extend the life of the long up-market cycle we have been experiencing in the housing market since 2012.
What does this mean for home buyers?
If you can afford to buy a home, do so. Waiting for home prices to decline looks like a fool's venture, given how strong the demand for homes remains. Mortgage rates are still extremely low on a historical basis and the Massachusetts economy is growing.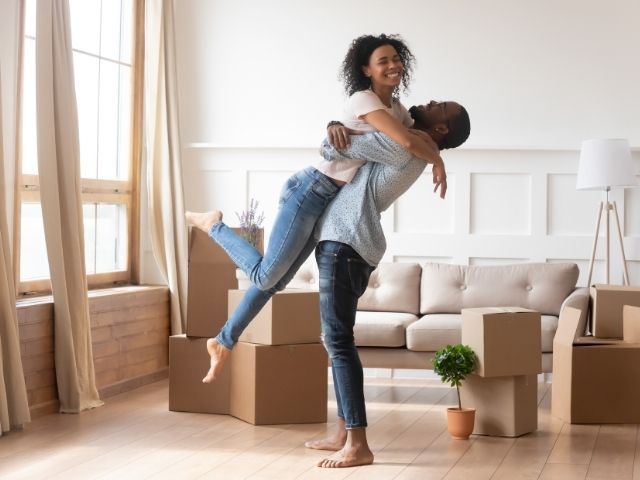 There is such an under supply of homes for sale that you should view any lessening of home buyer demand as an opportunity to have a better chance of securing housing. 
You'll still need to be very prepared to get your offer accepted given how competitive the market is. There are strategies home buyers can adopt to increase the chances of getting their offer accepted. Talk to us, schedule a consultation with us. We'll review with you how to structure and present your offer in ways that will increase your chances of getting your offer accepted.
For home sellers, the key is preparation
Understand that if you properly prepare your home for market and price it strategically, there's an excellent chance that your home will find a buyer very quickly.  This means, before you put your home up for sale, you need a plan for where you'll move to.  After your home hits the market, you may not have much time to figure out where your next home will be.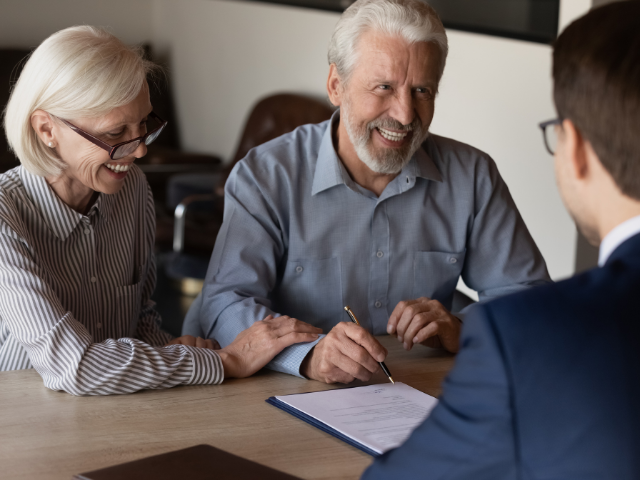 It's also very important for home sellers to understand what criteria in an offer are important to you, so that you can categorize and chose from the multiple offers you'll likely be receiving. Offer forms are complex and have a lot of boilerplate legal language. In addition, many offers are poorly drafted by buyer agents, so you need to be very much on top of what the written language in the various offers really means. Having an agent who has years of experience in negotiation and the re-drafting of clauses in counter-offers can be a life-saver in today's complicated and fast-paced selling conditions.
Free, no-obligation consultation
If you're looking to buy or sell a home in Massachusetts, we offer you a free consultation.  Use the contact form below or call us at 508-561-6259.  We'll review your specific situation and help make sure you are best positioned to succeed in this demanding market.
I'm Warren Reynolds with Berkshire Hathaway HomeServices Commonwealth in Franklin, MA. I'm an attorney in addition to a real estate broker. We're here to help you navigate and find success in today's exacting real estate environment!
Copyright ©02038.com