2022 saw sale prices rise to new highs at the Spruce Pond Village Condos in Franklin, MA. The average sale price of homes at Spruce Pond rose 14.8% in 2022 to end at a record high $514,167.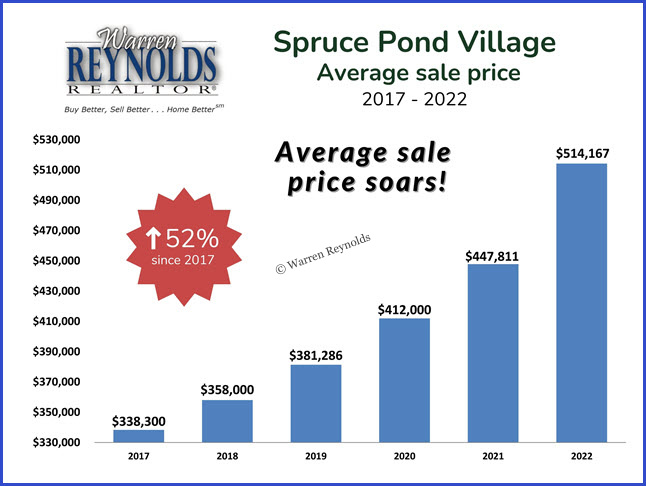 Spruce Pond's average sale price has risen 52% since 2017!
Longer-term view
The chart below shows how Spruce Pond's average annual sale price has fared since 2004.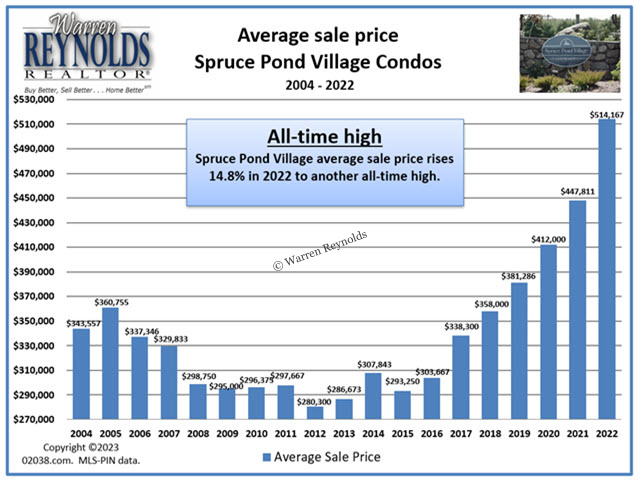 A prolonged real estate slump extending from 2007 into 2013 drove the average annual sale price at Spruce Pond down into the $280Ks in 2012 – 2013. It wasn't until 2017 that the average annual sale price began a marked rebound. At $514,167, Spruce Pond's current average annual sale price stands 83% above the $280,000 low of 2012.
Sales volume falls
Three units sold during the year, the smallest annual sales total at Spruce Pond since only one unit changed hands in 2018.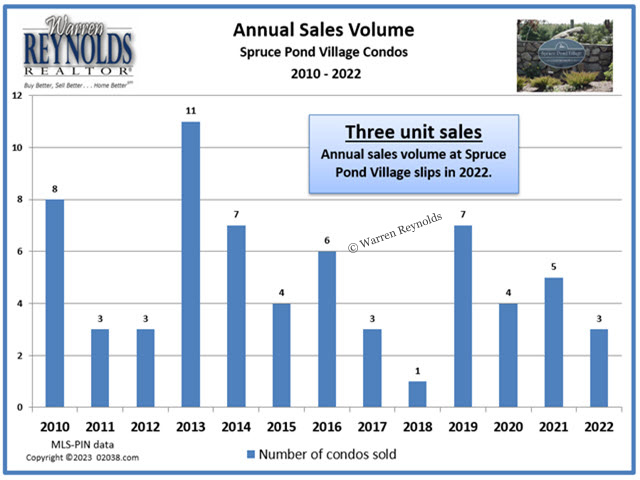 Despite the drop in sales volume, the average days on market of units sold during 2022 was a very short eight days. Buyers snapped up available units very quickly.
2022 Spruce Pond Village sales report
Click/tap on the hotlink in the image below to download a review of all the units at Spruce Pond that sold during 2022.
In the report, you'll see that two of the three Spruce Pond units that sold in 2022 generated selling prices above their asking prices. Both these units benefited from updated kitchens and has good interior cosmetics. The third unit that sold for less than its asking price was tenant occupied and needed improvement.
For help and advice on Spruce Pond Village Condos
We sold more condos during 2022 in Franklin, MA than any other broker! Contact us for help on advice on either buying or selling at the Spruce Pond Village Condominiums in Franklin, MA.
Copyright ©02038.com