The F.X. O'Regan Early Childhood Development Center (ECDC) is a highly popular preschool run by the Franklin, MA public school system.

The ECDC serves young children in Franklin of all abilities and developmental stages. It provides extra resources and services for special-needs children. The Franklin Public Schools offers developmental screenings at no charge to families. These screenings are designed to identify children who may qualify for special education services.
ECDC brochure
A very information brochure describes how ECDC serves young children in Franklin. Follow the hotlink in the image below to download the brochure.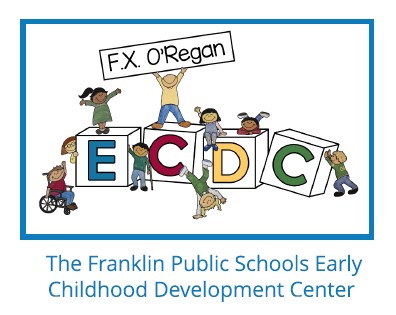 Here's an excerpt from the brochure:
Most children participate in our inclusive, or "integrated" preschool model. In these language-based classrooms, children of all ability levels, with and without identified special needs, are taught together in an environment that nurtures peers as partners in learning. Research has proven that linking children of varying ability levels actually enhances the growth and development of all the children. Each of our classrooms maintains a low class size, maxing out at 15, with a Massachusetts certified teacher and at least one qualified educational support professional. In addition, we also have a classroom for children who require an intensive trans-disciplinary, multi-sensory, and total language-based approach. Children who qualify for this intense setting are infused with supportive services and therapies that help stimulate growth and development. It is our goal to include all children in all aspects of our program to the greatest extent possible, creating opportunities for social connections and cooperative learning.
F.X. O'Regan Early Childhood Development Center (ECDC)
224 Oak Street
Franklin, MA 02038
508-541-8166
https://www.franklinps.net/ecdc