The Highwood condominium community in Franklin, MA experienced something of a price bounce in the first half of 2011.  The average selling price of units at Highwood rose nearly 10% in the first half of the year compared to year ago levels.  However, there were only 2 unit sales at Highwood during the first six months of this year, decreasing the statistical import of the rise in the 2011 average selling price.
28% off 2005 peak
Current selling prices for condo units at Highwood are at about 28% off from their peak back in 2005.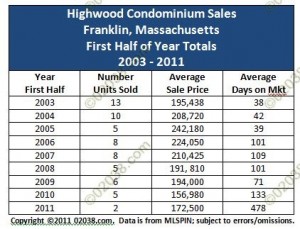 Prospective home buyers take note: today's low prices at the Highwood condominiums in Franklin, Massachusetts should prove to be bargains in several years when the market recovers.
Two Highwood sales during 1st half of 2011
Of the two Highwood unit sales recorded on MLS-PIN during the initial six months of the year, one was a short sale.

The short sale 38 Highwood Drive sold at the steeply discounted price of $130,000.
Time to buy a condo in Franklin, MA
The first half of 2011 saw extensive real estate market weakness throughout Massachusetts and also in the Town of Franklin, MA.
There is a current consensus among market analysts that MA home prices should turn higher in 2012 after continued softness for the rest of 2011.
So 2011 looks like a buying opportunity.  Now's the time to buy a condo in Franklin!
Learn more about the Highwood condo community.
Click the following hotlink to access information about the many reasons Franklin, MA is such a great place to call home!
Copyright ©2011 02038.com