MLS sales data for 2011 shows an 8.7% rise in average selling price for condo units in the Franklin Crossing condominium community in Franklin, MA compared to the first 6 months of last year.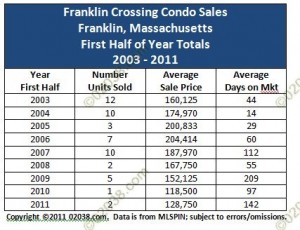 However, this price statistic is unreliable due to the small samples from which it was derived: there have been only 2 unit sales at Franklin Crossing so far this year while only one unit in the complex sold on the MLS by this time in 2010.
37% decline in values since market top
Current selling prices at Franklin Crossing are 37% lower than their highs in 2006.  However painful this is for current owners, the new pricing is setting the stage for renewed buyer interest and a rebound in unit values as the MA real estate market regains its footing in coming years.
2 sales at Franklin Crossing so far in 2011

Of the two Franklin Crossing sales to date in 2011, one was a range-priced offering of a nicely upgraded unit that sold for $132,500 after initially asking $150,000.  The only other 2011 sale so far was an investor-owned unit that sold for $125,000.
Home prices and sales volume in Massachusetts were anemic during the first half of 2011, creating a distinct home-buying opportunity.
Forecasters are calling for MA home prices to remain under pressure for the rest of 2011 and then a recovery should begin in 2012.
You can learn more about the Franklin Crossing condo community in Franklin, MA.
Here's a wealth of information about the wonderful Town of Franklin, MA – a great place to call home or in which to buy an investment property!
Copyright ©2011 02038.com