First day of school at Keller Elementary in Franklin, MA
Today was the first day of school for the public school system in Franklin, MA. The cloudy, rainy weather did not put a damper on the spirits of the kids as they excitedly renewed acquaintances with old friends and met their new classmates and teachers.
Video of the start of school at Keller Elementary
Here is a short video with scenes from the assembly of students outside the Keller Elementary school before they entered the school:
Learn more about the Keller Elementary School
Keller Elementary is a wonderful school!  I know because I have had one child get his elementary education at Keller and have a second child attending this school.
You can learn more about Keller by following this hotlink.
Search for homes for sale in Keller School district
Did you know you can now find Franklin, MA homes for sale that are located in the Keller School district?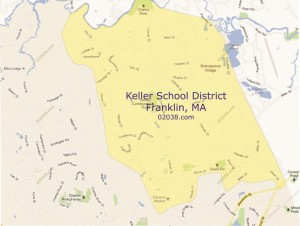 Just follow the image above or use the hotlink and you'll see the homes currently for sale in the Keller Elementary School district in Franklin, Massachusetts.
You can use this hotlink to see homes for sale in any of the six elementary school districts in Franklin.
Copyright ©2012 02038.com