The Town of Franklin, MA has won a surprising number of national and regional "best of" and "top ten" awards in recent years. The accolades garnered by Franklin have come from a wide range of respected professional publications, including Bloomberg Businessweek, CNN Money, Boston.com and Family Circle Magazine.
Franklin is a peaceful, prosperous community of 32,000 with lots of small town ambiance located in the heart of the bustling I-495 corridor in Massachusetts. For this pleasant community to receive such repeatedly positive national recognition speaks volumes about the high quality of life offered by Franklin. If you're looking for a great place to call home, Franklin, MA deserves your serious consideration!
Below is a recap of all the awards that have come Franklin's way.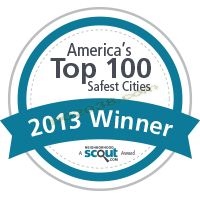 The newest national recognition of Franklin, Mass comes from location-based data product vendor Location, Inc. via its affiliate NeighborhoodScout.com. NeighborhoodScout.com publishes city and neighborhood crime statistics for municipalities and neighborhoods across the entire US. The site recently named Franklin, Massachusetts the "Safest City in the US" as part of the its annual Top 100 Safest Cities in the US. What's most interesting with this "top 100" list is the number of other Massachusetts communities Franklin beat out for top honors. NeighborhoodScout placed Franklin ahead of such desirable Massachusetts communities as Wellesley, Newton, Shrewsbury, Marshfield, and Arlington.
Best Places to Raise Kids in US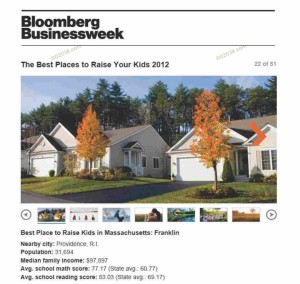 Franklin was proclaimed one of the best communities in the US in which to raise children by Bloomberg Businessweek in 2012. Bloomberg Businessweek said it winnowed down a field of 4,000 US cities and towns to 50 winners, one for each state. Of all the 350+ municipalities in the Bay State, Franklin was named the winner for Massachusetts. Bloomberg Businessweek said Franklin offered the best combination of schools, economy, services, crime, air quality and ethnic diversity in the Bay State!
Top Ten Places in US to Raise a Family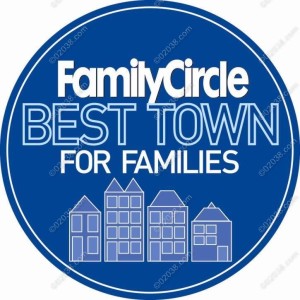 In 2009, Family Circle Magazine named Franklin, MA one of the "Top Ten Places to Raise a Family" in all of the United States! In selecting its ten national winners, Family Circle looked for a strong regional economy, pleasant small town ambiance, quality housing stock, great schools, and plenty of recreational resources. Franklin was one of only ten communities across the US to make the grade – quite an honor!
Top Ten Places to Live and Launch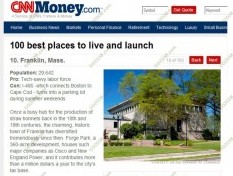 CNN Money named Franklin, MA as one of the nation's "Top Ten Places to Live and Launch". This 2009 award recognized Franklin as one of the 10 best places in the United States in which to live and do business. CNN Money cited Franklin's rare combination of an attractive business environment coupled with a high quality of life and ample access to nature and leisure activities.
Best Towns in New England in Which to Raise Families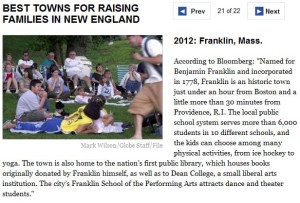 Boston.com recently issued a list of approximately 20 communities in New England that were the "best towns" in which to raise families. Franklin is one of only three Massachusetts towns to make the list. This ranking by Boston.com drew heavily from several years of content from the Bloomberg BusinessWeek "Best Towns" surveys.
Why does Franklin, MA keep appearing in "best of" and "top ten" surveys?
Let's be realistic: finance and lifestyle publications have created a wide range of "best places" reviews. There are annual lists of "best places" to retire, raise a family, start a business, find a significant other . . . the roster of "best of" reviews can go on and on. The problem with these "best of" articles is that there is a great deal of pressure for new content. Every year, new winners must be named or there would be no reason to keep publishing the lists. One year's winners don't often appear on the next year's "best of" report! And yet . . .
And yet, Franklin, MA does keep appearing in a variety of well-respected "best of" reviews, even though the town is not famous for anything and is not located in a glamorous or "destination" part of the country. Franklin keeps winning accolades because it's in Massachusetts, one of the nation's high tech and life sciences capitals, and because the town itself truly has a lot to offer as a place to call home.
Franklin enjoys a commuter-friendly location far enough away from Boston to have an affordable, modern housing stock in attractive neighborhood settings. The community supports a highly developed array of youth sports programs and has excellent recreational resources. Parents appreciate Franklin's many childcare providers and excellent public schools. You won't feel isolated in Franklin, Mass: the town has a thriving arts and entertainment scene and there is plentiful shopping in town and up an down I-495.
Franklin is roughly equidistant from the cities of Boston (26 miles), Worcester (28 miles) and Providence, RI (26 miles). This means there are many cultural attractions and things to do year round within driving distance. Franklin is a 10 minute drive from the upscale Wrentham Premium Outlets and is about 20 minutes from Gillette Stadium (home of the New England Patriots) and the exciting Patriot Place a 1.3 million square foot complex of shopping, entertainment and commercial uses in Foxboro, MA. Franklin is also approximately 50 miles from the beaches of Cape Cod.
Contact Warren to learn more about Franklin, MA and see some of the wonderful homes available there!
Copyright ©2014 02038.com