With homes in Massachusetts selling at a record pace and Greater Boston home prices surging nearly 5% above their previous all time high, economists and housing experts at a conference held recently in Boston predicted continued strength in 2017 for the Massachusetts real estate market.
Boston "one of the best markets in the country"
Greater Boston is "one of the best markets in the country, certainly the strongest in the eastern half of the country," said Jonathan Smoke, chief economist at Realtor.com during his presentation at the 15th Annual Regional & Community Bankers Conference held at the Federal Reserve Bank in Boston on November 17.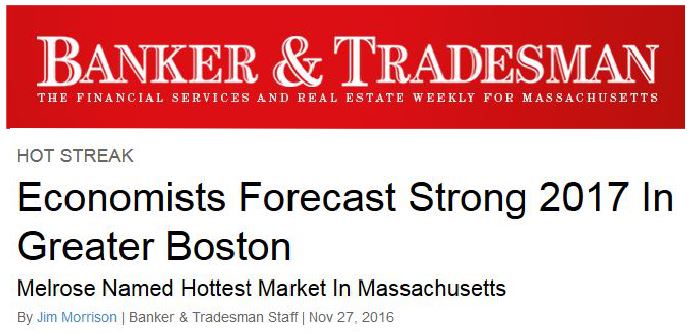 "The fundamentals of Boston are strong," Smoke said. "It's one of the healthiest markets in the U.S. There are no signs that would point toward a slowing down of anything."
You can read a recap of all the bullish Boston real estate presentations made at the conference here, or by following the hotlink in the image above.
2016 sales figures continue strong
2016 has been a superlative year for real estate in Massachusetts.  The seasonally adjusted Case-Shiller Home Price Index for Boston shows home prices in the Metro Boston region at record highs.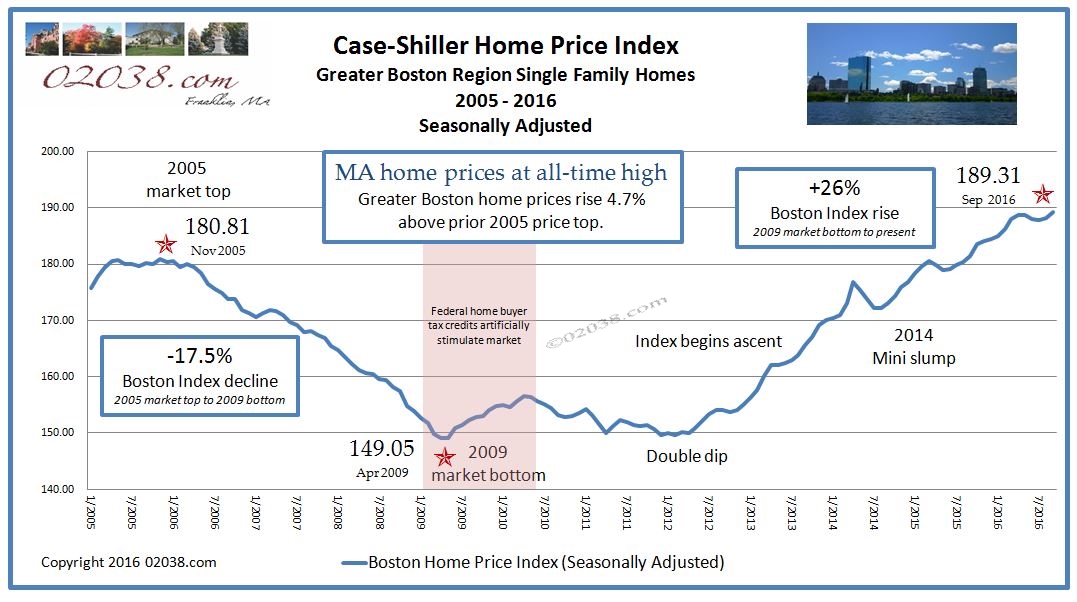 At 189.31, the Case-Shiller Boston Index currently stands 4.7% higher than its past peak of 180.81 set back in November of 2005.
Record home sales volume
Not only are Greater Boston home prices at all time highs,  a record number of single family homes has sold so far this year on  MLS-PIN, the dominant MLS in Massachusetts.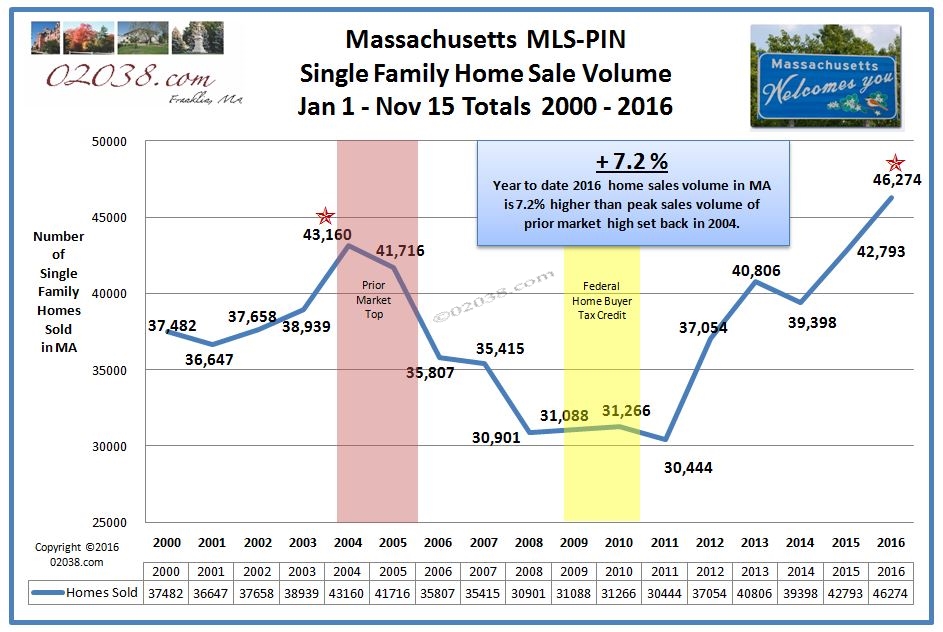 As of November 15, year to date home sales this year on MLS-PIN have reached 46,274.  That's a 7.2% increase over the home sales volume record set in 2004 for the same year to date time period.
The time to buy is now, before the 2017 spring market
With the Massachusetts economy booming and the MA unemployment rate at new lows, 2017 looks to be a banner year for homes sales in the Bay State.  Buyer beware: home prices may head a lot higher in 2017!
Home buyers may want to try to find a home to buy now, as we head into the 2016 Holiday season.  There currently are homes and condos for sale whose sellers made the mistake of over-pricing when they entered the market last spring or summer.  Many of these sellers are now motivated to get their properties sold before the snows of winter set in.
While many prospective home buyers (your competition) are taking time off from their home search for the Holidays, there is ample opportunity this December to make offers and buy a home.  If you want to buy a home in MA, do it now before the spring 2017 market – with market conditions as they are, the "spring market" may begin very early next year!   Contact Warren Reynolds for help buying a home anywhere in the greater I-495 region!
Copyright ©2016 02038.com