After seven straight years of gains, the average sale price of townhomes at the Stone Ridge Condominiums in Franklin, MA took a slight breather in 2019.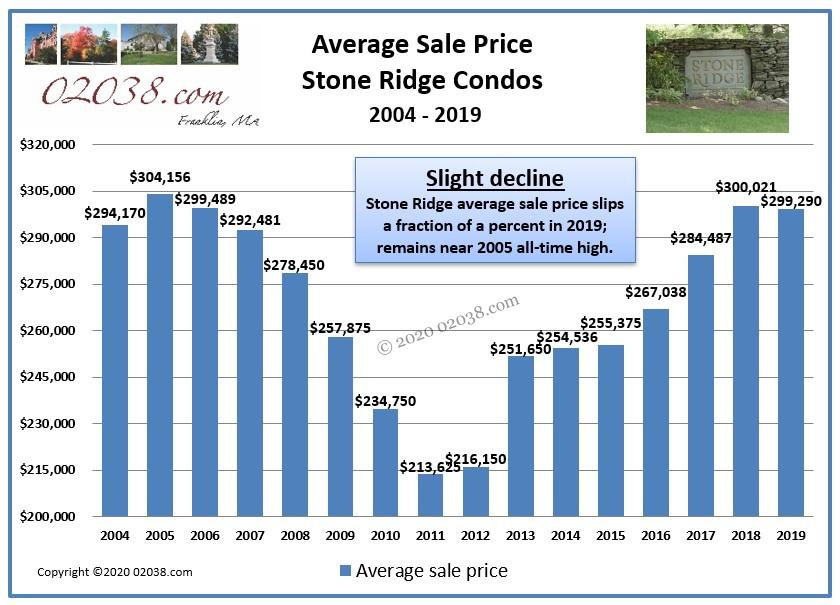 According to data supplied by MLS-PIN, the minuscule $731 decline in average sale price for the year amounted to a fraction of a percent drop. It leaves the average sale price at Stone Ridge just 1.6% below the all-time high set back in 2005. Follow the hotlink at right to learn all about the Stone Ridge Condominiums in Franklin, MA , including exclusive videos of the community and the prime location it enjoys.
Stone Ridge 2019 sales report
The full report on the townhome sales at Stone Ridge during 2019 can be downloaded using the hotlink at left or in the image below.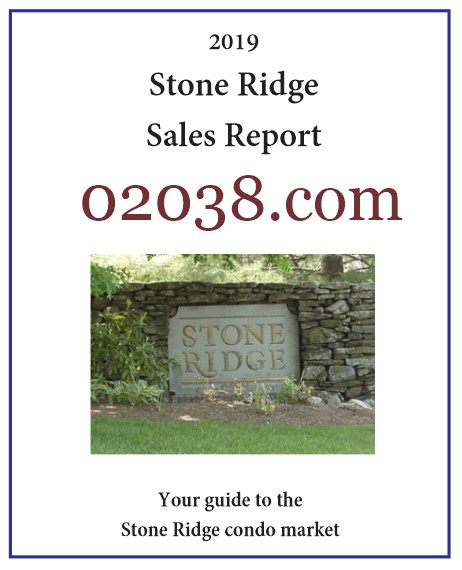 What sold well at Stone Ridge in 2019
Buyers paid premium prices in 2019 for Stone Ridge townhomes that had updated interiors. Buyers also bid high on units with features in high demand.
Of the highest prices paid in 2019, three went to units with first floor master bedrooms; this is one the the most in-demand features for townhomes in the Greater Franklin region. Older buyers avidly seek townhomes with one-level living. They find Stone Ridge especially appealing because prices there are well-below new-construction condo prices and because Stone Ridge units offer basements and many units there have attached garages.
Lowest priced units in 2019
Lowest prices were paid in 2019 for Stone Ridge townhomes that lacked updating.
Both of the townhomes that sold at the lowest prices of the year at Stone Ridge had original kitchens and baths. Both also had detached garages that lacked direct access to the interior of the homes.
Sales volume falls in 2019
Ten Stone Ridge townhomes sold in 2019 according to the data maintained by MLS-PIN.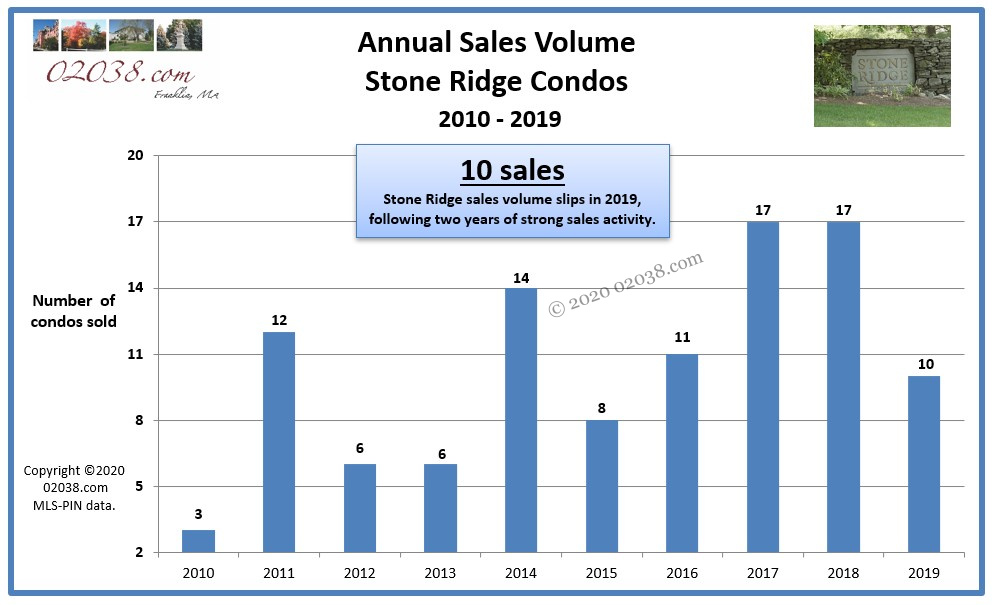 It was a decline from the seventeen transactions that took place in each of the prior two years. But 2019's sale volume was roughly in line with the varied annual sales totals running back to 2010. 2019's sales total does not appear to denote any slackening of demand for Stone Ridge townhomes.
Interested in Stone Ridge?
Here's a link to a wealth of content on living at the Stone Ridge Condominiums in Franklin, MA. You'll find descriptions of the two associations that comprise the Stone Ridge community, the styles of townhomes available there and information on the superb location offered by this community. Have questions about buying or selling at Stone Ridge? Ask Warren Reynolds – he has the answers!
©2020 02038.com