Even though shutdown mandates have been easing in Massachusetts since June and many Bay State residents are eager to get back to something approaching their normal pre-pandemic lives, concerns about COVID-19 are likely to remain highly relevant to how homes are shown and sold in the Commonwealth at least for the rest of 2020, if not well into 2021 and perhaps beyond that.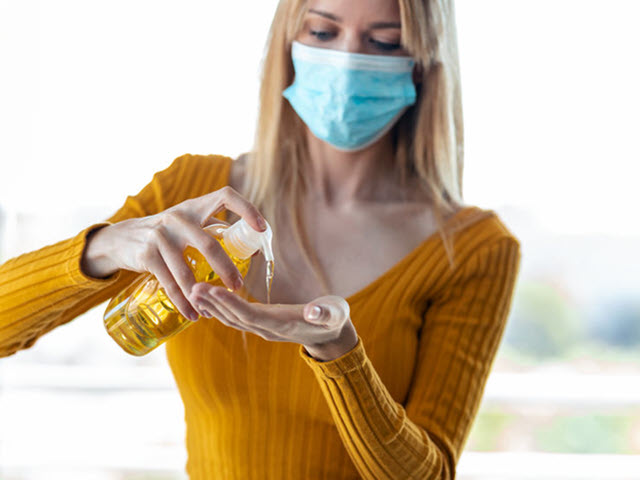 There are good reasons for continued COVID-19 vigilance regarding home buying and selling. Home buyers and sellers are respectively subjecting themselves and their homes to interactions with people who may or may not have been exposed to the virus. So seeking to protect yourself with commonsense precautionary measures seems the best way to assure your family's safety while carrying out your change of residence in the era of COVID-19.
Strong housing market is a compelling reason to move
The continued strength of the Massachusetts real estate market should give you the incentive to carry on with your home buying and selling plans, despite COVID-19. Even last May, at the height of the pandemic shutdown, the Massachusetts real estate market was showing astonishing resilience.

The market's robustness became manifest in June. That month witnessed a record surge of pending single-family home sales across the Commonwealth. ("Pending" sales refer to homes on which there are accepted purchase agreements, but which have not yet proceeded to change hands at a closing.)
The 7,774 single-family homes that went pending on MLS-PIN in June 2020 constitute the largest number of pending sales for any June in the database of MLS-PIN – just astounding! June 2020's record pending sales should give a "green light" to everyone who is thinking about buying or selling a home. Despite all the disruptions and uncertainties of COVID-19, now is an excellent time to act!
Home prices on the rise, mortgage rates at all-time lows
The news gets even better with the continuing run-up in single family home prices.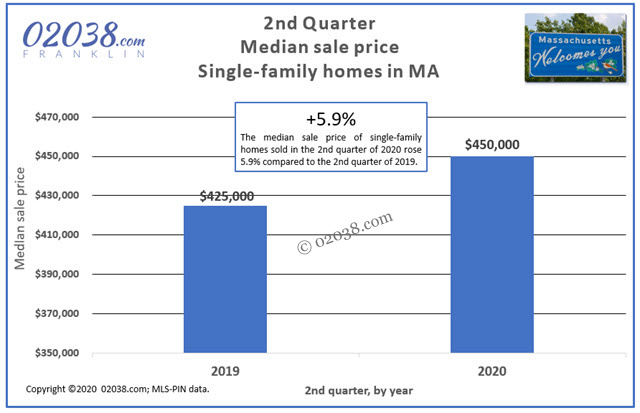 The median sale price of single-family homes on MLS-PIN rose 5.9% in the second quarter of 2020, compared to the same three month period in 2019. The run-up in home prices at the height of the recent March – June shutdown in Massachusetts is a strong signal that home prices seem likely to continue to rise for the rest of the year. With 30-year mortgage rates currently at all-time lows (and forecast by some to dip below three percent before year's end), now clearly is the smart time to move.
The right time to move, but what about COVID-19?
With the Massachusetts real estate market showing such vigor, many prospective home sellers and buyers will be asking how they can accomplish a move safely in light of COVID-19.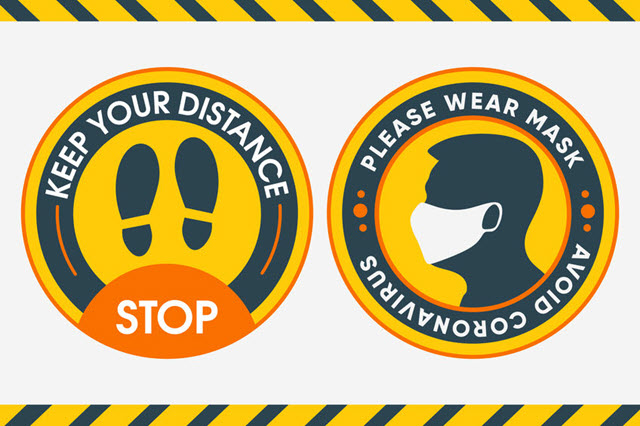 3D Tours help reduce in-real-life showings
One recent innovation that benefits both home sellers and buyers alike is 3D home tour technology.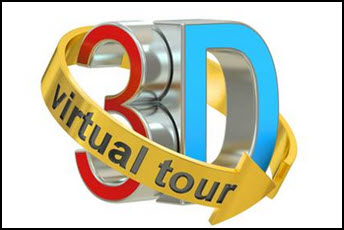 3D tours are a lot more than a slide show of static home photos. The 3D technology allows you to virtually navigate through a home as you wish. You control which rooms you go through and in the sequence you prefer. You can pause, turn around and look again at a feature, and then move onto another room. This is very powerful!
The value of 3D tours in terms of COVID-19 safety is the fact that these tours reduce the number of unproductive in-real-life (IRL) showings, thus reducing the chances of infection stemming from IRL visits to homes.
Buyers can virtually walk through homes online and eliminate homes that don't suit them. They use 3D tours to make shortlists of homes that better suit them, homes they want to physically visit IRL. Buyers thus can undertake far fewer physical interactions with homes for sale.
And sellers using 3D technology to market their homes will have fewer people entering their homes IRL. It's a win-win in terms of reducing the chances of exposure to COVID-19!
Variety of 3D tour platforms
There are various competing types of 3D tours. Here are samples of two of the better platforms:
The ability to virtually move through the rooms in a home at your pace and in the sequence you choose is very powerful. And the benefits of fewer IRL showings are clear. Home sellers should avail themselves of this powerful technological innovation!
The benefits of clustering IRL showings
The next strategy to market homes with reduced COVID-19 risk is to cluster IRL showings as closely together as possible. Clustering IRL showings allows the listing agent to better control how IRL showings are conducted and make sure buyer and buyer agents adhere to COVID safety protocols while they are physically at the home. This protects buyers and sellers alike.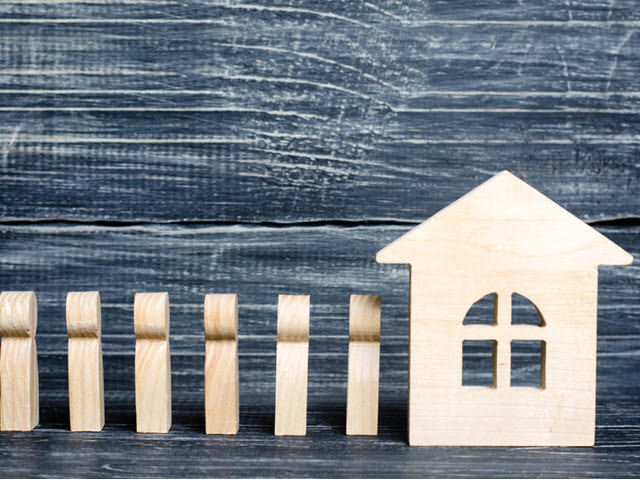 One way to cluster showings is for sellers to limit IRL showings to a limited number of days and hours per week. (For example, Fridays 4 PM – 7 PM and Saturdays and Sundays 11 AM – 3 PM.)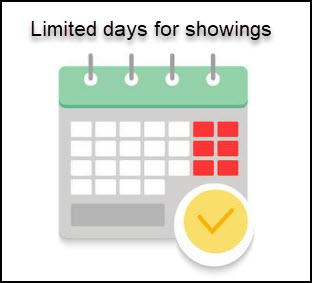 The listing agent can sit in his car on the street or in the driveway during scheduled showings, monitoring the comings and goings of the buyer agents with their customers. The listing agent can make sure masks are worn by all parties and other COVID-19 safety protocols are adhered to. The listing agent can act a a gatekeeper, preventing buyers who arrive early for their appointments from entering the home while another showing is ongoing. Control of showings equals less risk to both home sellers and buyers!
Open houses are highly effective ways to reduce COVID-19 risk
Another effective way to cluster IRL showings to reduce risk of COVID-19 infection is to use open houses. These should be conducted in a more controlled way than traditional open houses.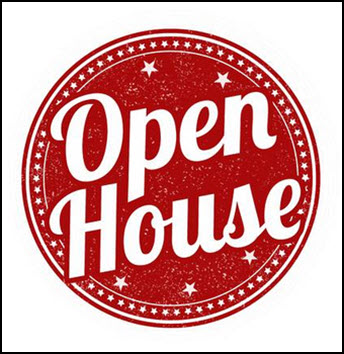 During the first two months of the nationwide COVID-19 shutdown, which began mid-March, there was widespread speculation that open houses would become a thing of the past.

There were virtually no open houses scheduled on MLS-PIN anywhere in the I-495/I-95 region of Massachusetts in April and May of 2020. By early June, however, open house notices began to show up again on MLS-PIN. The open houses quickly evolved primarily into two distinct types, each employing a different strategy to reduce the risk of spreading COVID-19.
Open House Strategy #1
This version of open house requires attendees to make appointments to attend the open.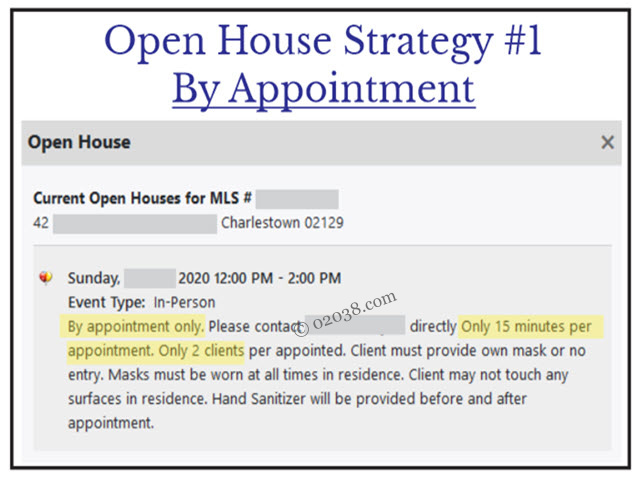 Often the open house appointments are required to be in fifteen minute increments. (Showing appointment time slots have to be short, because of the limited duration of the open house.) The listing agent stays on site, making sure masks are worn and proper social distancing is maintained.
There is a significant drawback to this "by appointment" open house strategy: the 15 minute showing appointment time slots inevitably create friction and bottlenecks. It's inevitable that some buyers will arrive either early or late to their 15 minute open house appointments. Frustration builds as early-arriving buyers are turned away because it is "not your time yet to get inside". Tardy buyers often mill around the outside of the home and may try to slip inside in between, and even during, other scheduled showings. It creates needless bad feelings and can detract from the success of the open house!
Open House Strategy #2
This second open house strategy has buyers come when they can during the published hours of the open house. Buyers and their agents wait in a properly spaced queue to get inside, often one set of buyers at a time.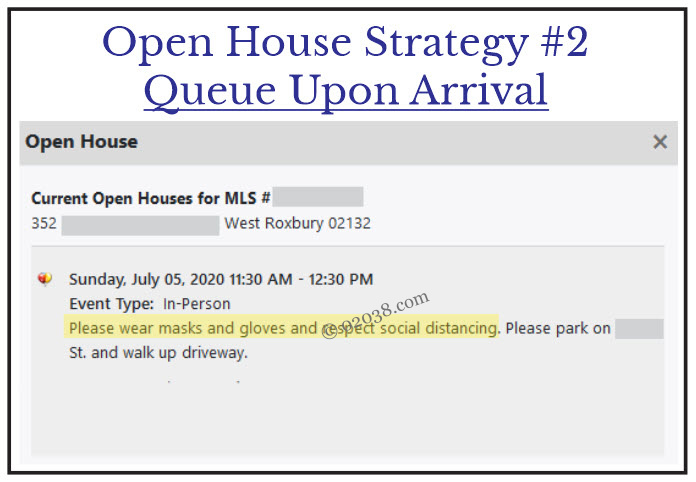 The "queue upon arrival" open houses typically go well. Access is usually controlled and orderly. The listing agent can sit outside the house, register buyers as they arrive, make sure they have required masks and other required protective-wear, have them sign any required COVID-19 disclosure notice, and then grant them access once the house is vacated by the buyers who were previously inside.
Many other ways to increase COVID-19 safety when buying or selling a home
Many other points in the home purchase or sale process present opportunities to increase safety and reduce the risk of COVID-19 exposure. There are too many such opportunities to review in detail here.
The National Association of Realtors recently published a guide to COVID-19 safety for Realtors.
The Guide shows you more what can be done to enhance safety throughout a real estate transaction.
Get answers to specific questions
If you have specific questions or concerns about buying or selling a home safely in the era of COVID-19, please use the form below to ask Warren Reynolds for answers.
About Warren Reynolds, Attorney and Real Estate Broker
The best way to get to know someone is to see what other people say about them. Below are testimonials about Warren from past clients.
What Home Sellers say about Warren
"Warren Reynolds is a truly outstanding realtor. I first got to know him buying my condo in Franklin three years ago and when it came time to sell, he was the first person I called. Warren combines immense local knowledge, a highly ethical approach, speedy communications and a commitment to his clients with sage advice about how to get on top of trends in the regional property market. Highly recommend!" EMC

"Trying to sell a house can be somewhat stressful, and you did a great job keeping us informed of the market fluctuations, our "competition", and what we should expect as far to what prospective buyers are looking for. When all was said and done, everything you had forecasted came true. You did a great job as well in keeping us calm and positive.  You have no idea how much your professionalism and kindness meant to us both purchasing our new house and especially selling our old one." BM

"We have been most happy with the services of Warren Reynolds in the recent sale of our home.  Warren did an excellent comparative analysis of our home's value and the recommended listing price.  He was extremely conscientious in all aspects of the sale from market analysis to the offer to the final walk through.  Warren was respectful of our schedules and needs.  We also appreciated his attention to detail and the fact that he was always very responsive and very accessible by phone or email. " KG

"Please accept our gratitude for all your hard work and guidance in selling our house.  Your knowledge, support, and encouragement – from listing the house through closing – were very much appreciated.  We had been trying to sell our house with another local real estate agent and . . . we never received even one offer. However, we received and accepted an offer within two weeks of listing with you.  We know that your knowledge of the local real estate market, your recommendations for staging our house, and (finally) properly pricing the house are what led to the sale. Your confidence and continual reassurance made a nerve-wracking process less taxing than it would have been with another real estate agent. " MA

"Thanks to Warren, we were able to sell our home quickly and are now enjoying our new home by the ocean. Both of us are thankful we hired Warren.  Warren is an extremely hard worker and will always go the extra mile to take care of business and get the job done. Hire Warren as your real estate professional.  He will take care of you every step of the way and help you achieve your real estate goals.  It is a decision you will never regret!" FH

"This letter is written to recognize and recommend the outstanding service, professionalism, and most importantly, the expertise of Warren Reynolds as a real estate professional.   It is a pleasure working with Warren whose personal ability, attention to details and enthusiasm was able to put everyone at ease. Warren was always available to quickly respond to questions, whether in person, via phone, or e-mail not only from me but from, management company, other realtors, and potential buyers." SP

"I'm writing this letter to highly refer you to any future sellers.  We never thought that we would have a solid buyer within just 2 weeks of going on the market. We credit you for your professionalism in showing our property.  From start to finish you helped us every step of the way with advice, experience, and a helping hand whenever needed. We greatly appreciate all the hard work that you have done for us." MR

"My wife & I decided to sell our home and wanted a trusted professional to handle the sale. We heard about Warren and the success he'd had in attracting qualified buyers, managing the selling process and closing real estate transactions.  We decided to approach him, We engaged him as our selling broker and could see from the start that he was a true professional. Warren did not wait for us to call him with questions, he anticipated them and provided us with the answers. He did not soften when the market appeared to be softening, and recommend that we lower our asking price. Instead, he asked us to hang on, continue to show our home, knowing our price was fair and attainable.  Thanks to Warren, we were able to find the right buyers and achieve our selling goals." LPM

"I chose to list my property with you based on your most professional and accurate market analysis. It was a good choice. I very much appreciate your keeping in touch via e-mail while I was away during the time the townhouse was on the market. Thank you for selling my place quickly and taking care of all the necessary preparations for the sale. You always returned my calls promptly, answered any questions patiently, and made good suggestions to ease the whole process of relocating. It was a pleasure working with you and I will highly recommend you" BO

"I wanted to take this opportunity to thank you for the outstanding work you have done in selling my home. I am extremely impressed with how easy you made this process for my wife and I, by handling every detail in a timely and professional manner. I also appreciate your help and advice during the negotiation phase and am very pleased with the final selling price. Your persistence and hard work is directly responsible for this. Initially we chose you among all the brokers we interviewed because you were the only one that committed to preparing the home, ads, photo shoot and hosting the open house by the date I wanted. You did a great job!!" SP

"I listed my condominium with Warren Reynolds because he had successfully and quickly previously sold two units in my development. I was moving because of a company relocation, and would be working out-of-state while the house was on the market. I needed a broker that would "handle it all". I am pleased to say that Warren lived up to every expectation and then some. Warren handled every detail, and kept me informed on how the showings were going. He also managed to keep me calm and positive about the process.  The excellent service did not stop after an offer was accepted. Warren continued to handle all inspections and small details, right up to the closing date.  I made the right choice when I selected Warren Reynolds as the listing agent on my townhouse. He had an excellent understanding of the market and ensured that the marketing and sale of my townhouse was a smooth and positive experience." BK

"My wife and I recently sold our home in Franklin and bought one in Wrentham. Our agent for both transactions was Warren Reynolds, and his willingness to exceed normal demands to make the transactions work and work conveniently deserves commendation. We looked last year - using another agent -and were not satisfied with the process, so it was with some trepidation that we started the process again this summer. Warren was a welcome change from our earlier agent. He is well informed and greatly helpful in all matters.  His patience and calm were welcome, and he kept us going when our patience and strength were flagging.  It is nice to know that there are some good people out there when we need help. Warren is one of the best!" JM

"Warren Reynolds acted as my real estate agent during the recent sale of my home.  Mr. Reynolds was extremely professional and pleasant during the entire sale process. He proactively kept me posted along each phase of the transaction and demonstrated great initiative when obstacles arose. He made the process as stress free as possible. I would highly recommend Mr. Reynolds to anyone looking to purchase or sell their home." DP

"I would like to express my appreciation for all the help and hard work Warren Reynolds provided to ensure the sale of my home in Franklin. As the seller of an "antique" home, I appreciated Warren's interest and knowledge of antique homes so that the house could be marketed to the "right" buyer. Additionally, Warren was always available to respond to any questions or concerns I may have had and always returned my phone calls in a prompt and professional manner. Also, the great service Warren provided did not end with the actual sale of my home, Warren continued to handle the "small" details, i.e. the home inspection, water meter reading, etc, right up until the actual closing date. In closing, I would like to say that Warren was a pleasure to work with and highly recommend him." JS

"The purpose of this letter is to highly recommend Warren Reynolds as a selling agent. My wife and I had what we considered to be unrealistic timing issues. We needed to sell our house and close on our new house within four weeks of our first meeting with Warren, To be honest, I didn't think we would be able to do it. We owned a beautiful antique colonial and we knew that it would take a special person to buy a house that had the quirks and charm that our house had.  After our first meeting with Warren, we had the utmost confidence that our house would sell. His professionalism was unmatched by any other realtor that we spoke with. He was always very accessible and returned our phone calls promptly. We never felt like we were a burden to him and he was always reassuring. I honestly believe we would not have sold our house and been able to move into our new home without his help." PW

"Mr. Warren Reynolds acted as our real estate agent and was very professional about the whole matter at hand. Warren was very thorough throughout the whole process of the selling of the house. We felt very comfortable working with Mr. Reynolds, as he was quite skilled with the amount of knowledge he brought to the table. Warren has stayed with us through the whole process right up until the very end and my family thanks him greatly. I highly recommend Mr. Reynolds." SD

"Thanks a ton for everything you've done !!!!! I'm so happy to see that everything went so well as planned with the sale of my home. You are so honest, hardworking, and very professional with a great attitude. You have so much of experience under your belt that you could guide anybody. You also set expectations so correctly that we knew exactly how the whole thing would work out. " MR

"It gives us great pleasure to recommend the professional services of Warren Reynolds. The recent sale of our Franklin, Massachusetts home presented numerous challenges . . . Throughout the process of marketing and selling our home, Warren was extremely attentive to detail, proactive in his sales efforts, articulate and helpful in explaining his recommended marketing strategies and, perhaps most important, always --always --available, either personally or over the phone. While selling a home is never easy, either psychologically or procedurally, our experience with Warren Reynolds made it clear how crucial an attentive and experienced realtor is to the selling process. We're very glad we found him and are extremely grateful for his professionalism and expertise." SHS

"Warren Reynolds was our Realtor who helped us sell our existing home and buy a new one. The entire process was well supported by Warren throughout the entire process. His attention to detail and follow up were commendable. We sold our home in three weeks.  Aggressive marketing on Warren's part led to many, many showings. It was through these efforts that attracted our buyer to eventually purchase our home. My wife and I would highly recommend Warren to anyone selling or buying a new residence. His knowledge of the market and his attention to detail make him stand out above the other realtors that we have met." KH
What Home Buyers say about Warren
"We are writing in reference to the exemplary services that were provided to us by Warren Reynolds throughout our course of house searching. At the time we first met Warren, we were intentionally clear with our home buying timeline to Warren so that we would be informed of the real estate market yet would not be pressured so early in the process. Warren responded in an understanding and utmost professional manner. As we evolved into "serious" homebuyers -genuinely looking for a home, Warren matched our level of interest with his attentiveness. Through our entire home searching process -from the first property viewing to the day of our closing -Warren served as our realtor with tremendous professionalism. He was steadily prompt for appointments, accurate with information and responsive to our various requests. Every phone call was returned promptly and every questioned answered suitably. We were very pleased to have Warren Reynolds serve as our realtor. Without hesitation, we would strongly recommend Warren to anyone." -MR

"We want to commend the outstanding efforts by Warren in helping us to first find the house and then diligently assisting us through the entire closing ·process. Warren's extensive knowledge of the market and willingness to go above and beyond facilitated a smooth cross-country relocation for my entire family. During our house hunting visits, Warren provided valuable town information and spent an extensive amount of time showing us both towns and listings to determine exactly our wants. Then, while we were in Idaho, he would continuously visit new listings in Massachusetts and report back to us on his findings. Once we found the right house and made tile offer, he continued by our side to make sure we understood the closing process and did not miss any critical steps. During the entire relocation process, Warren was easy to contact, quick to respond, and provided insightful answers to our questions. Warren always made my wife and I feel as if we were his number one priority. We highly recommend him."  -JC

"We have just recently purchased a home with Warren Reynolds. We have purchased a few homes in our past and none can compare to the service and close attention we received from Warren! He has helped make our purchase totally stress-free and enjoyable. He is truly an asset to your team!" -DB

"Warren was very helpful and accommodating with our schedules and our small child. We signed Warren as our Buyers agent because we felt he knew what we wanted in a home. We also could tell that Warren was a very honest and genuine person. Before you knew it we were putting an offer in on our new home. Being first time home buyers Warren was very helpful in explaining the process and putting us at ease. I will be recommending Warren to anyone I know who is looking for a home."  -PB

"We knew right away that Warren was going to be great to work with. He clearly defined his role and what services he could and would provide. Warren seemed to have a great understanding of exactly what we were looking for and did not ever try to steer us in the wrong direction. Whereas he cautiously refrained from making decisions for us, his ideas, recommendations and forethought were always communicated clearly, concisely and accurately. We always felt comfortable with the information that Warren was providing to us no matter what the circumstances. Warren always made himself available and was there to guide and represent us. He made every effort to work around our schedule, as busy as he was with other clients. He continued to provide support through our move in to our new home. My husband and I were very pleased with the results. We have a great respect for Warren's knowledge of real estate in general. as well as all of the related legal and financial aspects of real estate." -JW

"We finally were able to move our new home and for that we owe you a special thanks for all your help. With your help we were able to breeze through each stage of this rather complex process. You were there when we needed you, no matter what. I would certainly recommend your services to anyone seeking for a new house."  -VG

"We would really like to thank you for all you did to help us find our new house. It was both an exciting and terrifying process and your guidance was invaluable. You always kept in touch to let us know what was going on and provided through explanations every step of the way. We always felt you were our advocate. I know that ours was a difficult purchase and that your experience and professionalism were key in helping us into our new home."  -KM

"We come to know Mr. Reynolds through our "house hunting". We like his approach. He is experienced, informative, educating, patience and accommodating. We were first time homebuyers, needed guidance and prompt feedback to assist us in make correct decisions the first time, and avoid costly mistakes. He would point out aspects to us in a property that we would have missed. Warren was instrumental in negotiating a fair purchase price for the property. I liked very much his follow-ups throughout the process. He was with us from start to finish. My wife and I have very busy schedules. We needed a real estate agent that is available when we need him. At times, we felt like we were the only clients he has. We know for a fact that he was attending to other clients at the same time as well."  -TS

"We could not have found any Realtor better than Warren Reynolds. We were impressed not only by his professionalism but also by his character. As first time home buyers, it took us a while to find our home. Throughout that time, Warren never quit encouraging us even when we were discouraged. His patience and honesty were especially evident when he recommended that we not to commit to purchasing a house we were not sure of. In addition to his integrity, Warren's real estate expertise and careful attention to detail helped us to negotiate a successful purchase. He equipped us with useful Internet resources and also gave us invaluable insights during the house viewings. He always looked out for our interests while respecting the seller's position. Without Warren, we doubt we could have ever found our perfect home."  -HM

"We were extremely fortunate to work with Warren Reynolds in the purchase of our home. As first time homebuyers Warren guided us every step of the way. He gave us good, solid advice and answered all of the many questions we had (and was always available to do so). He was responsive to all of our needs in the purchase of our house. Buying our first home could not have been any better or easier thanks to Warren. His experience in real estate and his integrity really speak for themselves." -FH

"Given that we were first time buyers we were very apprehensive about the whole process. But you made the whole process streamlined by not overwhelming us with the boat loads of info and at the same time keeping us informed about various modalities at various points of the purchase. We also would like to thank you for being patient in listening/learning about our needs/requirements and all the mails with useful info like comparisons, statistics to make a learned decision about the purchase. We also appreciate your check point mails to get ready for the closing. Thank you very much for making this happen."  -K

"It is my pleasure to write this letter on behalf of Warren Reynolds. He is an honest, hard-working, organized, diligent and accommodating realtor who has been an absolute pleasure to work with. He worked with me and my husband for over a year to help us find the perfect home for our growing family. His advice, experience and expertise have been invaluable. It is my pleasure to write this letter on behalf of Warren Reynolds. He is an honest, hard-working, organized, diligent and accommodating realtor who has been an absolute pleasure to work with. He worked with me and my husband for over a year to help us find the perfect home for our growing family. His advice, experience and expertise have been invaluable." -SC

Warren is an expert in his field. Warren was punctual and well prepared as he accompanied us to the showings. He diligently surveyed the lots and homes with us to make sure we were not overlooking anything. He understood our requirements well and gave us valuable suggestions. -JC

"I am pleased to recommend Warren Reynolds as a Massachusetts Real estate agent. For 2 months, Warren worked hard and tirelessly for my wife and I in finding a new home. Warrens' patience and understanding of our needs regarding the type of house. neighborhood and town was valuable and much appreciated. Warren is very passionate in what he does and provided us with advice and information that proved very helpful in us finding the ideal home for our family. Warren is very professional, communicates well and worked well with the sellers agents in getting us information we requested in a timely manner. Warren provided valuable feedback and resources for helping us close the deal." -KC

"We just want to Thank you for all the help you did in finding our first single family home in US. You were great all the time. We also would like to thank you for being patient in listening to all our requirements. I hope you might have learned new things what Indians look at when they look for house :)…I will strongly recommend you if any of my friends are looking to buy new homes." -RS

"Warren Reynolds is an excellent and honest real estate agent. I've known Warren through my sister, and decided to use him as my agent. I have looked at more than thirty houses before I found the right one. He pointed out the pros and cons of each house. Not many agents would do that! Warren is extremely knowledgeable, helpful, and reliable in real estate. He guided me through each step of the home purchasing processes. He has proven to be very patience with me. I would never have found the right house for my family without his help. I would recommend Warren to anyone who is looking to purchase a home. He is a great asset to his clients." -PN

"Warren is not into hard-selling properties and instead listened to our very specific requirements and preferences. He advised us accordingly and meticulously pointed out and cautioned us about potential problem signs or layout/structural considerations. His experience certainly worked to our advantage and made us more informed as buyers as a result. We also witnessed his people skills when he smoothened a tenuous period with the seller during inspection. Warren stayed on top of all our paperwork requirements and significant interim dates to ensure smooth sailing. He maintained constant contact with us, responded to all our concerns in a timely manner and followed up issues through their resolution. He was also ever present as our advocate during critical times such as the inspection of both properties when his counterparts were not with their clients. Our positive first-hand experience is a testament to his excellent qualities as a first-rate realtor." -GS

"I had the pleasure to work with Warren for nearly 4 months in our search for a home southwest of Boston. He was well prepared for each day we met; his research was always thorough and comprehensive, and his fact checking always accurate. Warren asked us the right questions to gain an understanding of our needs and wants, and he listened to our suggestions. Warren helped us gain an understanding of the market, the area, the condo market itself and the buying process. We had a wonderful buying experience from start to finish. Warren was able to quickly acclimate us to the surroundings very easily. He spent hours researching possibilities for us even before we met him in person, answering our phone calls and emails and setting up appointments for us to see condos and town homes all over the 495 belt. We required a lot of his time, especially because we were first time homebuyers and new to the area." -SM

"Warren's years of experience and strive for technical knowledge have helped him developed a trained eye that is on the lookout for issues such as evidence of water in basements, leaky roofs, plumbing issues, windows with bad seals, quality of cabinets, exterior siding, etc. He would draw our attention to it and give us his opinion of the severity of the issue to the best of his capability. His customer service skills were consistently excellent and we always felt like we were his only clients. Warren always made himself available to us, whether it was just a question or two over the phone or to go see yet another house. His consistent effort and determination to help us find our dream home eventually paid off. We found our dream home and it was time for negotiations. Once again, we were able to draw upon Warren's knowledgebase to work through the negotiation process and resolve all issues in a fast and efficient manner." -RD

"When we began our search for a home last year Warren came highly recommended. We had only vague notions of what we wanted and what we were looking for. Warren educated us at every turn, showing us numerous properties and helping us to narrow down what we wanted from a home. When the time came to put in an offer Warren was prepared. He had a great network of high quality vendors that helped us, from home inspection to mortgage lending. During a sale that was contentious at times, Warren was very supportive and highly informative, and represented us at numerous occasions where we could not be there ourselves." -DD

"Bill and I cannot thank you enough for working with us through our home purchase. Never once did you think we were looking at too many homes and your guidance with helping us find the one was awesome. I also want to say thank you for guiding us to a great mortgage/ legal team. This process has been so seamless that I am amazed it is already over. I will keep you in mind and refer you to everyone I know that will be entering the home buying process." -CB

"Warren exceeded all of my expectations and went above and beyond his job help find us the right home. Warren is so dedicated and attentive to his client's needs that you feel as though you are his only client even though this is not the case. I have no reservations recommending Warren Reynolds as a real estate agent to anyone looking to sell or purchase a house. He is without a doubt the best in the business." -JC
COVID-19 has made buying or selling a home seem even more of a challenge than ever. But you don't have to feel stressed or uncertain – just rely on Warren!
Warren Reynolds is an attorney-at-law in addition to being a real estate broker! His legal knowledge, coupled with decades of home sales experience and a sharp eye for detail have helped him give 100s of home buyers and sellers a greater security and control in their real estate transactions.
Warren has consistently won multi-million-dollar sales awards over his 20+ year career. How? He cares! He cares passionately about truth, justice and fairness. And that shows in his numbers. 99% of Warren's past clients say they will use him again. And over 70% of his business comes from repeat customers and referrals.
Copyright ©02038.com