All the health and economic uncertainties of 2020 didn't have a negative impact on home sales at the Spruce Pond Village Condominiums.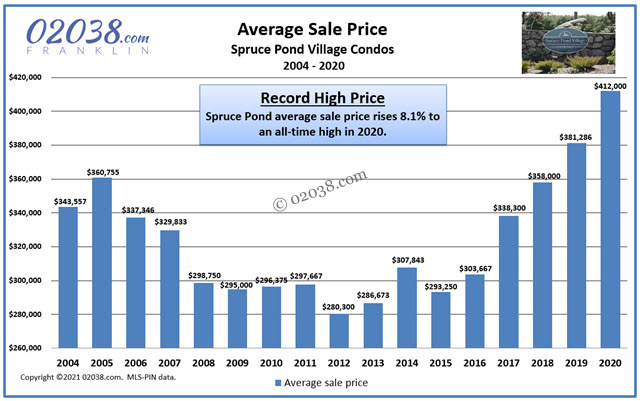 Units sold quickly and the average sale price at Spruce Pond rose over 8% to hit a record high $412,000. 2020 was the second year in a row of record sale prices at the prized condominium community in Franklin, MA.
Sales volume falls modestly
Four condo transactions at Spruce Pond closed in 2020.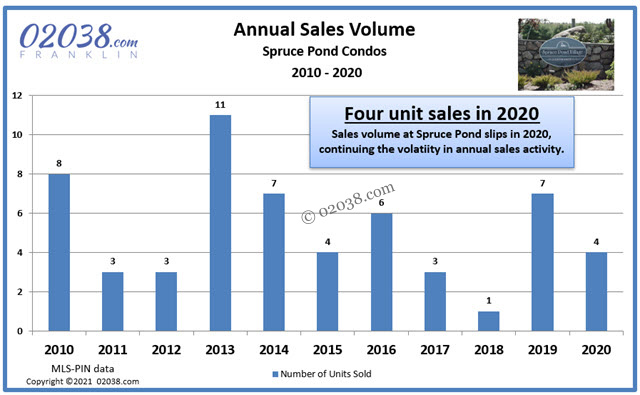 2020's four sales were off the sales pace of 2019. But looking back over the last ten years, it's clear that the annual availability of units at Spruce Pond waxes and wanes. Buyers can't count on another unit coming up for sale with regularity, which adds urgency to buying decisions at Spruce Pond!
Download the 2020 sales report
You can use the hotlink at right or in the image below to access the facts and photos of all the sales at Spruce Pond Village during 2020.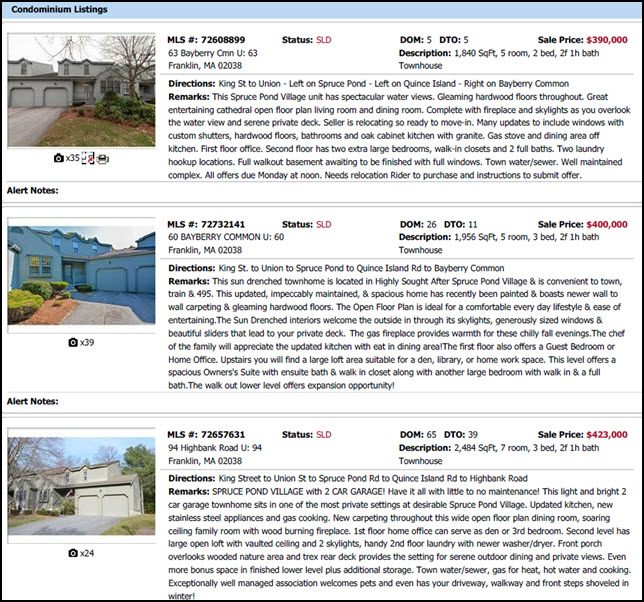 How 2020's sales break down
The two lowest-priced unit sales at Spruce Pond (63 Bayberry Common for $390,000 and 60 Bayberry Common for $400,000) follow a clear pattern.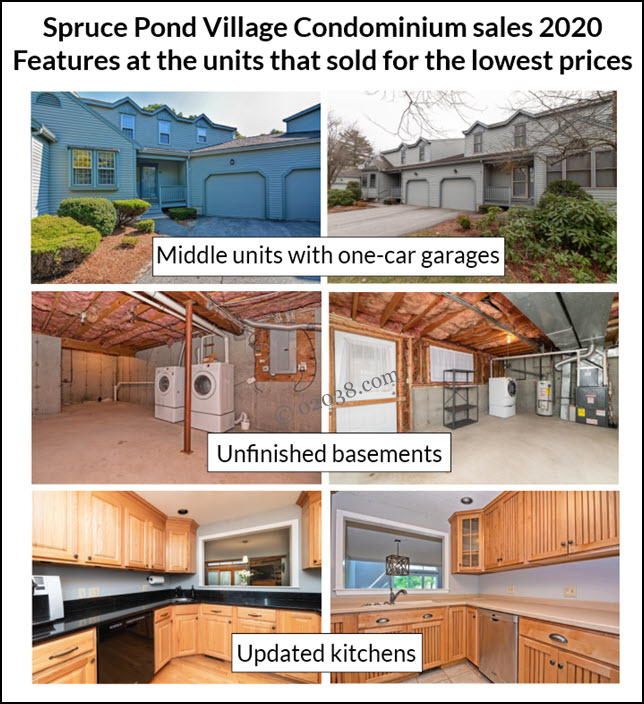 Each unit had a middle placement and offered a one-car garage. Each had unfinished basements. Both homes enjoyed updated kitchens.
The two highest-priced units that sold in 2020 (94 Highbank Rd for $423,000 and 12 Spruce Pond Rd for $435,000) were end units with two-car garages and finished basements.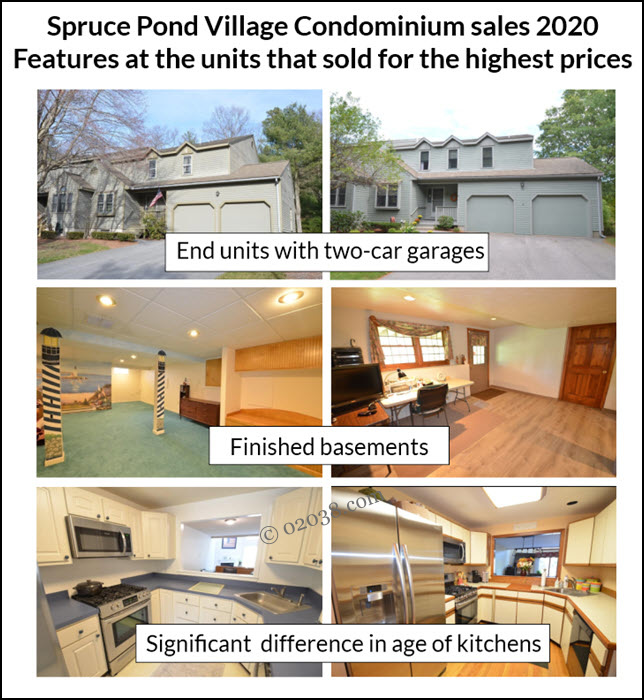 What stands out about the highest sales at Spruce Pond in 2020 is the difference in the kitchens at the two townhomes. 94 Highbank had a renovated kitchen, while the kitchen at 12 Spruce Pond was original to the unit and quite dated. Interestingly, the unit with the older kitchen sold for more than the unit with the updated kitchen!
Why the discrepancy between age of kitchens and prices paid?
There's one main reason behind why the unit with the older kitchen sold for more than the unit with the newer kitchen: water views!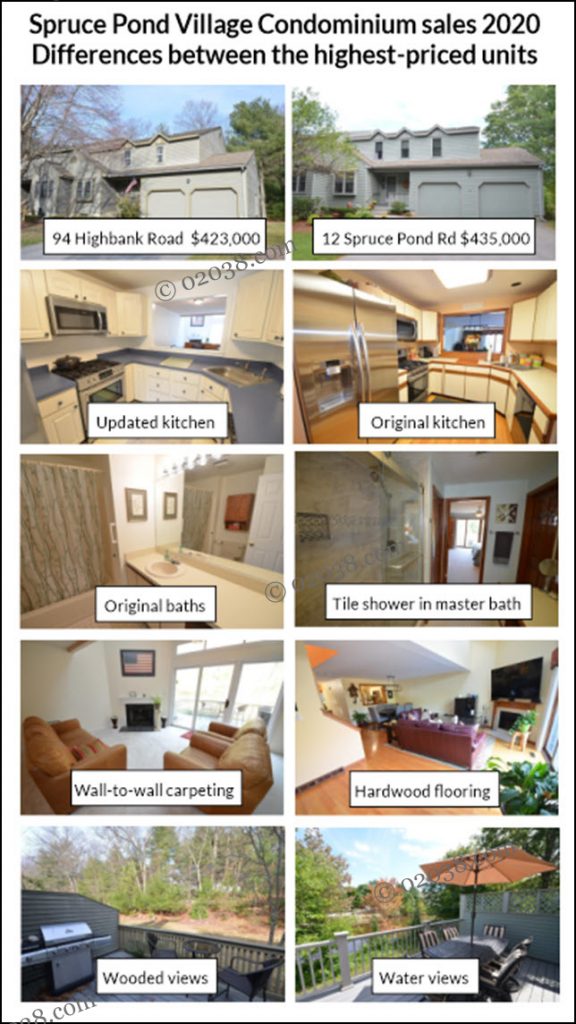 While 12 Spruce did have some features that 94 Highbank lacked (hardwood flooring and a tile shower in the master bath), the value of 12 Spruce was enhanced by the water views enjoyed by that unit.
94 Highbank backs up to greenery while 12 Spruce borders on Spruce Pond. The unit has pretty views of the pond from its deck and from several rear-facing rooms.
Learn more about Spruce Pond Village
You can access a lot of helpful information and photos about the Spruce Pond Village condo community in Franklin, Massachusetts here or by following the hotlink in the image below: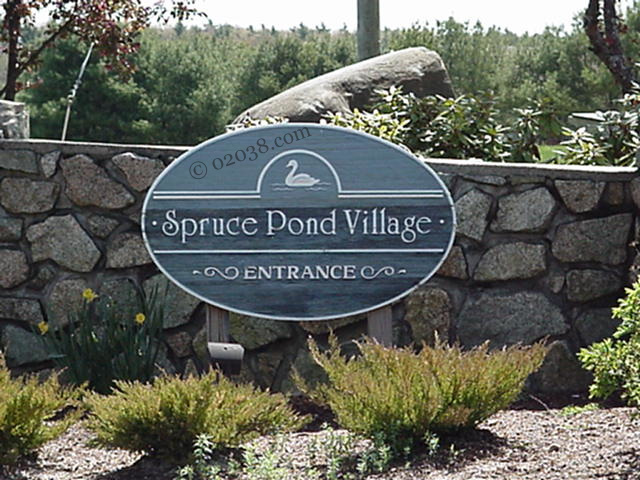 If you have questions about the Spruce Pond community, ask Warren Reynolds via the form below. Warren knows Spruce Pond well and can help you!
Copyright ©02038.com