Summary:
COVID-19 did not disrupt the Massachusetts real estate market in 2020. Instead of a pandemic-induced real estate slowdown, home sales and prices went on a tear. Fueled by hyper-low mortgage rates, the median sale price of single-family homes in Massachusetts rose nearly 11% to hit an all-time high in 2020, according to MLS-PIN, the largest MLS in the Bay State. Single-family home sales volume on MLS-PIN also achieved a record level for the year.
2020 marked the eighth year in a row of rising home prices in Massachusetts. With real estate in MA so long into an up cycle, it seems a good time to step back and look for potential risks to the market going forward. The biggest uncertainty facing real estate in the Bay State appears to be mortgage rates. Where mortgage rates head this year will be a telling factor in how the market performs in 2021 and beyond.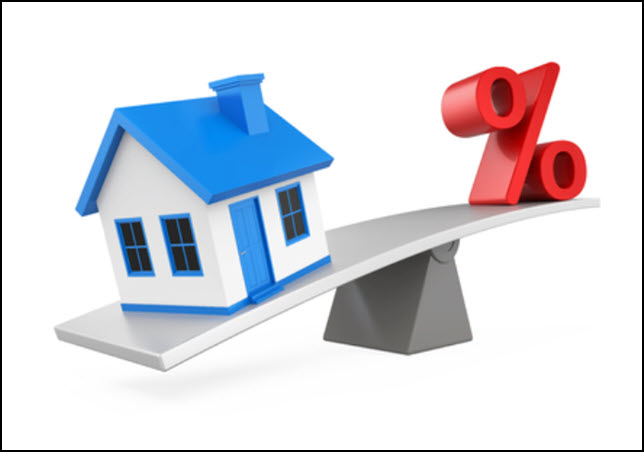 Mortgage rates dropped to such record lows in 2020 that these low rates themselves represent a risk to the market. Because mortgage rates are now so low, a modest rise in rates would amount to a very large increase in borrowing costs on a percentage-term basis. (Here's an example: a 50 basis point increase on the rate charged for a 30-year fixed rate mortgage from 3% to 3.5% seems negligible in absolute terms. But on a percentage basis, that represents nearly a 17% increase in monthly mortgage payments!)
Increases in borrowing costs in 2021 could slow demand for housing and put downward pressure on home prices. No one currently is predicting a significant rise in mortgage rates, but it's something to be aware of as we head deeper into the new year.
The Year in Review
The advent of the COVID-19 pandemic didn't put a dent in the Massachusetts real estate market in 2020. Fears of a market slowdown were widespread in March and April during the shutdown, but the worries proved completely misplaced. Instead, the second half of 2020 saw home prices soar across Massachusetts as demand exploded. The buying frenzy began last summer and continued unabated throughout the fall. Home buyers didn't take a break, even for the holiday season.
Video recap of 2020
Below is a video that reviews the Massachusetts real estate market in 2020 and also touches on trends that may influence events in 2021:
Record high median home sale price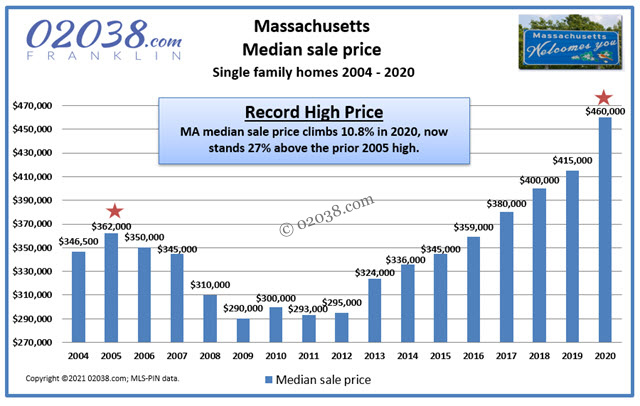 The median sale price of single family homes in the Bay State jumped nearly 11% in the year just ended, according to data maintained by MLS-PIN. 2020's median price of $460,000 is 27% above where it was in 2005 at the top of the prior market cycle and nearly 59% higher than the low set in 2009 during the Great Recession.
Home sales volume rises despite low supply of available properties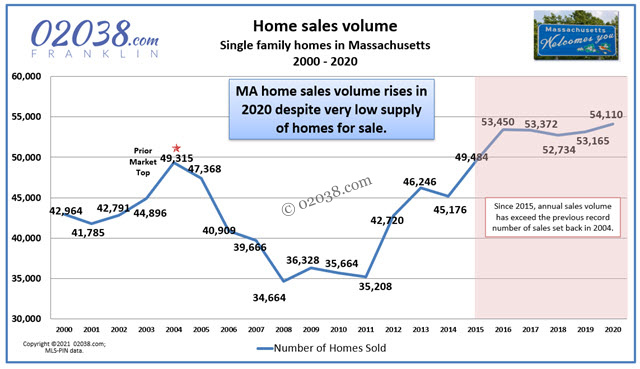 Single family home sales volume on MLS-PIN set a record in 2020. More single family homes sold on MLS-PIN in 2020 than in any prior year of MLS-PIN's existence (which goes back to the 1990s). 2020 marked the sixth consecutive year that single family home sales volume on MLS-PIN exceeded the previous market cycle sales record set back in 2004.
Ever-dwindling inventory of homes for sale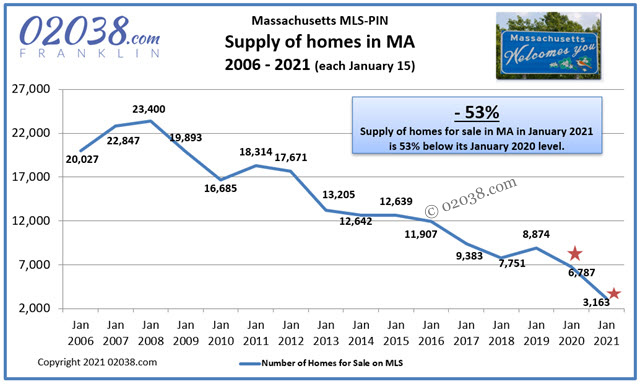 As you can see in the above chart, the supply of single-family homes listed on MLS-PIN has been in dramatic decline for years. But look carefully. In just the last twelve months, there has been over a 50% drop in listings on the MLS (from approximately 6,780 homes in January 2020 to just over 3,160 homes currently).
Pandemic-related uncertainties surely kept many homes off the market during 2020. But something more has been in play over the past ten years, which have seen a relentless decline in housing supply. A vicious cycle has taken effect. Prospective home sellers decide not to put their own homes on the market because there are so few homes for sale that they would want to purchase. The less there is for sale, the greater the number of potential home sellers who decide to stay put in their current housing. This leads to fewer and fewer available homes as the cycle feeds on itself.
Mortgage rates collapsed in 2020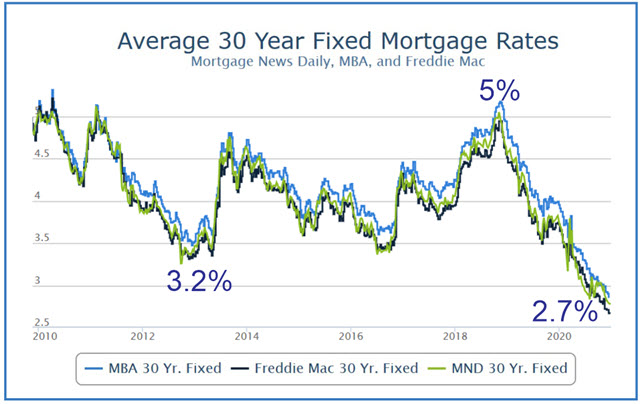 30 year fixed rate mortgages averaged 3.8% at the start of 2020, according to MortgageNewsDaily.com. The average got as low as 2.7% during the year. This provided the supercharged fuel that powered the market upward during the second half of the year.
When rates rose in 2018, the market slowed
There's something else to note in the rate chart above. In 2018, mortgage rates were on the rise. When the interest rate for a 30-year fixed-rate mortgage loan reached 5% in fall of 2018, the real estate market slowed noticeably. Luckily, mortgage rates entered a steep decline in the first quarter of 2019, so real estate sales in MA perked right back up. But take heed of that warning. Demand for homes deteriorated quickly in Massachusetts when mortgage rates rose.
The greatest uncertainty for real estate in 2021
Mortgage rates appear to be a potential achilles heel of the Massachusetts real estate market in 2021 and beyond. If interest rates were to rise, the dampening effect on the market could be significant.
There's no consensus among experts that rates will rise in 2021. But there are plenty of reasons why a rise in rates could be a reality in coming months and years. Chief among those are the record Federal deficit spending and the massive injections of liquidity into the banking system by the Federal Reserve that have taken place in recent years. All those trillions of dollars sloshing around in the economy could become inflationary at some point.
Another potential precursor to higher interest rates has recently come to the fore. While we all have been distracted by the holidays and political turmoil in the nation's capital, commodity prices have been rising sharply.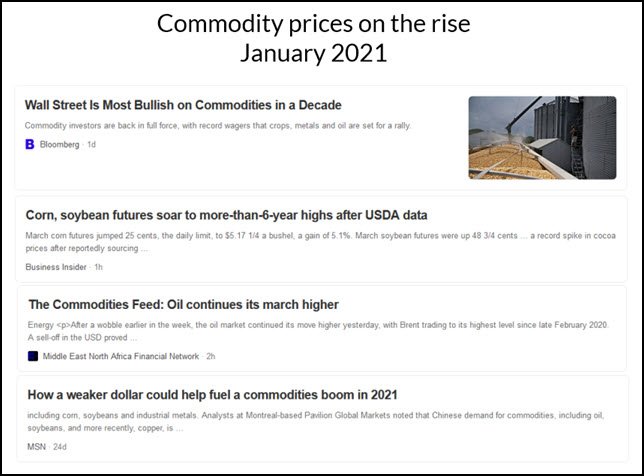 Copper, corn and soybeans futures all are up significantly. Oil prices have also been on the rise. The ten-year treasury bond rate has been going up in recent weeks, perhaps in response to these inflationary price trends.
If the Fed begins to combat inflation in 2021, even if it was just to start talking about tapering off its ongoing economic stimulus, market-driven long-term rates would likely rise. Mortgage rates would surely follow suit.
Because mortgage rates are currently so historically low, even a small rise in rates will, on a percentage basis, substantially Increase the carrying cost of housing. This could seriously dampen the Massachusetts housing market, just as occurred in late 2018.
Just a possibility
Rising interest rates are merely a possibility at this point. But prospective home buyers and sellers may want to take a prudent, strategic approach to their real estate plans for 2021.
Home buyers may want to protect themselves by buying sooner rather than later to lock-in historically low rates while they're still in place. And home owners thinking of selling in 2021 (or even 2022) should consider expediting their plans and get their properties on the market. With so few homes for sale and home prices at all-time highs, now is a wonderful time to sell a home in Massachusetts!
Use the form below to seek guidance from attorney and real estate broker Warren Reynolds. He'll help you with your buying and selling needs and guide you to success in real estate in 2021 and beyond!
Copyright ©02038.com