The average sale price for townhouses at the Chestnut Ridge Condominiums surged 11.4% in 2021, ending the year at $496,333.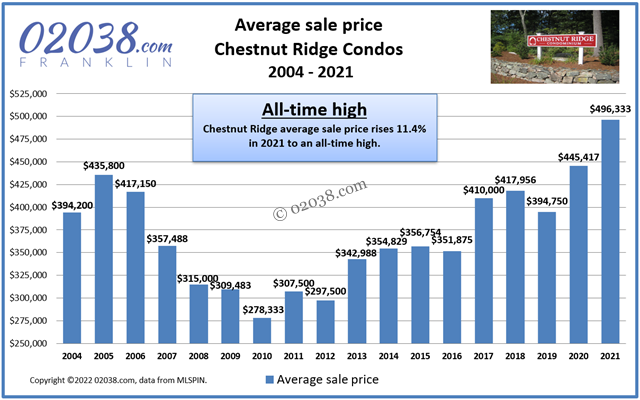 The rise put the average sale price at Chestnut Ridge at an all-time high. At $234/SF, the average price per square foot in 2021 was the highest paid for any year on record at at the prestigious condo community in Franklin, Massachusetts.
Highest-priced unit sold in 2021
The highest-priced sale at the Chestnut Ridge Condos in Franklin, MA for the year was a free-standing unit located in Chestnut Ridge II.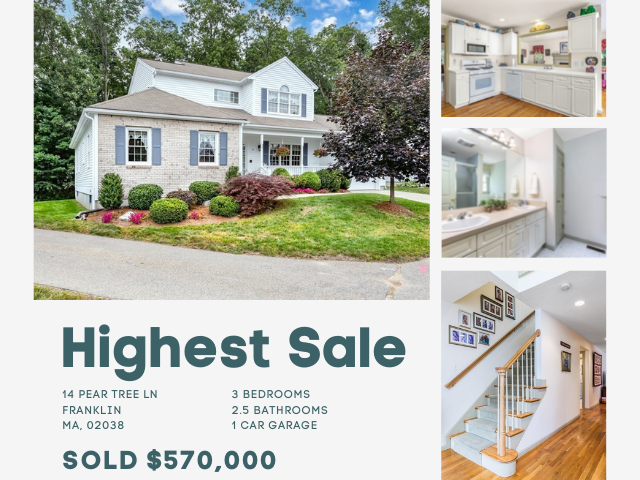 14 Pear Tree Lane sold for $570,000. It had an unfinished basement and a one-car attached garage.
Lowest-priced unit sold in 2021
The lowest-priced sale at the Chestnut Ridge Condos for the year was the only unit in Chestnut Ridge I that changed hands during 2021.
1 Cherrywood Lane sold for $404,000.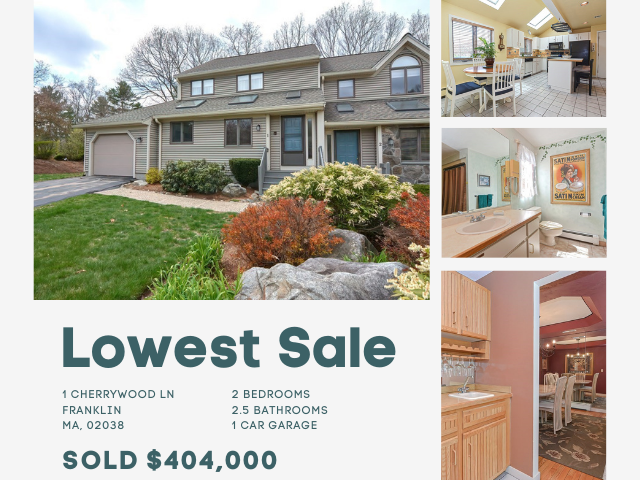 It had its original kitchen, baths and wetbar. The lower level was finished.
Full 2021 Chestnut Ridge Condos sale report
The 2021 sales report for Chestnut Ridge can be downloaded via the hotlink at left or in the image below.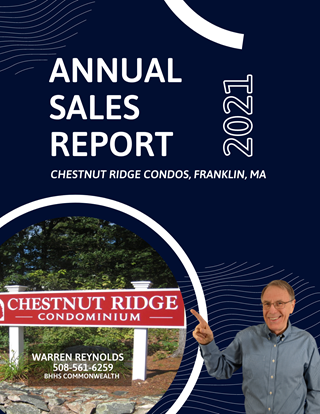 Sales volume held steady
Six units sold at the Chestnut Ridge Condos in Franklin, MA during 2021.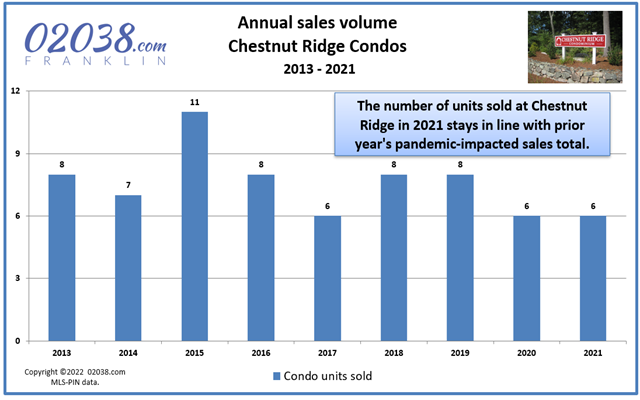 This was the same the number of Chestnut Ridge condos that sold in 2020, and roughly in line with the sales totals of the last several years.
Of the six sales, four were above asking price and one was at asking. The pace of sales was extremely fast. On average, it took only seven days of exposure on the MLS for these units to go under agreement. All this is symptomatic of a real estate market with high demand and where home prices are rising sharply.
The outlook for 2022
The market for townhouses at Chestnut Ridge in the year ahead will be greatly influenced by the direction of mortgage interest rates. There is a general expectation that rates will move higher in 2022.
While no one can predict the future with certainty, most experts expect that affordability will remain a major issue and that housing inventory will remain tight as 2022 gets underway. The expectation that mortgage rates will rise as 2022 progresses means that prospective home buyers may want to act soon to lock in an affordable interest rate . . . before borrowing costs climb significantly. Waiting to buy could mean paying more per month for your home if mortgage rates rise as expected later in the year.
For prospective home sellers, experts forecast that demand for housing will continue to outpace available supply, so long as mortgage rates remain at their current rock bottom levels. While this is generally good news for sellers because it means less competition, a combination of high prices and rising interest rates later in 2022 should narrow the pool of potential buyers who can afford to buy your home. The emphasis for home sellers in 2022 should be on selling your home earlier, rather than later, in the year. As soon as practicable in the new year, you should hire a real estate agent who utilizes technologically-advanced marketing tactics to reach qualified buyers and get your home on the market.
If you think you may be ready to buy or sell, give us a call at 508-561-6259 or use the contact form below. As local market experts, we can fill you in on any issues impacting your move and create a custom plan to help you meet your real estate goals.
Copyright ©02038.com