At a glance:
The Federal Reserve is expected to raise short-term interest rates a total of 75 basis points (0.75%) in 2022.
The rate rise may take place via a series of three 25 basis point (0.25%) increases spread over the course of 2022, with the first uptick occurring potentially as early as this spring or summer.
Mortgage loan rates are expected to follow overall interest rates higher.  On a percentage basis, the expected rise in mortgage rates would represent over a 23% increase in mortgage borrowing costs for home buyers.
Prospective home buyers and sellers in Massachusetts should accelerate the timing of their moves in 2022 to avoid, or at least lessen, the negative impacts of rising mortgage rates later in the year.

High inflation spurring expected interest rate increases
As you likely have noticed in the news, and especially as you shop, prices for just about everything have been jumping . . . a lot.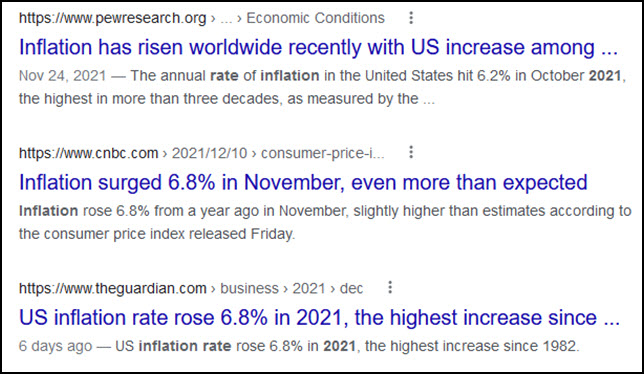 The US Federal Reserve recently announced an important change in its interest rate policy. The Fed signaled that it will begin tightening credit in 2022 in order to restrain future price increases.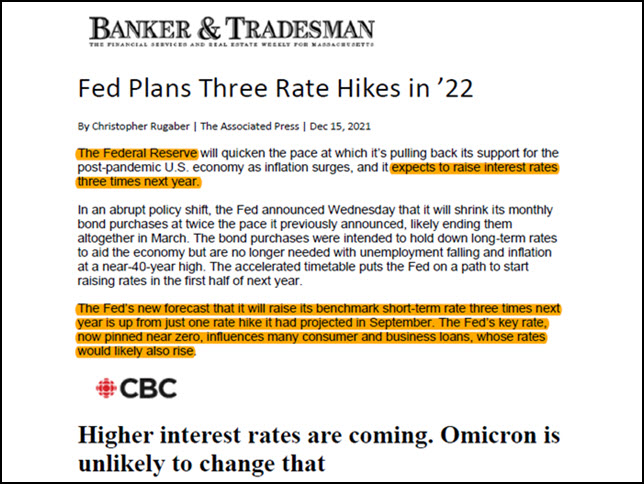 As described in many news reports, including the ones summarized in the download here or via the hotlink in the image above, the Fed is expected to raise short-term interest rates a total of 75 basis points (0.75%) before the end of 2022.
The rate increases may begin as early as next spring. They may take place in a series of 25 basis point (0.25%) increments spread throughout the year.
Mortgage rates would follow suit
While the Fed no longer directly sets long term interest rates, it generally is expected that overall interest rates will follow short term rates higher. This means that mortgage interest rates could be on the rise in 2022.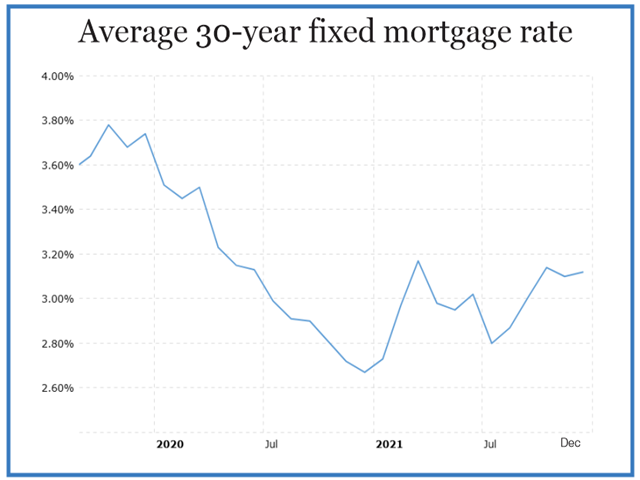 As you can see in the above chart, the average 30-year fixed mortgage rate is extremely low, currently at about 3.15% If this average were to move 75 basis points higher by the end of 2022, the average 30-year fixed rate would stand at 3.9%. At 3.9%, the average 30-year fixed mortgage rate would be just a bit higher than where it was at the end of 2019.

A 23% rise in home buyers' mortgage interest payments
A 75 basis point rise would be a minor increase in absolute terms. But because any rise in rates in 2022 will start from such a very low base – current rates are near historic lows – an increase on a percentage basis will be large and would have a significant impact on borrowers' mortgage interest payments.

What this means for home buyers
For prospective home buyers, a 75 basis point rise in mortgage rates would mean that your mortgage debt service payments on the home you buy in late 2022 would be over 23% higher than what your payments would be on a home you purchased today.  That's a sizable increase in mortgage carrying costs!
Prospective home buyers would be wise to play it safe and accelerate your 2022 home purchase plans, if at all possible. You should try to secure a home early in 2022 to beat the expected rise in rates.
What this means for home sellers
For prospective home sellers, a 23% increase in buyers' mortgage costs would reduce the number of buyers who can qualify to purchase your home.  And that could put downwards pressure on the selling price of your property later in 2022.
Home sellers would be smart to get their properties on the market earlier in 2022 rather than later. Why delay and take the risk of rising rates putting downwards pressure on home prices later in 2022?
Now for some caveats . . .
Higher rates not a sure thing
An increase in mortgage rates in 2022 is currently forecast, but is just that: a forecast. Any number of events could deter the Fed from actually pulling the trigger on rate hikes in 2022. (A worsening pandemic, a surprise easing of inflation, a major stock market correction, all these come to mind as possible reasons for the Fed to defer raising interest rates in 2022.)
If rates do rise, the housing market may muddle through
If mortgage rates really do rise in 2022, it's possible that the Massachusetts housing market will cope with the higher rates and do just fine.
Looking back to 2018, it wasn't until the average 30-year mortgage rate approached 5% that the Massachusetts housing market slowed noticeably.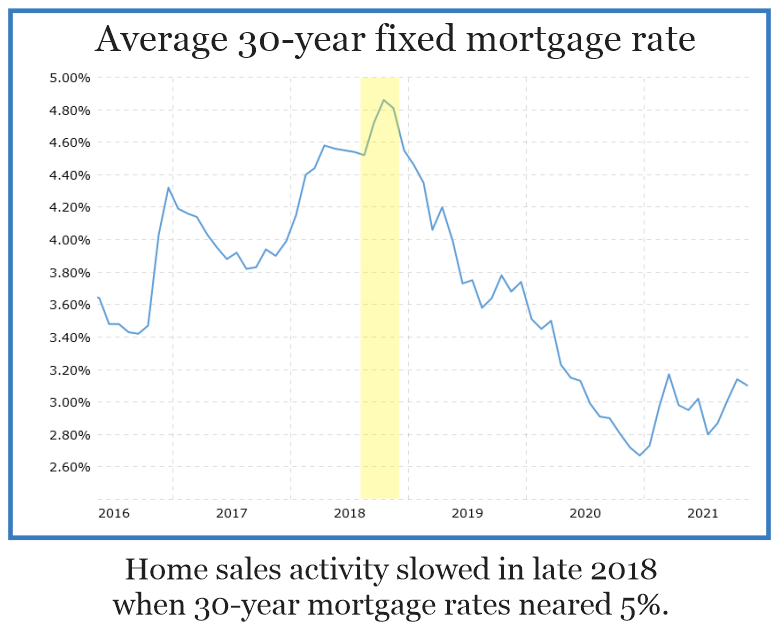 So the Massachusetts housing market may continue on its low-inventory, high-home-price ways throughout 2022, despite a rise in interest rates. It's possible!
Home buyers and sellers should be prudent – accelerate!
On the other hand, it pays to be prudent. A rise in mortgage rates in 2022 could happen just as the experts are now predicting. This would cost home buyers higher mortgage payments and potentially slow the local housing market.
Next steps for home buyers
A good real estate agent can remove much of the stress and uncertainty from the home search process. From setting goals to securing a loan to selecting the best neighborhood to meet your needs, we will be there to assist you every step of the way.
And no one has more access to home listings, past sales data, or market statistics than a professional agent. We can set up a customized search that alerts you as soon as a new listing you might like goes live. Better yet, we get notified about many of the hottest homes even BEFORE they hit the market.
It's never too early (or too late) to contact an agent about buying a home. Whether you plan to buy today, next month, or next year, there are steps you can (and should) be taking to prepare for your purchase.
Contact us or give us a call/text at 508-561-6259 today – no obligation!
Next steps for home sellers
Determining a home's true market value is a real estate agent's forte. If you're a seller, your agent will help you find your home's market value so you can list it at the right price.
Curious about your home's true market value? Use the link to request a free, no-obligation Comparative Market Analysis to find out exactly how much your home is worth!
We'd love an opportunity to win your business. Schedule a free consultation with us to find out how true market experts can help you achieve your real estate goals – call/text us at 508-561-6259. We're here to help!
Copyright ©02038.com