Million-dollar price tags on homes used to be quite a rarity in Franklin, MA. That suddenly changed in 2021! Seven-figure home sales now no longer raise eyebrows in the town that for decades has offered home buyers excellent schools and a great quality of life with surprisingly affordable home prices.
Highest home sale in 2021
The highest price paid for a single-family home in Franklin during 2021 was $1,677,900. While decidedly small potatoes in many of the affluent communities throughout Greater Boston, it was the highest price ever paid for a home in Franklin listed on MLS-PIN.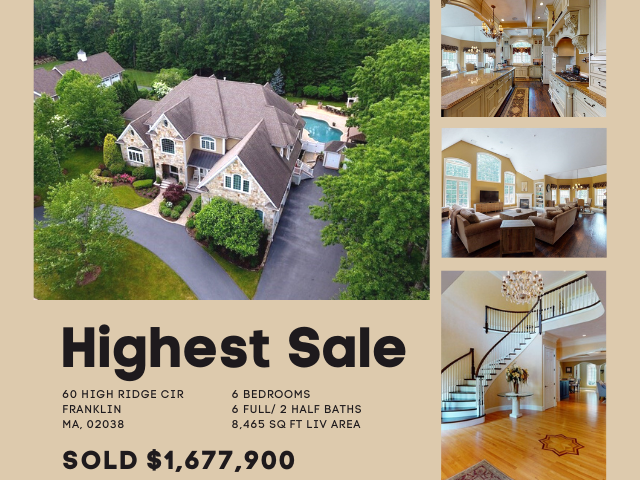 Before 2021, Franklin's record-high sale price on MLS-PIN was $1,577,000, which was set in 2020.
Franklin's sale price record broken five times in 2021
What's most noteworthy about 2021's housing market in Franklin is that the town's record-high sale price set in 2020 was surpassed FIVE times just one year later in 2021!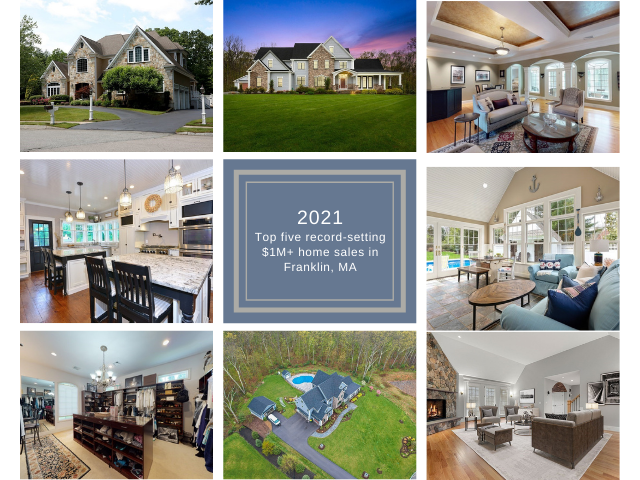 Each of the top-five home sales in Franklin for 2021 surpassed the town's prior all-time high home sale price of $1,577,000 recorded in 2020. That says a lot about the direction of home values in town during 2021!
Median home sale price at an all-time high
Overall home prices in Franklin, MA rose strongly during 2021, in tandem with the high end of the sales spectrum.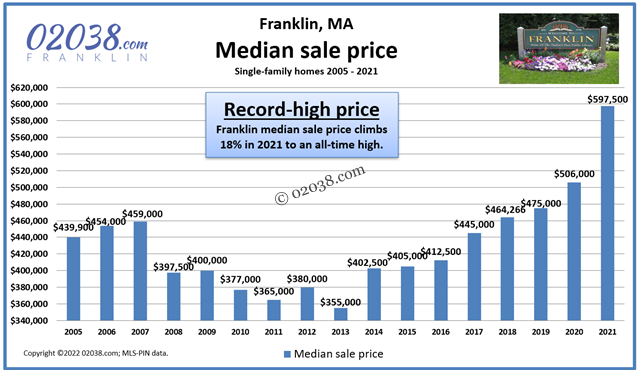 The median single-family home sale price for Franklin reached a record high of $597,500. It was the second year in a row Franklin's median sale price hit a record.
Sales were extremely brisk, with the average days-on-market at a very low thirteen days before an offer was accepted.
Annual sales volume recovers from 2020 COVID shut-down
The number of single-family home sales in Franklin recorded on MLS-PIN during 2021 was significantly higher than the previous year's total.
2020's sales downdraft can best be attributed to the economic and societal disruptions caused by the onset of the pandemic and the ensuing shutdown. These uncertainties suppressed the number of home sellers willing to put their properties on the market in 2020.
Extremely low supply of homes for sale
The robust home sales volume in Franklin in 2021 is all the more remarkable given the exceedingly low housing inventory the town experienced throughout the year.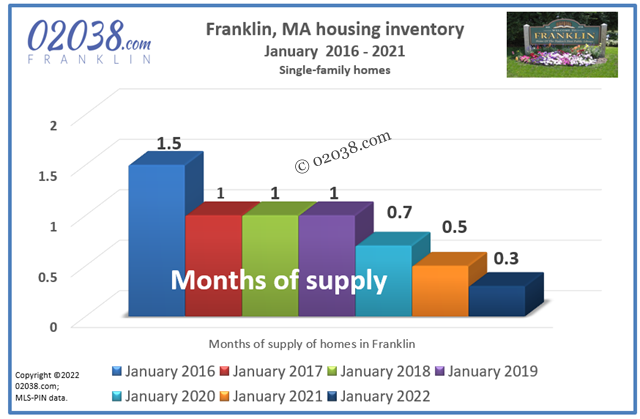 The housing supply in Franklin has been exceptionally restricted for years. Four months of inventory is considered a sellers' market in normal times. The fact that Franklin, Massachusetts currently has a scant one-third of a month of housing supply shows just how hard it is to find a home to buy in town! 2021 was a wonderful time to be a home seller in Franklin!
The outlook for 2022
The market for homes in Franklin in the year ahead will be greatly influenced by the direction of mortgage interest rates. There is a general expectation that rates will move higher in 2022.
While no one can predict the future with certainty, most experts expect that affordability will remain a major issue and that housing inventory will remain tight as 2022 gets underway. The expectation that mortgage rates will rise as 2022 progresses means that prospective home buyers may want to act soon to lock in an affordable interest rate . . . before borrowing costs climb significantly. Waiting to buy could mean paying more per month for your home if mortgage rates rise as expected later in the year.
For prospective home sellers, experts forecast that demand for housing will continue to outpace available supply, so long as mortgage rates remain at their current rock bottom levels. While this is generally good news for sellers because it means less competition, a combination of high prices and rising interest rates later in 2022 should narrow the pool of potential buyers who can afford to buy your home. The emphasis for home sellers in 2022 should be on selling your home earlier, rather than later, in the year. As soon as practicable in the new year, you should hire a real estate agent who utilizes technologically-advanced marketing tactics to reach qualified buyers and get your home on the market.
If you think you may be ready to buy or sell, give us a call at 508-561-6259 or use the contact form below. As local market experts, we can fill you in on any issues impacting your move and create a custom plan to help you meet your real estate goals.
Copyright ©02038.com