Early on its approximately 80 mile run to Boston Harbor, the Charles River forms the boundary between the Towns of Franklin, MA and Medway, MA. The Charles connects with picturesque Populatic Pond, a recreational body of water on the town border between Franklin and Norfolk.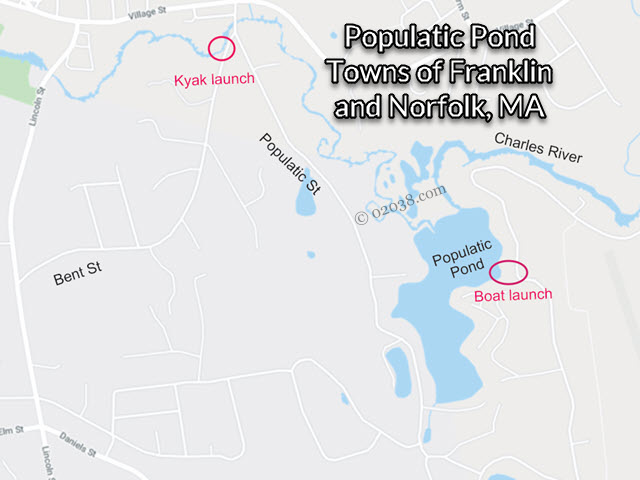 From Bent Street in Franklin, you can kyak or canoe down the Charles River onto Populatic Pond. From the pond, you can continue further along the Charles as it moves downstream through the towns of Medfield and Millis and beyond.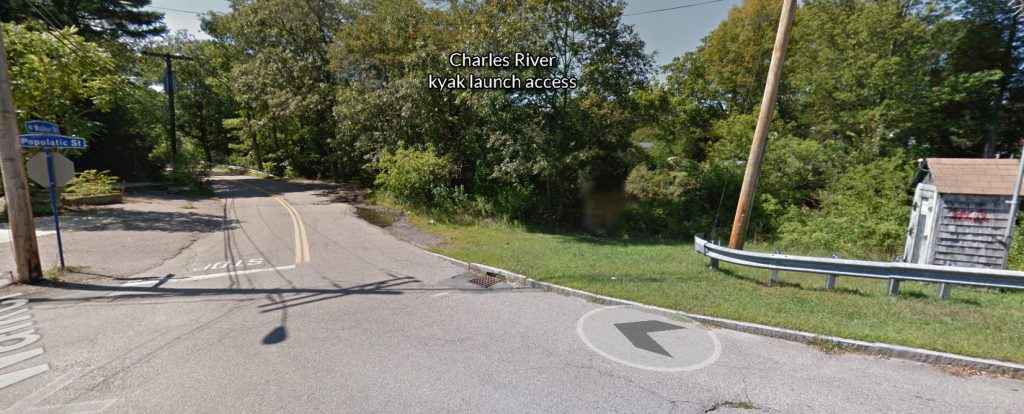 The launch access is on Bent Street in Franklin, right at the border between Franklin and Medway (just off the Walker Street bridge).

Take care paddling as the waters can get rough in spots, especially after heavy rains .
Public boat launch in Norfolk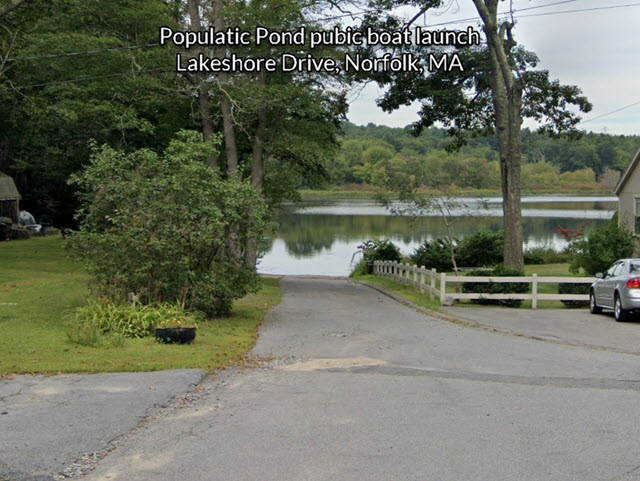 To access Populatic Pond directly, there's a concrete boat launch on the Norfolk side of the pond.
Below is an excerpt about canoeing and fishing on Populatic Pond and the Charles River from a 2001 publication entitled "Outdoors in Franklin" written by Michael J. Tougias:

The paddle from Populatic Pond downstream and into the Charles is always a treat because there is a touch of mystery as you leave the open waters of the pond and enter the shaded confines of the Charles. The bass fishing is good in the river because the river is quite deep, and there are plenty of fallen trees behind which bass like to hide and stay sheltered from the current. From Populatic Pond to the River Road launch site is about a mile. Mill Brook enters at River Road and curious paddlers can make there way up this brook, which is surprisingly deep in spots. For those looking for a paddle with a mixture of rocky rapids and long sections of flat water, the 3.5 mile run from the River Road Launch to Forest Road on the Millis/Medfield border is a great ride. Be sure to wear a life jacket and don't attempt to make the run during exceptionally high water unless you are experienced. During low water periods be prepared to drag the canoe through a couple scratchy areas. I've made the trip a few times, and its always different . . .
Copyright © 02038.com