Winterberry Farms in Franklin MA
Winterberry Farms is one of the most preferred neighborhoods in Franklin, MA.  The well groomed subdivision of generous lots and large homes was built between 1994 and 1998. 
Homes currently for sale in Winterberry Farms
Here are the Winterberry Farms houses for sale now:
(If you do not see any homes for sale above, there are no current listings in Winterberry.  But check back often as homes for sale here find buyers pretty quickly.)
Video of Winterberry Farms
Below is a video of this outstanding Franklin, Mass subdivision:
Facts about Winterberry Farms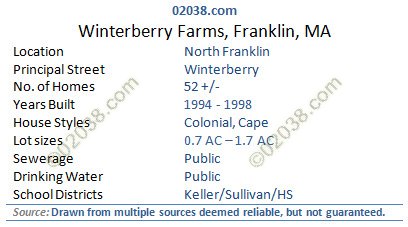 Colonials predominate in Winterberry Farms in Franklin, Mass. About 52 homes make up this neighborhood. The majority of homes in Winterberry are between 2,600 square feet and 2,900 square feet, not including finished basement space.  Some of the homes built in the first phase of development at Winterberry are smaller while there are also some homes in excess of 3,000 sq ft in Winterberry Farms.  Lots sizes range from approximately .70 acre to 1.7 acres.
This subdivision has town water and sewer service.  Underground utilities mean no unsightly power lines overhead.
Unsurpassed Franklin location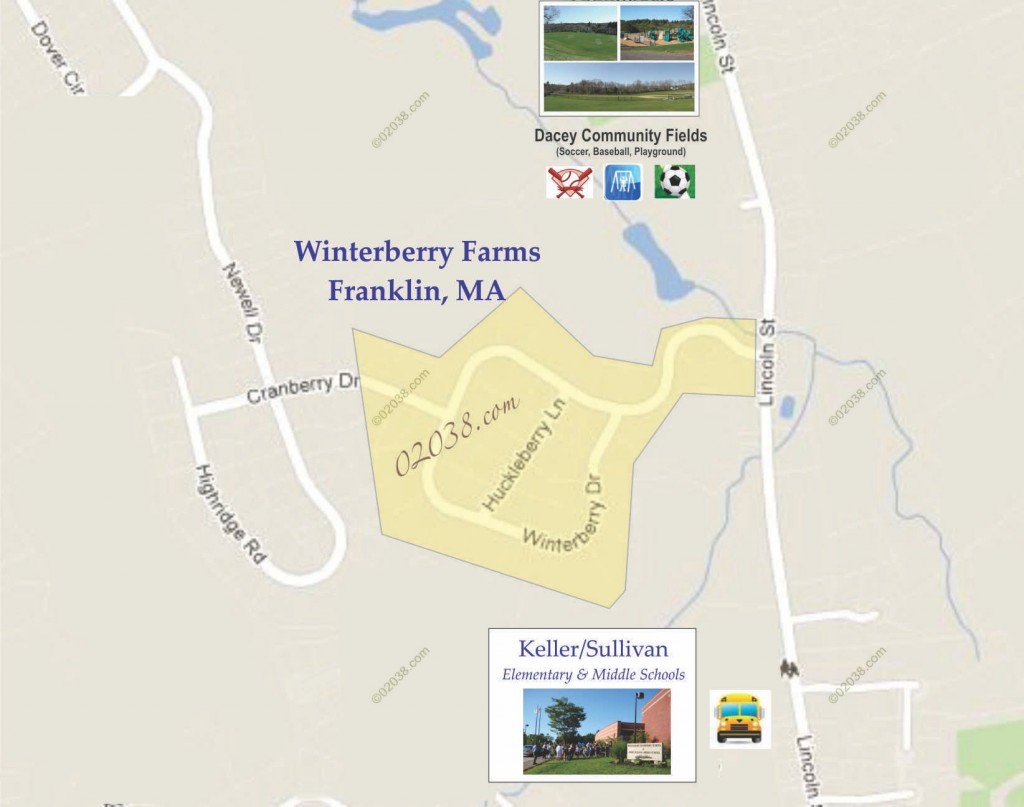 Winterberry Farms offers the all benefits of a choice location in north Franklin.  It connects to the distinguished Highland Estates neighborhood in Franklin, and from there into Franklin Chase.  This creates a wonderful setting for your home life.
Winterberry Farms is just a short drive to the Keller Elementary and Sullivan Middle Schools as well as Dacey Community Fields.
There's easy access to wonderful shopping and services in Franklin and along I-495.
Learn about Franklin, MA
Follow the images below to explore what makes Franklin, MA such a great place to live:
You can get even more information about Franklin and the local real estate market by using this site's top and side bar navigation links!
See homes for sale
Contact Warren to get inside any home for sale in Franklin, MA.  Want to try something different?  You can search for Franklin, MA homes for sale by school district and by house style.  Best of luck with your home search!
Copyright 02038.com.