Franklin, Massachusetts is celebrating twenty years of NFL Flag Football in 2020. The non-contact sport for kids is conducted at the  synthetic turf field at the Beaver Pond Recreation Area in Franklin, MA.

Franklin youth sports just one reason home buyers flock to Franklin, MA
Franklin, Massachusetts has a lot of what today's home buyers are looking for. Franklin offers so much to buyers that it has won a number of "best community" awards in recent years. Franklin has great public schools, a commuter-friendly location with train service to Boston, prime subdivisions of attractive housing, superb shopping, and a rich array of recreational resources. Those recreational resources include Franklin's truly remarkable youth sports programs. You can download a guide to Franklin, MA's youth sports offerings here, or in the hotlink in the image below: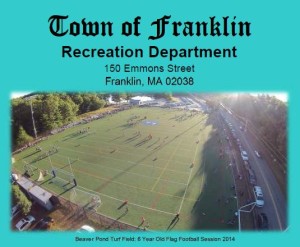 Flag football one of many highly successful youth sports programs in town
Franklin flag football is for children aged 6 – 15 and is now one of the largest flag football programs in the state. Participation has grown from 37 players on 4 teams back when the program got underway to today's 470 kids competing on 36 teams.
115 coaches administer five age divisions (6 year, 7 year, 8-9 years, 10 -11 year, 12-14). The program is so large that field time is split into three shifts starting 5:30 PM, 6:45 PM and 8:15 PM, respectively).
Download Franklin Flag Football guide
You can download Franklin's guide to its flag football program here or via the hotlink in the image below:
Franklin's flag football program has been so successful because flag football allows kids to get outside and have fun with the sport without the significant risk of injury inherent in contact football. Flag football also requires much less of a time commitment than traditional contact football youth programs. (Franklin's flag football is played on only 2 evenings a week as opposed to contact programs' typical 5 day a week schedules).

Residents of Franklin owe a big debt of gratitude to the Franklin Recreation Department for the wonderful job it is doing for the children of Franklin!
Copyright ©2015 02038.com