The Franklin Town Library will be closed  for the next 3 weeks as it moves to a temporary location in a local industrial park.  The move is part of a $10m+ renovation and expansion project that will transform the facility by the middle of 2017.  The Library will be closed from April 11, 2016 through May 1, 2016 and reopen to the public on May 2 at 25 Kenwood Circle, Franklin MA.
The Library will likely remain at the Kenwood address until at least the middle of 2017 while the existing library facilities at 118 Main Street undergo an extensive facelift.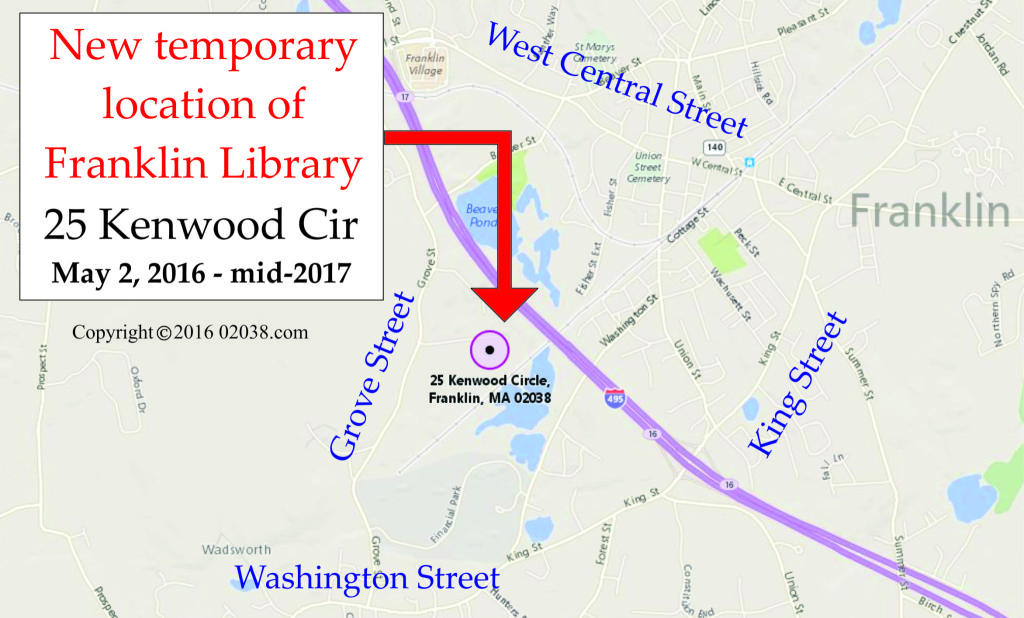 Historic 1904 library building getting $10M+ of improvements
The beautiful Public Library is one of the architectural gems of Franklin, Massachusetts and is being enhanced, NOT torn down (!)
A reminder of the days when Franklin was a hub of the Industrial Revolution in America, the Library building was a gift to the town by a wealthy industrialist family which had amassed its fortune operating factories in Franklin.  The classic Greek temple exterior is surpassed only by the impressive interior featuring beautiful murals.  You can learn more about the first-in-the-nation Franklin Public Library and its ties to Ben Franklin here.
Renovations and a large addition will take over a year
Among other upgrades, the mechanical systems serving the library facility (heating, ventilation, air conditioning and fire suppression) will be replaced with completely new components.
The most exciting change will come with a large new addition to the building which will bring the overall complex into the 21st century.  Below are floor plans of the new wing being added to the Franklin Public Library in Franklin, MA along with concept images of alternative facades and select interior features.
The year's worth of construction will pass quickly and the revitalized and expanded Library will be well worth the inconvenience of the Library's temporary home in the industrial environs of Kenwood Circle. Here's to our upcoming new and improved Public Library in 2017!
Copyright ©2016 02038.com