Franklin home buyers have been faced with a dire reality so far in 2016: there simply have been not enough homes for sale in town at prices most buyers can afford.  Two charts show the difficult conditions confronting prospective purchasers this spring in Franklin, MA . . .
Not enough homes for sale in Franklin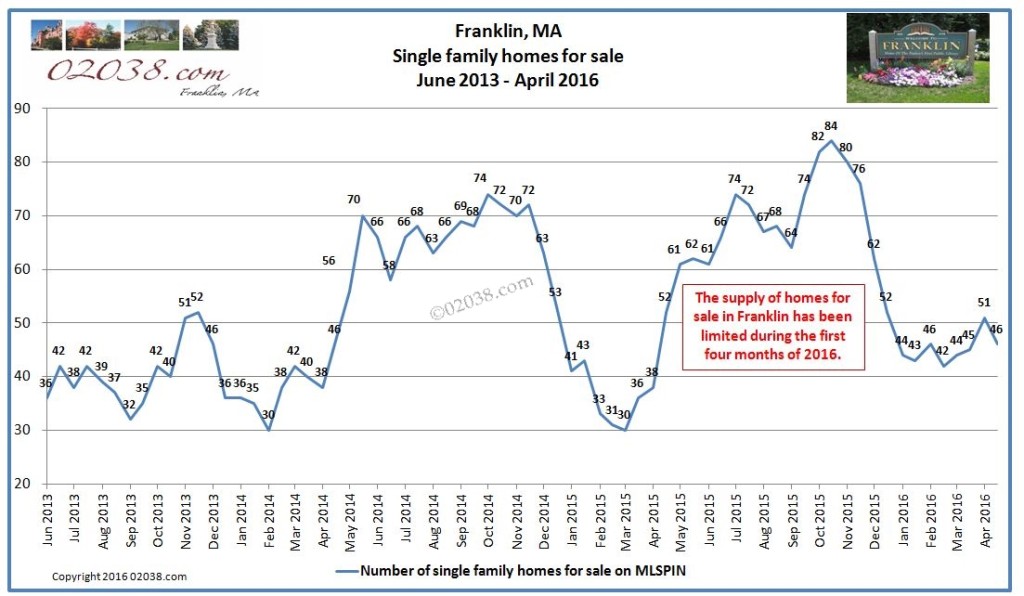 As you can see above, each of the last three years (2014, 2015 and 2016) has gotten under way with a dearth of available homes in town.  The lack of supply each spring created very tight, pro-seller market conditions in Franklin, Massachusetts.  Anxious buyers and bidding wars for homes were commonplace in the Franklin housing market during each of the last three springs.  Here are links to recaps of real estate activity in the Bay State during the first quarter of this year and for all of 2015.
What is especially telling for home buyers this year is the fact that of the 40-odd homes consistently in the Franklin inventory this spring, 10 or more of these offerings have been priced at $800,000 or higher.  The $800K+ price range is not what the vast majority of Franklin home buyers want or can afford – talk about frustration for most buyers!
In 2014 and 2015, the supply of homes for sale in Franklin became more plentiful during the summer and fall, enabling more buyers to secure homes.  We'll have to wait to see whether the tight supply likewise eases this summer.
Affordability a challenge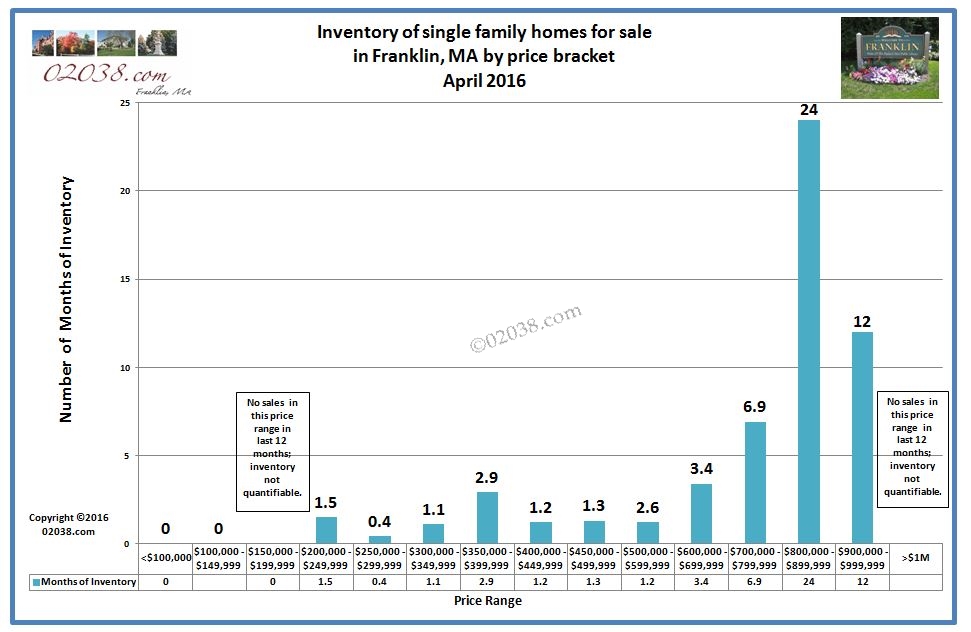 The chart above shows the months of supply of homes for sale in Franklin, MA this April by price range.  There is an ample supply of homes for sale priced $800K and above, but very little in the $300K – $599K price ranges that form what should be the meat and potatoes price segment of the Franklin market.  For most buyers in Franklin, there's very little from which to choose!
Lack of choice makes for some fast sales
Thin inventory means lack of choice and lots of competition for Franklin homes that are priced correctly.  Many Franklin listings were snapped up quickly this spring after hitting the MLS.
Below is a gallery of recent Franklin listings that found buyers within the first ten days of marketing:
(If you're reading this post a considerable time after publication, the above gallery will display few and eventually no homes, as the listings proceed over time to closing.)
Advice to home buyers
The spring market in Massachusetts is the time of the most competition for home buyers.  There will likely be fewer buyers out looking for homes as we enter what typically is the slower summer home selling season in the Bay State.  Keep going to open houses, learn about what home features and locations work best for you and watch for new listings.  You'll "make your own luck" only if you keep trying!  Contact me with any questions about home buying in MA!
Copyright ©2016 02038.com