2016 was a stupendous year for real estate in Massachusetts. Home sales volume on MLS-PIN shattered prior records and Greater Boston home prices hit new all time highs.
Single family home sales reported on MLS-PIN broke the 50,000 transaction mark for the first time ever, eclipsing 2015's sales total total by 7.7%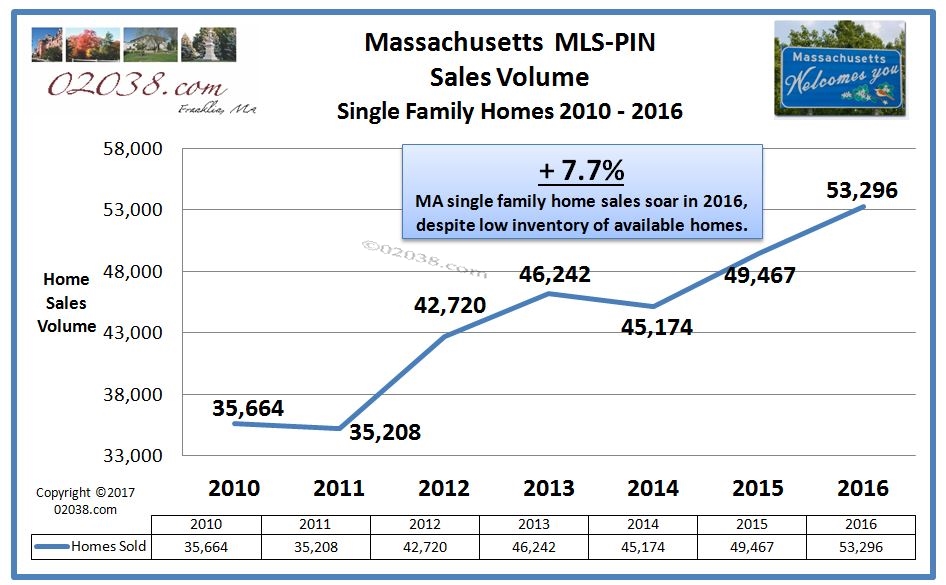 2016 sales far surpass 2004 market cycle high
Looking back to the previous market cycle high of 2004 – 2005, it becomes clear just how robust single family home sales activity was in the Bay State in 2016.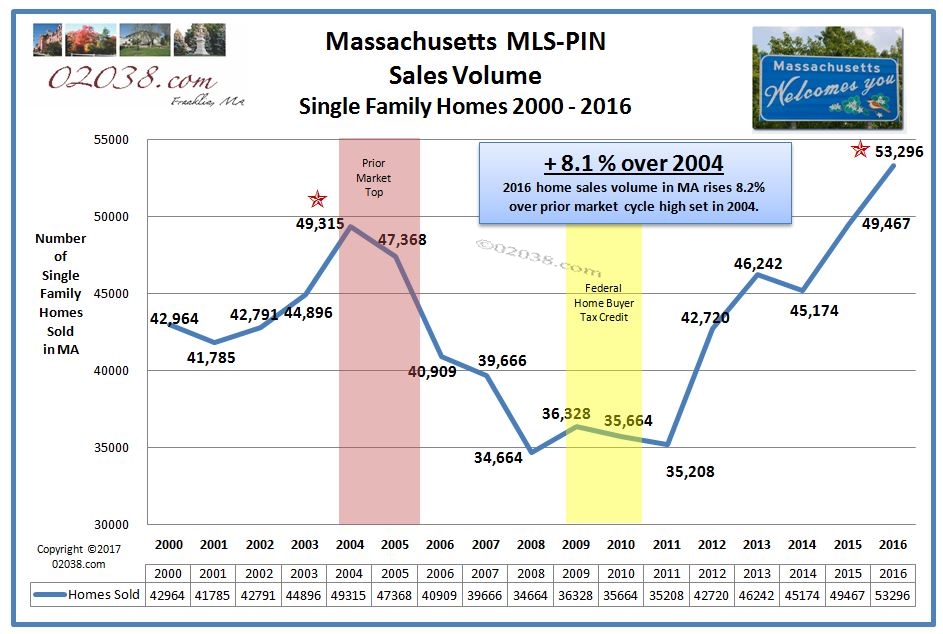 2016's single family home sales volume on MLS-PIN exceeded the prior market cycle sales high set in 2004 by just over 8%. A combination of plentiful jobs in Massachusetts and low mortgage rates fueled the record home sales performance in 2016.
MA home prices continue five year rise
The median sale price for all single family homes in MA sold on MLS-PIN during 2016 rose over 4%.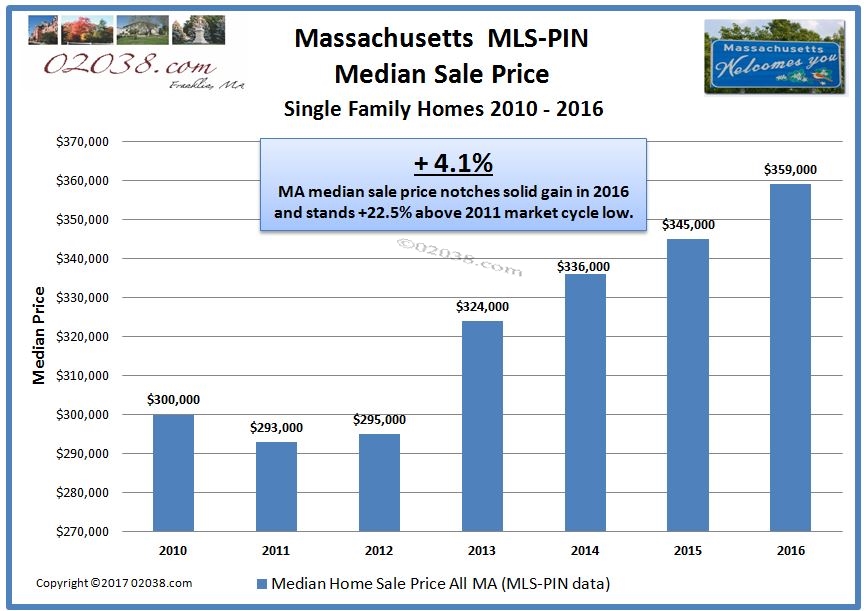 This was the fifth straight year of increases in the median sale price of single family homes throughout MA. However, the gains in the statewide median sale price understate the rise in home prices in the Greater Boston area during the same time period.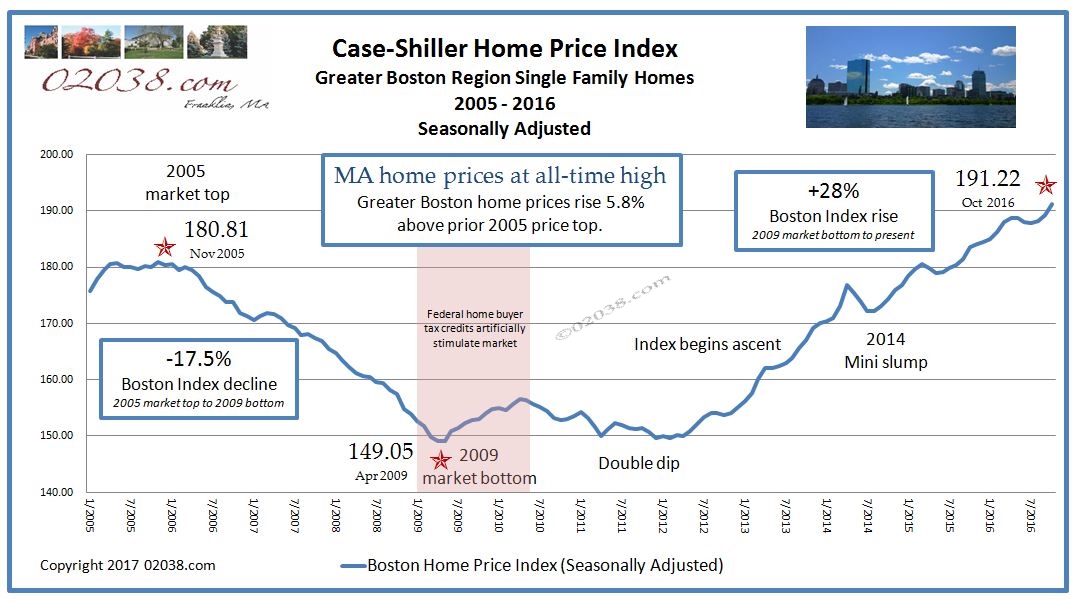 Home prices around Boston as tracked by the seasonally adjusted Case-Shiller Home Price Index for Boston reached record highs in 2016. The Case-Shiller Index for Boston is 28% above the market cycle low set in 2009 and now stands 5.8% above its prior 2005 all time high.
Outlook for 2017 positive; housing supply the rub

Despite booming homes sales in each of the last two years, there seems to be ample room for additional gains in 2017. As 2017 gets underway, the MA economy is powering forward with the technology, health care, bio-tech and education sectors all prospering and adding jobs.
Indeed, the biggest challenge facing the Massachusetts real estate market in 2017 is a dramatic lack of available homes for sale.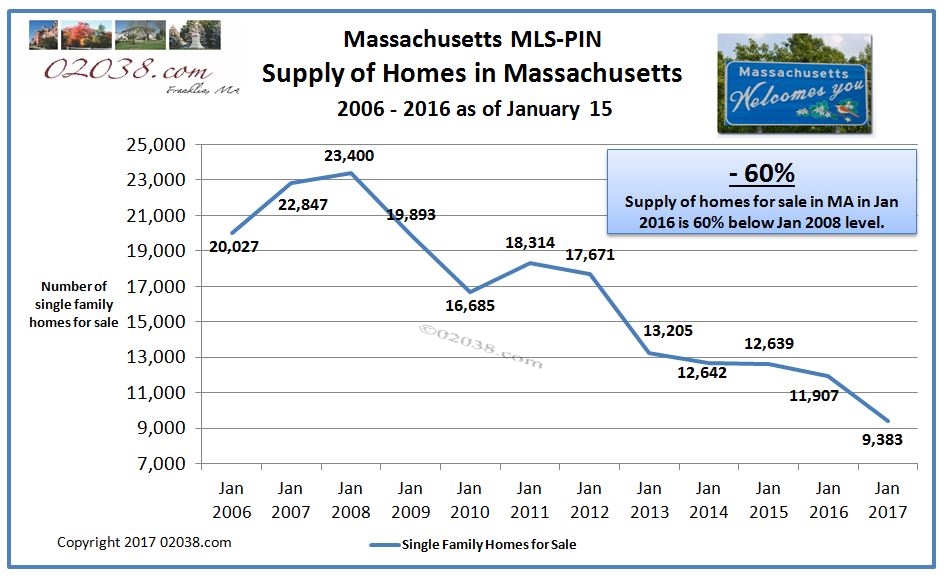 The above chart starkly shows just how restricted the supply of housing in the Bay State has become. With less than 10,000 single family homes currently for sale on MLS-PIN, the housing inventory this January is a staggering 60% below where it was in 2006!
The low inventory in Massachusetts gets worse the closer to Boston you search and presents obstacles for both home buyers and sellers that cannot be ignored. If you are thinking of making a move in 2017, you need a coherent strategy for dealing with the crushing lack of homes to buy. Contact Warren Reynolds for skilled advice and help with your home purchase or sale!
Copyright ©2017 02038.com