This the fourth of six articles on how to buy a condo in Massachusetts. Written by attorney and real estate broker Warren Reynolds, these posts aim to empower you to be a more informed purchaser. You can access the third article in the series here. As you are cautioned inn each of these posts: get support and guidance from an attorney before you commit to buying any property.
Part 4: Who takes care of what regarding repairs at condo communities
Many people assume that when they buy a home in a condominium community, their exterior maintenance and repair costs will be essentially nil. After all, a good portion of the monthly condo fees they'll pay will go towards exterior repairs and upkeep of the grounds, amenities, access roads and driveways. So it's safe to assume that condo owners take care of their units, and the condo association takes care of everything else, right? Not necessarily!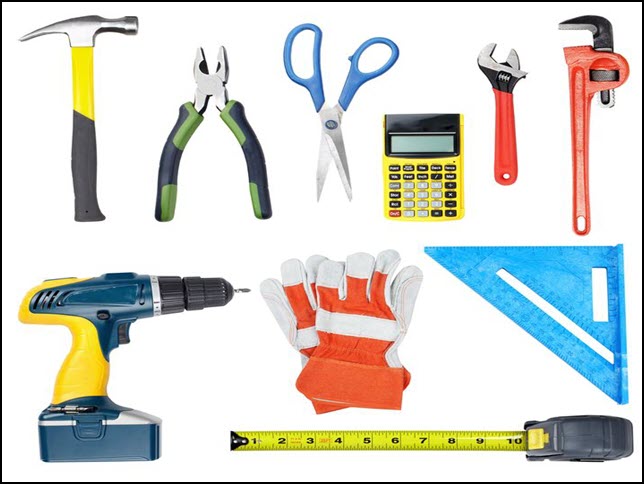 Common-area repairs are on the association, with some exceptions
The general rule with condos is that unit owners are responsible for their own units and the condo association is responsible for what are called "common areas". But there are some very important exceptions to that general who-repairs-what rule. These exceptions shift to unit owners the cost of maintaining and replacing some very significant – and expensive – exterior structural components.
These cost-shifting exceptions are reviewed in the following video and also in detail below.
The distinction between condo units and common areas
Embedded in the images below are hotlinks to two websites that provide helpful information on how common areas can be distinguished from individual dwelling units in condominium communities.
Common areas most associations take care of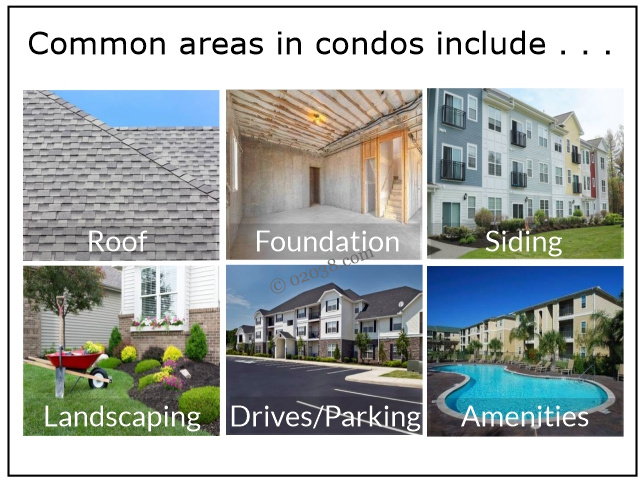 The vast majority of condo associations take care of such obvious common areas as roofs, exterior siding, foundations, landscaping and grounds, access roads and driveways, and community assets such as pools, gyms, club houses, tennis courts, etc.
(Note that there are some associations with individual freestanding condos that put on unit owners the cost of maintaining the entire exterior of their respective units.)
What routinely is the responsibility of unit owners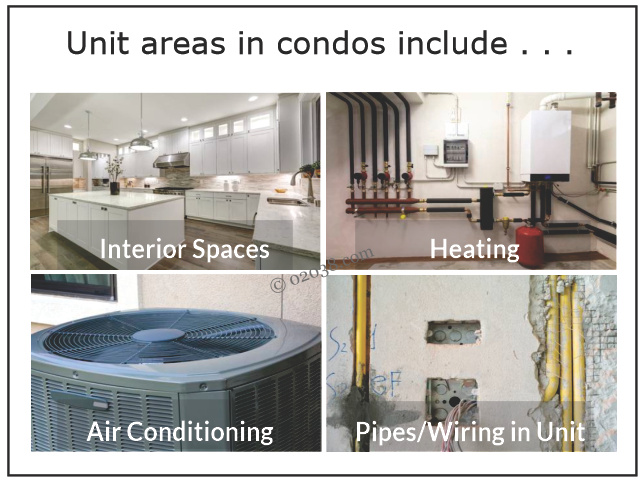 Unit owners are typically responsible for the upkeep of the interiors of their condo units. Unit interiors include fixtures in all rooms, interior ceilings, walls and flooring, heating and AC systems that exclusively serve the individual units, and pipes and wiring within each unit. No surprises here!
Areas of special responsibility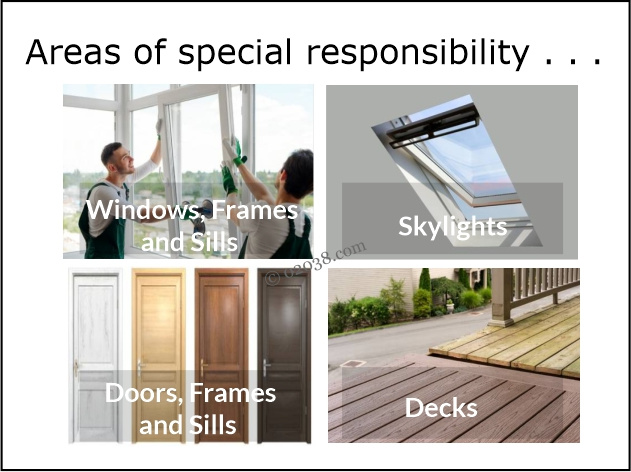 Most associations impose exceptions to the above conventions. These exceptions shift maintenance and replacement costs from the association to the unit owners for some features that might at first glance appear to be common areas. It's these exceptions that can be a surprise to prospective condo buyers.
These exceptions typically pertain to structural elements such as exterior windows, doors, and decks. Many associations make unit owners bear the cost to repair these items, including the exterior sills and frames of both windows and doors. So if you are buying a condo unit with old windows that you will want replaced at some point in the future, you will likely have to bear that expense!
Check the condo documents
The best way for prospective purchasers of condo units to protect themselves from any surprises about their ongoing maintenance and replacement obligations is simply to read the condo documents.
In the hotlink embedded in the image below, you'll be able to download a .pdf showing how common areas and condo units are differentiated at a substantial condominium association in the Town of Franklin, MA.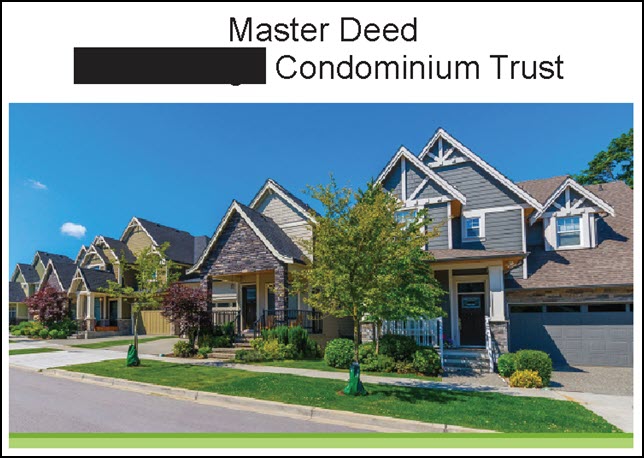 All condominium associations will have similar provisions somewhere in their foundational documents. So before you buy a condo unit, ask to see the "condo docs" and read them carefully. It's better to know before you buy exactly what you're getting into in terms of repair and replacement obligations.
Next on the agenda: How to save money on a home inspection
Having a home inspection is a very smart move for any prospective home buyer. But did you know that many buyers end up wasting money on home inspections that they should never have ordered in the first place?

Follow the hotlink in the image above or at right to learn how you can spot common warning signs of structural and mechanical system problems at a home that make it a property you should steer clear of – without paying for a home inspection!
Questions? Ask Warren Reynolds!
Use the form below to send condo questions to real estate broker and attorney Warren Reynolds. He'll be happy to help you!
(All Warren asks is that if you are already committed to working with another real estate agent to please have that agent answer your questions.)
Copyright ©02038.com