This is the third of six articles written by attorney and real estate broker Warren Reynolds designed to help condo buyers make better purchase decisions. You can access the second article in the condo-buying series here. (Warren reminds you to consult with legal counsel before buying any home or investment property.) On to part three!
Part 3: Condo doc review
It's easy to get caught up in the excitement of finding a condominium unit you love and want to buy. But before you make an offer, you should remember that you'll not only be living in the condo unit itself, you'll also be living in the condo community. And there may be a problem at the community, or something about the way the community operates, that makes the condo community a bad fit for you. So how can you can protect yourself from buying into a condo community that's not the right place for you to call home?
Look at the condo documents and financial reports before you commit
Condo buyers can protect themselves from unpleasant surprises concerning a condo community by reviewing an important set of condominium documents and financial reports.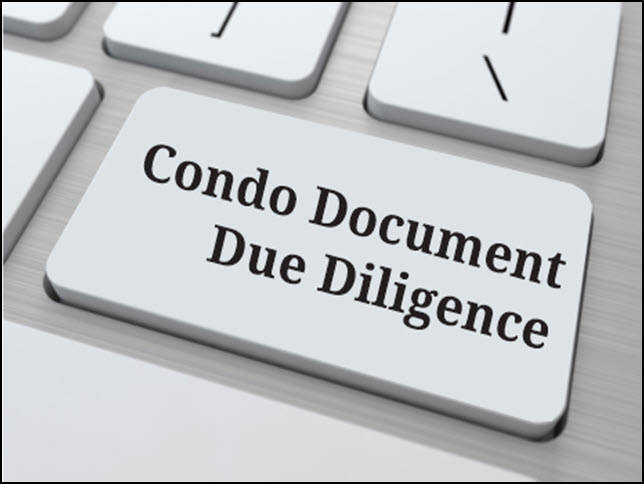 In Massachusetts, each condo community is governed by a set of documents. These often include a Master Deed, which establishes and defines the condominium, and a Declaration of Trust, which creates the condo association that oversees day-to-day life at the condo community. There usually are Rules and Regulations (or "covenants, conditions, and restrictions") that set the expected norms of behavior by residents. The association will publish periodic financial reports on income and expenditures by the condominium. And some associations also release written minutes of the meetings held by the association's Board of Trustees. Together, all these documents and reports are commonly referred to as the "condo docs and financials".
When to review the condo docs and financials
In Massachusetts, it's a two-step process in contracting to buy a home: First, you make an Offer. Once that offer is accepted by the seller, you move on to signing a Purchase and Sale Agreement (P&S), typically after you have had a home inspection.
It would be ideal to do your "due diligence" review of the condo docs and financials before you make your offer. But a fast-paced housing market often makes that impractical, unless the condo unit has been sitting unsold on the market for a long time.
Your second best alternative is to get your offer accepted and then review the condo documents and financials before you conduct the home inspection. That way, if you find problems in the condo docs or financial reports, you can stop the purchase without spending money on the inspection. Again, given time constraints, that may not be feasible.
Most buyers will end up reviewing the condo docs and financials during the home inspection contingency period. You'll pay for the home inspection, but at least will have had the opportunity to vet the association before you sign the P&S.
(Note to buyers: be sure to include in your offer a contingency for your satisfactory review of the condo documents and financial reports.)
Issues to look for in the documents and financial reports
Here's a video that covers the issues you should be on the lookout for as you peruse all the reports and documentation; these issues are also reviewed in more detail below:
Issue 1: Lifestyle and quality of life at the association
Because a condominium community involves a number of residents living in proximity to one another and sharing use of common areas, unit owners surrender some privacy and control over their lives at a condo community, compared to life at a single-family home. Prospective buyers of condo units should look to see if they will be comfortable living at the condo community before they are committed to the purchase.
Here are some of the condo documents you'd be wise to scrutinize regarding lifestyle and quality of life issues at a condo community:
The association rules and regulations govern life at the condo community.
Read the rules and regulations carefully. At some associations, the rules and regulations are simple and brief. At other associations, this document contains pages of restrictions and dictates that address a wide range of topics. Look to see if there are limitations on pets, how exterior decorations are restricted, whether residents are allowed to add plantings or gardens outside their units, how trash disposal and snow removal are conducted, and what the vehicle parking rules are. Ask yourself how you would feel living under these controls.
If the association publishes a handbook, you're in luck because not that many associations have them. The handbook is essentially a crib sheet for unit owners. The handbook summarizes the most important rules and operations at the association and gives you great insight into whether you likely will be happy with the way the condo community operates.
Handbooks contain just about everything you'll need to know about day-to-day life in a condo association. They will include the rules and regulations and typically address a myriad of quality of life issues. In them you'll often find move-in and move-out procedures, information about community amenities such a pools and recreation facilities, how parking is handled during snow removal, and the like. Sometimes a handbook will also explain the repair and maintenance responsibilities of unit owners, as opposed to what the association is responsible for.
Minutes of the meetings of the Board of Trustees
Just as with handbooks, not all associations publish minutes of Board of Trustee meetings. But if these exist, get them!

Minutes are windows into the happiness of residents at the association. You'll sometimes see discussions of disputes between unit owners, simmering maintenance complaints, or fines being assessed by the association. If you see complaints, disputes or fines in the minutes, ask yourself, do I really want to live here?
The biggest red flags in the minutes are discussions of financial problems at the condo community. We'll cover condo financial statements in the next section immediately below. But if you read in the minutes that the condo community is running a deficit, or that there may be a need to raise the monthly condo fees, or that a supplemental assessment on unit owners is in the offing, you'll at least be in a position to ask appropriate questions or perhaps seek a financial concession from the seller of the unit you are considering purchasing.
Issue 2: Financial problems
Ask for "the financials" for a condominium community and you'll certainly get some kind of an income and expense report. But what you'll receive will vary greatly from association to association. Sometimes you'll be given a robust and detailed statement, while other times the financial report is basic and simplistic.
Occasionally, the report you receive shows obvious financial problems at the condo community.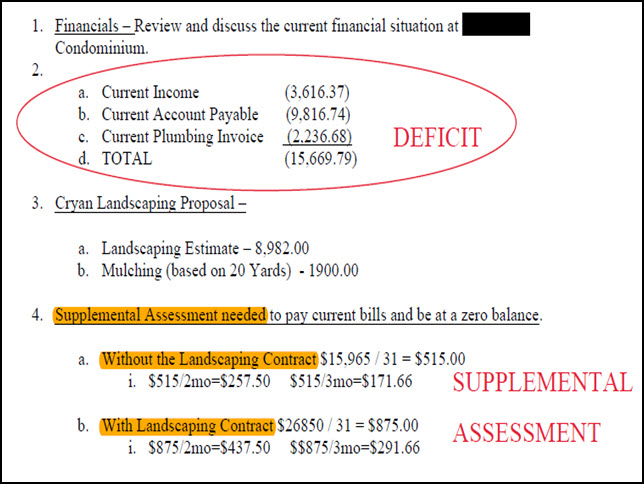 The above report showed significant financial problems at a condo community. It was enough to induce a buyer to back out of his purchase before he performed the home inspection. It pays to ask for "the financials" as early as you can!
Knowledge is power
The above discussion shows you the wisdom of doing adequate due-diligence on the condo documents and financial reports. That way, you won't move into your new condo only to find out, too late, that there is a supplement assessment in the works, you can't hang your favorite holiday decorations outside your unit, and your pet is not permitted to live in the community!
Up Next: Understanding who is responsible for what in condo repairs
It can be quite confusing getting a handle on who is responsible for maintenance and repairs at a condominium community.

Follow the hotlink in the image above or at right to how repair duties are typically allocated between associations and individual condo unit owners – some of the answers may surprise you!
Questions about buying or selling a condo?
If you have questions of any nature about buying or selling a condominium in Massachusetts, you can use the form below to contact attorney and real estate broker Warren Reynolds.
Warren has helped hundreds of condo sellers and buyers and he will help you, too!
(All Warren asks is that if you are already committed to working with another real estate agent to please have that agent answer your questions.)
Copyright ©02038.com