Circle of Friends Coffeehouse in Franklin, MA
The Circle of Friends Coffeehouse sponsors entertainment that features live music and refreshments in a relaxed "coffeehouse" setting in Franklin, MA.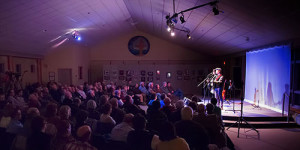 Shows are held in what is styled as the quintessential New England coffeehouse at the First Universalist Society located at 262 Chestnut Street, Franklin, MA.  Performances are given in a smoke-free setting.  Non-alcoholic refreshments and desserts are available.
Past performances held at the Circle of Friends Coffeehouse in Franklin, MA have included:
Bill Novick and Guy Van Duser
Red Molly
Gandalf Murphy and the Slambovian Circus of Dreams 
The Circle of Friends Coffeehouse
P.O. Box 21
Franklin, MA 02038
Performances at 262 Chestnut St in Franklin, MA
http://www.circlefolk.org/