Memorial Day marks the unofficial start of summer in the US and also signals the approaching end of the spring home selling season in Massachusetts. A look at the year-to-date home sales stats presents a very robust picture of the the 2019 Massachusetts housing market as the prime spring selling season draws to a close.
Home sales on the upswing
After a dip in the spring of 2018, single-family home sales volume recovered nicely this year.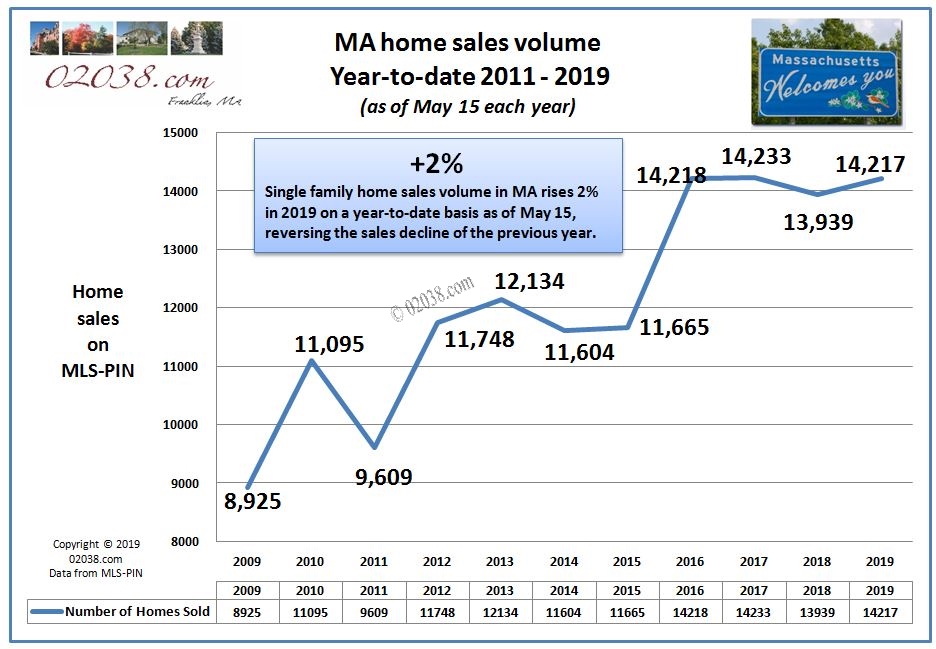 The two percent rise in single-family home sales volume in the Commonwealth so far in 2019 is very significant, coming as it does on the heels of notable market weakness last fall. Demand for homes has been very strong in Massachusetts since mortgage rates fell in December. The vigorous pace of sales this spring appears likely to continue during the summer, given the booming MA economy.
Home prices remain on the rise
The median sale price of single family homes in Massachusetts continued to climb this spring.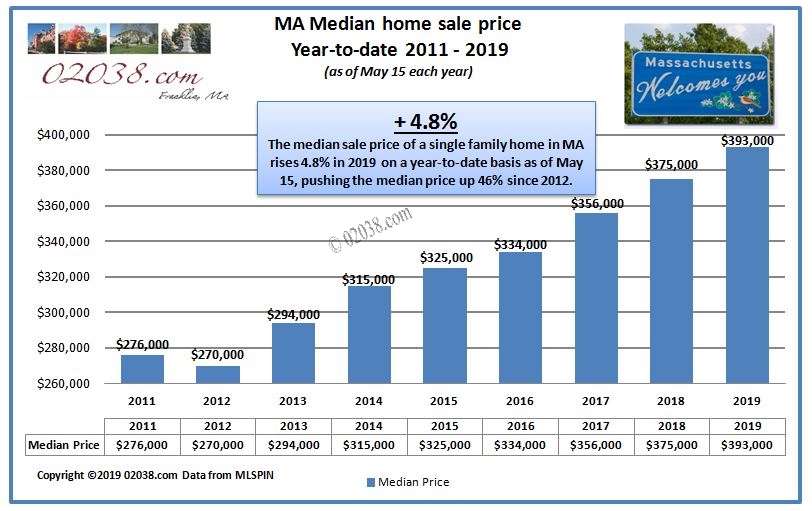 Fueled by good economic times and attractive mortgage rates, the median sale price of single-family homes in Massachusetts has jumped nearly five percent on a year-to-date basis as of May 15. Strong demand, as evidenced by the overwhelming attendance at many open houses in the greater I-495 market this spring, should continue to move homes prices higher in coming months.
Too few homes for sale, despite inventory uptick in 2019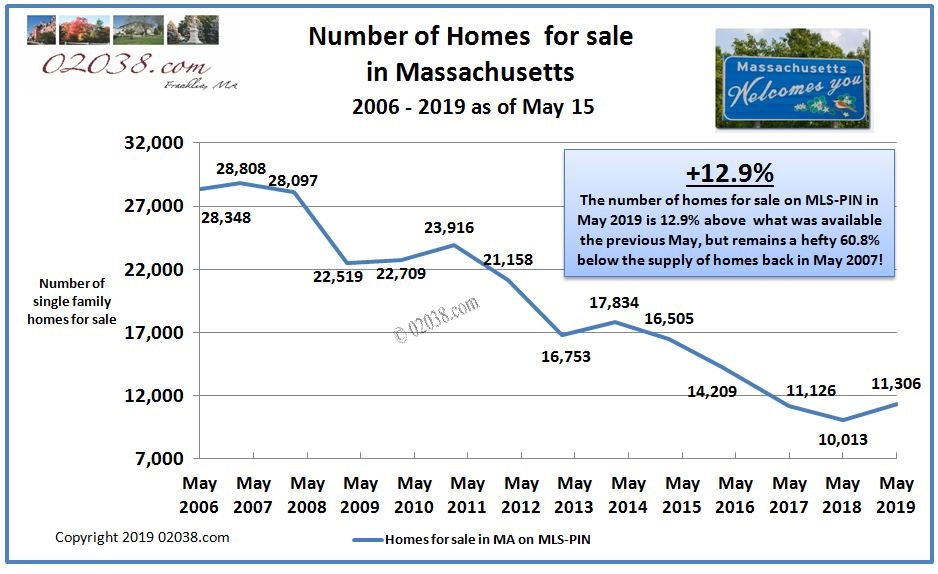 While there are more single-family homes for sale this May compared to May of last year, the supply of available homes remains extremely limited in light of avid demand. With an overall population gain exceeding 335,000 in the last eight years . . .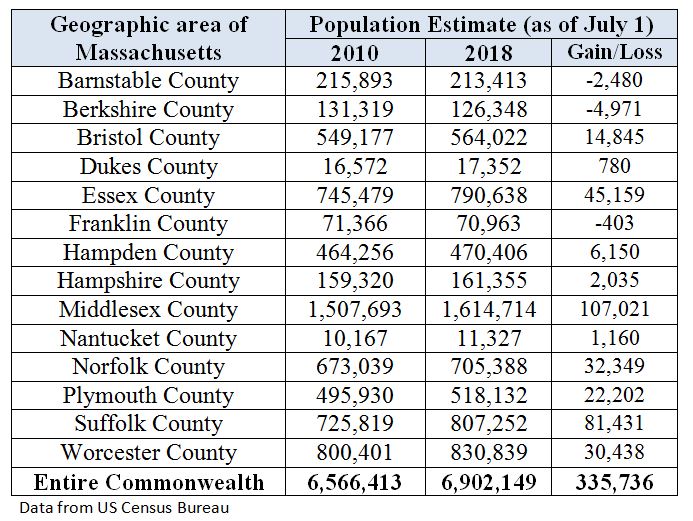 . . . the Commonwealth of Massachusetts is faced with a severe shortage of housing.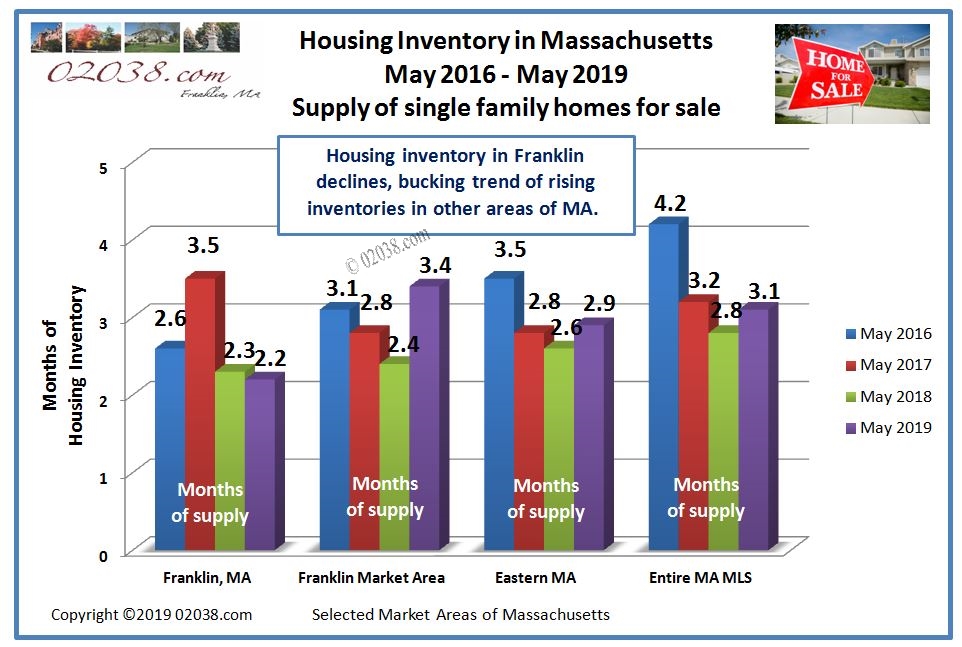 The above chart shows single-family housing inventories for select geographic areas of Massachusetts and for the Commonwealth as a whole, expressed as months of supply. The chart shows that inventories have risen somewhat this May, compared to May 2018. (The Town of Franklin has seen its supply of homes decrease this spring.)
Home buyers can take little comfort in the build-up housing inventories shown above, because the MA housing market remains severely out of balance in the favor of home sellers. Six months of supply is considered a market in equilibrium. Four months of supply typically denotes a sellers' market. With current inventories of approximately three months in most of the regions shown above, and even less in the Town of Franklin, the housing market remains strongly tilted towards home sellers.
Best advice for home buyers
Keep trying! The long-term benefits of homeownership are undeniable and well worth the grind of showings, open houses and competing offers. You'll "make your luck" by keeping in the game and working with a caring real estate agent with a lot of patience!
For home sellers: price properly
Given the strong market conditions, you will be tempted to set your asking price high. Sometimes that can be a big mistake! Many home sellers who price too aggressively regret their high-price strategy after weeks – and even months – of sitting unsold on the market. You'll find that a more reasonable initial asking price designed to seem compelling to buyers will bring you a better sale, and at a better price, than you'll achieve by starting at the outer edge of your property's value range. Contact me for advice on effective pricing and marketing!
Copyright ©2019 02038.com