Warren is a licensed attorney-at-law in addition to being a Realtor! You'll benefit from Warren's powerful blend of legal expertise and advanced brokerage skills honed by over 20 years of home selling success in the Greater Franklin market. Contact Warren for top notch marketing, in-depth market knowledge, untouchable integrity, steadfast loyalty, and superb follow through!
As a broker associate with Berkshire Hathaway HomeServices Commonwealth Real Estate, the largest BHHS brokerage in all of New England, Warren is part of a superbly efficient machine that helps him produce fast, smooth transactions through cutting-edge technology, exceptional performance and superior skills.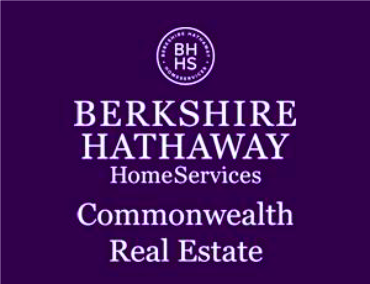 Warren contributes to his clients his unique blend of strong advocacy skills derived from his legal background coupled with his extensive knowledge of the Franklin regional market and insights into local housing trends. He has assembled a strong team of support staff which enables him to perform consistently at a very high level.
Warren´s core beliefs of constancy, reliability and fidelity are the foundation of his business and earn him the trust and appreciation of his clients.
Clients rave about Warren Reynolds! Here are just some of the testimonials from Warren's clients:
We are really happy with your services and the way you attended to us, relieving all our doubts. You're very professional, still you are helpful and very understanding. You supported me in selling the unit, when my husband was away for weeks out of state on the new job. I really appreciate all the time you spent in changing the CO2 detectors, to save the us money on an electrician. Thanks for being there for us, you are one of the best Realtors in the area! We are thankful to you for selling our home in such a short time. We would recommend you for all our friends, who ever asks us for a reference!
Warren did an outstanding job helping us in our commercial property purchase. He came with us to search many properties in Norfolk and Worcester Counties. With Warrens help we were successful in finding our new property to start our small business. He helped us find a real estate lawyer and came with us to the city hall and law office. Thank you Warren for the great job!
I am down here in Raleigh, NC getting settled in my new location. I would not have had this opportunity to have my plan go so well if it weren't for all your help in selling my house so fast. I had thoughts of it being on the market for months making it very hard for me to move south as quickly as I did. Your ideas for staging my house paid off and I appreciate all you did to make things go as smooth as they did.
Again, thank you so much for all your expertise and help. You are highly recommended by me
It is our pleasure to recommend Warren Reynolds for all Real Estate Services. We have worked with several Agents previously and none can compare with the professionalism and attention to detail that Warren provides to his clients. Warren is an extremely hard worker and will always go the extra mile to take care of business and get the job done. His vast experience in Real Estate enables him to anticipate issues which he immediately addresses so the whole process will continue to run smoothly.
Thanks to Warren, we were able to sell our home quickly and are now enjoying our new home by the ocean. Both of us are thankful we hired Warren and we would not hesitate to call on him for any future real estate needs.
Hire Warren as your real estate professional. He will take care of you every step of the way and help you achieve your real estate goals. It is a decision you will never regret!
When we began our search for a home last year Warren came highly recommended. We had only vague notions of what we wanted and what we were looking for. Warren educated us at every turn, showing us numerous properties and helping us to narrow down what we wanted from a home.
When the time came to put in an offer Warren was prepared. He had a great network of high quality vendors that helped us, from home inspection to mortgage lending. During a sale that was contentious at times, Warren was very supportive and highly informative, and represented us at numerous occasions where we could not be there ourselves.
As an agent Warren does not just present you with a list of homes to choose from. He offers you an education on home purchasing and home ownership that we found invaluable. Warren is your best choice of agent if you're looking for a home in this part of the state.
I am happy to recommend Warren Reynolds to you as a Realtor. I found him to be not only professional but capable, trustworthy and knowledgeable in all aspects of real estate business.
In my personal experience with Warren I learned I would be listened to and respected. The entire process of selling my home was seamless and efficiently handled.
This is the second house Warren has sold for us in 10 years, so obviously, we have a high degree of confidence both in his professional skills and the friendship we have developed with him.
Warren knows how to set a selling price that works for both sides of a home sale. He knows how to prepare a home for sale with a simple but direct technique: $1 of additional investment must net $1.30 of return upon sale of the home. This was true for us.
Selling a home is like sailing a ship – you have to know the big weather picture of the real estate market, interest rates, etc.; the currents and shoals of the local real estate market where your house is located; and the small rigging details of your home to prepare it for showing and sale at or around asking price. Warren is an experienced navigator in all three areas. We had complete peace of mind with Warren at the helm.
The final "docking" of a sale – the offer, the counter offer, the accepted offer – is fraught with challenges. We were in the enviable position of multiple offers and Warren secured the best possible price and guarantee of buyer financing we could hope for, well beyond our expectations.
It has been a pleasure doing business with Warren Reynolds. His expertise in the local real estate market helped us sell our home for asking price and buy a new one. As the listing agent for the property that we purchased, Warren's low key non aggressive personality was a perfect fit for us. He wanted us to be cautious with our decisions and took extra time going over things with us that would be important in selling our home. Working with Warren he made himself available and accessible at all times. He was easy to contact and returned calls promptly. We especially appreciated his effort to work around our busy work schedules. He made sure that things were done in a timely manner and always followed up with us. Warren's experience made things run smoothly for us. We have and will continue to recommend him.
We are writing this in reference to the outstanding experience we had working with Mr. Warren Reynolds. As a Military family, we've gone through the relocation process a few times (our children have lived in four homes). We have purchased and sold homes a number of times, and have worked with a variety of realtors. Warren rates at the top of our list! From the personal touches and in depth knowledge of the areas we were interested in, including schools systems, value for our dollar, access to public transportation, etc., Warren went that extra mile to ensure we were armed with all the needed information to make our decision.
We most heartily recommend Warren to anyone looking for a real estate specialist. He fits the mold as the honest broker, from the initial contact, through the purchase and sales negotiations, to the closing, and beyond!
Click To See More Testimonials
Here's a quote from Warren that explains the accolades he receives:"Buyers and sellers alike deserve to be treated like they are the most important part of the process", Warren says, "I work hard at listening carefully and empowering my clients with a sense of understanding and control of their transaction. I constantly strive to put myself in the shoes of those I am helping".
Warren has lived in several different parts of the United States and has traveled extensively both in North America and abroad.
He obtained his prestigious GRI designation after a rigorous 90 hours of advanced brokerage training from the National Association of Realtor´s acclaimed Realtor Institute. Warren graduated Magna Cum Laude from Tufts University and received his law degree from the Tulane University School of Law. He resides in Franklin, MA with his wife, Debbie and sons, Tommy and Jonny.
"I pledge to you that I will treat you with respect, and will do my utmost to protect and advance your best interests throughout the entire home buying or selling process."
Digital Millennium Copyright Act ("DMCA")
02038.com (the "Site") respects the intellectual property rights of others and expects you to do the same. Per the DMCA, the Site will respond expeditiously to claims of copyright infringement on the Site if submitted to the Site's Copyright Agent as described below. Upon receipt of a notice alleging copyright infringement, the Site will take whatever action it deems appropriate within its sole discretion, including removal of the allegedly infringing materials.
If you believe that your intellectual property rights have been violated by the Site or by a third party who has uploaded materials to the Site, please provide the following information to the Site's designated Copyright Agent listed below:
a. A description of the copyrighted work or other intellectual property that you claim has been infringed;
b. A description of where the material that you claim is infringing is located on the Site;
c. An address, telephone number, and e-mail address where the Site can contact you and, if different, an e-mail address where the alleged infringing party, if not the Site, can contact you;
d. A statement that you have a good-faith belief that the use is not authorized by the copyright owner or other intellectual property rights owner, by its agent, or by law;
e. A statement by you under penalty of perjury that the information in your notice is accurate and that you are the copyright or intellectual property owner or are authorized to act on the owner's behalf;
f. Your electronic or physical signature.
The Site may request additional information before removing any allegedly infringing material. In the event the Site removes the allegedly infringing materials, the Site will immediately notify the person responsible for posting such materials that the Site removed or disabled access to the materials. The Site may also provide the responsible person with your e-mail address so that the person may respond to your allegations.
The Site reserves the right to terminate, limit or suspend any user's access to the Site in the event of repeated infringing activity. If you believe that a user of the Site is a repeat infringer, please follow the above instructions to contact the Site's Copyright Agent. Please include sufficient information to assist the Site in determining that the user repeatedly engaged in infringing activity.
The Site registered a designated agent with the Copyright Office pursuant to 17 U.S.C. 512(c). The Site's designated Copyright Agent is:
Warren Reynolds
02038.com
PO Box 373
Franklin, MA 02038
508-561-6259
Warren@02038.com