Looking at the year-to-date home sales figures for Franklin, MA as of mid-September, you'd be justified in thinking that the local real estate market is having a very bad year.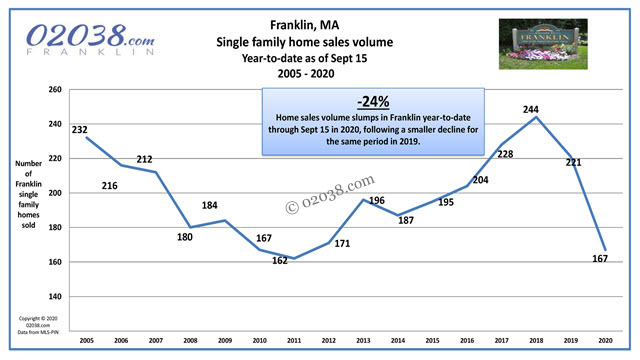 Single family home sales in Franklin, Massachusetts have fallen off a cliff so far in 2020. Sales volume is down 24% compared to 2019. The number of homes sold year-to-date is just about at the lows of the 2009 – 2011 Great Recession.
Video reviews the Franklin market
Lack of supply, not lack of demand
In reality, Franklin real estate has been very strong since the easing of the COVID-19 shutdown last May. Housing in Franklin fully shared in the "Summer Surge" that saw home buying demand soar across Massachusetts.
What appears to be behind the collapse of single family home sales volume in Franklin is the staggering lack of housing inventory for sale in town.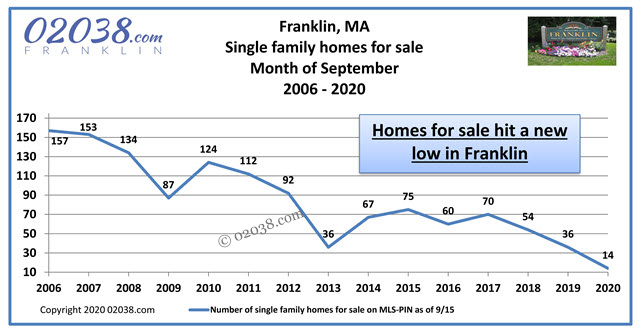 For years, we have been reporting on the relentless rise in Massachusetts home prices which has been accompanied by an equally remorseless decline in housing inventories throughout the Bay State. But the ongoing decline in housing supply for sale in Franklin this year has reached dire lows. On September 15th, 2020, there were only FOURTEEN single family homes for sale in Franklin on MLS-PIN. That compares to thirty-six homes on the same day in 2019, fifty-four in 2018, and seventy on September 15 back in 2017. (That's to say nothing about the mind-boggling fact that there were one hundred fifty-seven single family homes for sale in Franklin on September 15, 2006!)
Franklin not alone in terms of lack of supply
The crushing inadequacy of housing supply does not just afflict Franklin, MA. The appalling scarcity of available homes is pretty evenly spread across all communities in Eastern Massachusetts and, indeed, throughout the Commonwealth.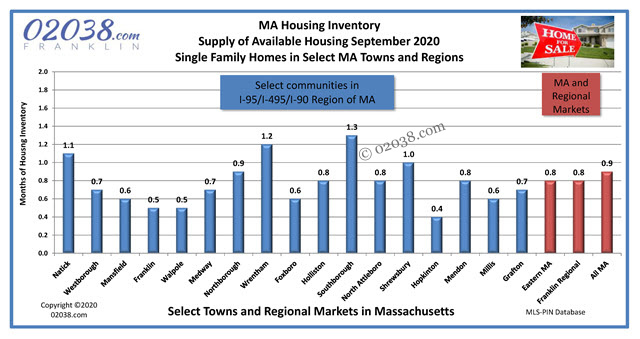 The chart above shows in blue the current housing inventories in select communities in the I-495/I-95/1-90 region of Massachusetts. The red bars show the corresponding supplies in regional markets and all of the Bay State. Six months of inventory is typically deemed a market in equilibrium. Four months is a seller's market. The fact that much of MA has one month or less of single family housing for sale speaks volumes about the difficulty of finding decent housing in Massachusetts.
Homes in Franklin sell quickly
Take a look at number of days to offer in Franklin: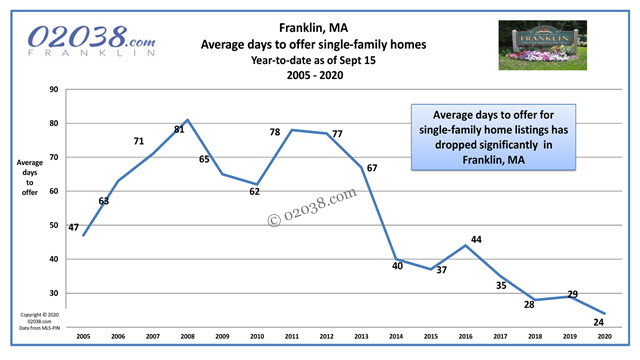 The chart above shows the average number of days a listing takes to find a buyer in Franklin. At twenty-four days, what homes that are available in town sell quickly. (In 2020, many Franklin listings have accepted offers in less than one week.)
Franklin home prices remain relatively affordable
The only good news for Franklin home buyers this September relates to the great value homes in town continue to offer, compared to other desirable communities in Greater Boston.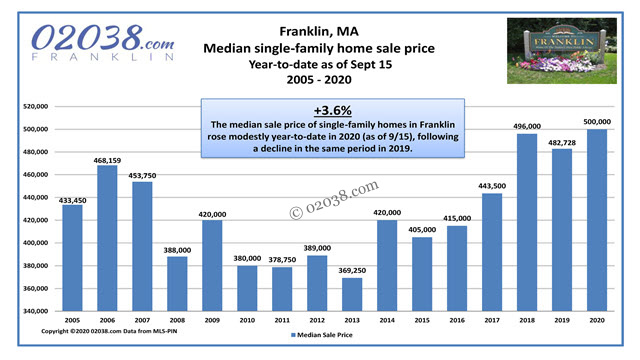 While admittedly at an all-time high, the year-to-date median sale price of single family homes in Franklin, MA is roughly in line with the median price in 2018.
The median sale price in Franklin so far this year is only 19% above where it was in 2014. Compare that to prices in other communities in and close to Boston that have seen prices rise over 50% – and in some cases more than double – in the same period!
Home buyers should give Franklin, MA careful consideration. And prospective home sellers in Franklin do need to price properly. If you have questions about Franklin real estate, either as a buyer or a seller, use the form below to contact Warren Reynolds – he's here to help you!