2020 is on track to be a banner year for residential real estate in Massachusetts. The Bay State housing market experienced near boom-like conditions during the third quarter of 2020, according to data maintained by MLS-PIN. All the robustness is unfolding amid recent reports of emerging difficulties in Boston's commercial real estate and luxury condo sectors. (see more on the latter at the end of this post).
Video review of the upbeat third quarter residential results
Here's a video that reviews the highlights of the 3rd quarter activity:
Record-setting year seems on tap for residential market
By two key measures, 2020 is looking to be a record year in in the overall Massachusetts residential market. The first key measure, the median sale price of single-family homes in Massachusetts, climbed sharply in the third quarter.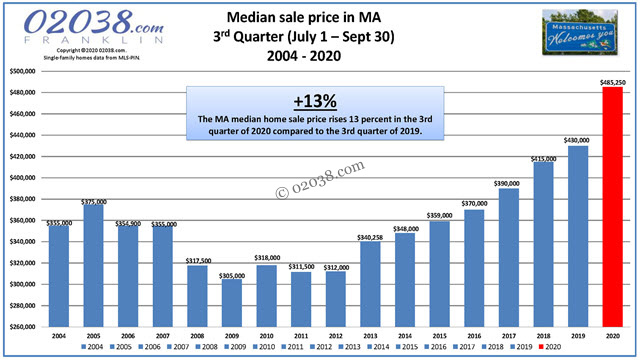 At $485,250, the third quarter's median sale price is at an all-time high, a gaudy thirteen percent higher than it was in 2019. Rising home prices typically denote a solid, prospering market.
Pending home sales on a tear
Pending home sales is the second important gauge of the health of a real estate market. Pending sales provide the most accurate reading on current demand for homes. ("Pendings" are homes that are under agreement, but the sales have not yet been consummated by a transfer of title from the seller to the buyer.)
Ever since the end of the COVID-19 shutdown last May, pending sales of single-family homes in Massachusetts have been breaking records.
Pending home sales in September 2020 continued to outperform prior Septembers, pushing third quarter pending sales to their own record high.
The burgeoning pace of pending sales for the last five months speaks volumes about the overwhelming demand for homes across Massachusetts, and hence the strength of the MA real estate market.
Extremely low supply of homes
The other side of housing demand is housing supply. And that is where conditions in 2020 are creating difficulties for home buyers . . . and in a roundabout way, for home sellers as well.
For years, we have been reading about ever-dwindling supplies of homes for sale in Massachusetts.
But in 2020, we are witnessing what is threatening to become an outright depletion of supply. The number of single-family homes for sale on MLS-PIN this October is HALF of what was available in October 2019.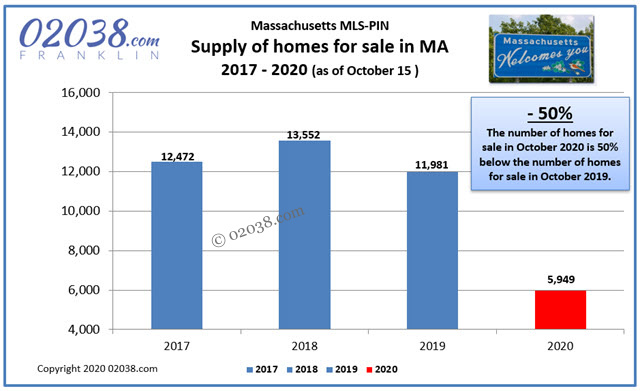 Looking farther back in time, it becomes all too clear how shockingly low the supply of homes has become in the Commonwealth of Massachusetts.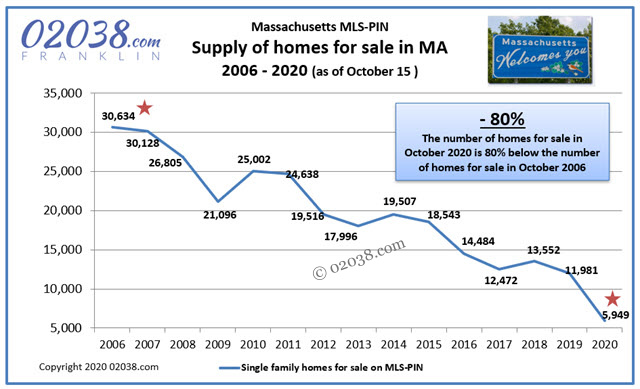 To give you context on the dismal level of housing supply this fall, there were over thirty thousand single family homes for sale on MLS-PIN in October 2006 and there are under six thousand this October!
Lack of new construction, fears about COVID-19, and the sense among many prospective sellers that "there's nothing to buy, so I'm not selling" have combined to keep many re-sale homes off the market in 2020. (That's the difficulty the low-inventory conditions are creating for prospective home sellers. Many homeowners want to sell, but there is nothing for sale that they want to own, so they are staying put in their current housing.)
But the contrarian take is compelling: If you own a home in Massachusetts and want to move, clearly now is a wonderful time to put your property on the market: there's so little for sale and so many buyers!
Clouds on the horizon?
The apparent boom-times for residential real estate in Massachusetts this year is masking developing weakness in sectors of the MA market. As outlined in a recent article in the real estate and banking trades-journal Banker & Tradesman, there are now significant signs of distress in both the commercial and the luxury housing markets in Boston.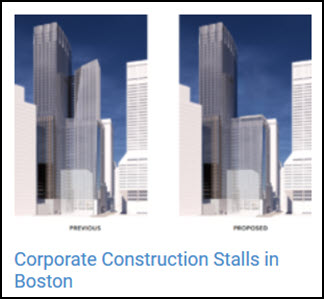 With all the current uncertainty about health and the economy in light of COVID-19 as outdoor temperatures drop this fall, it remains to be seen if difficulties in the Boston market signal trouble ahead in the broader Massachusetts real estate market in 2021.
If you have questions about buying or selling real estate anywhere in Massachusetts, you can get answers from attorney and real estate broker Warren Reynolds. Use the form below to contact him – Warren Works for You!
Copyright ©02038.com