2405 Franklin Crossing Road offers many updates at an attractive price! Over the last two year, this unit at the Franklin Crossing Condominiums in Franklin, MA received a new kitchen, an updated bath, new heat and AC, new vinyl windows and recessed lighting in many rooms. With an asking price of $260,000, it offers great value!
Wonderful location in a quality town
From Unit 2405 Franklin Crossing Rd, you'll have ready access to lots of shopping and service venues, including grocery and drug stores, medical offices, restaurants and eateries, and coffee shops. It's just seconds to Franklin Village Shopping Center, home of Stop&Shop, Marshalls and a slew of other stores, service providers, and places to eat .
People with children will love that the well-regarded Franklin public schools, from pre-K to secondary, are all situated a short drive from Franklin Crossing. Franklin's Oak St Elementary School, Horace Mann Middle School and Franklin High School are all on Oak St, just 1.7 miles away.
An interchange with I-495 is only 0.5 mi distant. Unit 406 is a mile drive to BJ's Wholesale and 1.4 mi to Forge Park Commuter Rail station with service to South Station in Boston. This is a truly lifestyle-enhancing location!
Video shows what this unit offers
Renovated kitchen
The kitchen has received substantial updating over the last two years.
The kitchen boasts oak-finish cabinets. The kitchen drawers have dovetail joinery and soft-close operation. The kitchen is further enhanced by an undermount sink , vinyl-plank flooring and stainless-steel appliances. The range even has a handy air-fryer feature!
3-D tour and floor plan
Use the links in the images below or in the text at right to access an innovative 3-D tour and also an interactive floor plan for Unit 2405 Franklin Crossing Road in Franklin, MA.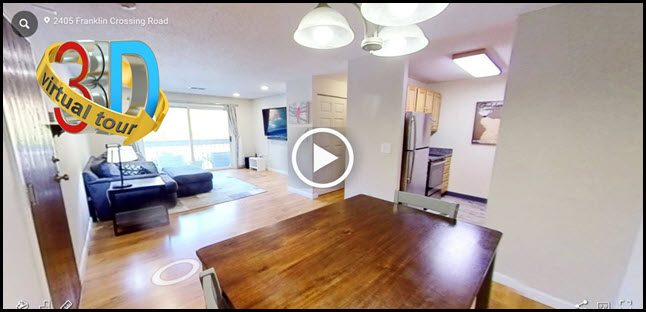 You can use the 3-D tour to virtually walk-through the unit anytime you like. And the floor plan has photos of each room integrated into it. The floor plan also has a wonderful "furniture placement" function that allows you to size and place into each room all of your pieces of furniture. Great for planning how each room will work with your current (and future) furniture items!
Living and dining rooms
The combination living and dining rooms boast pretty laminate flooring and recessed lighting. A slider opens to an enclosed porch which overlooks the common area and provides views of the woods.
Stylish, updated bath
The bath has a new vanity, sink, fixtures and lighting. A new mixing valve and shower head have been installed in the tub/shower.
Two ample bedrooms
2405 Franklin Crossing offers two spacious bedrooms. The master is 18 ft X 11 ft, while the 2nd bedroom is 17 ft X 11 ft.
The master bedroom has double closets. One closet is walk-in and affords valuable storage.
Unit 2405 offers solid value
Franklin Crossing home values have been rising sharply for the last several years.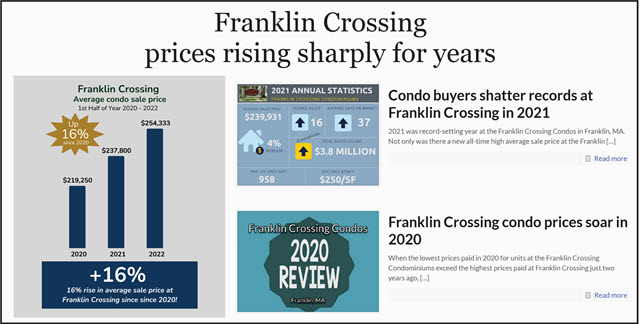 Follow the hotlink in the image below or at right to see the three highest sale prices at Franklin Crossing during 2022.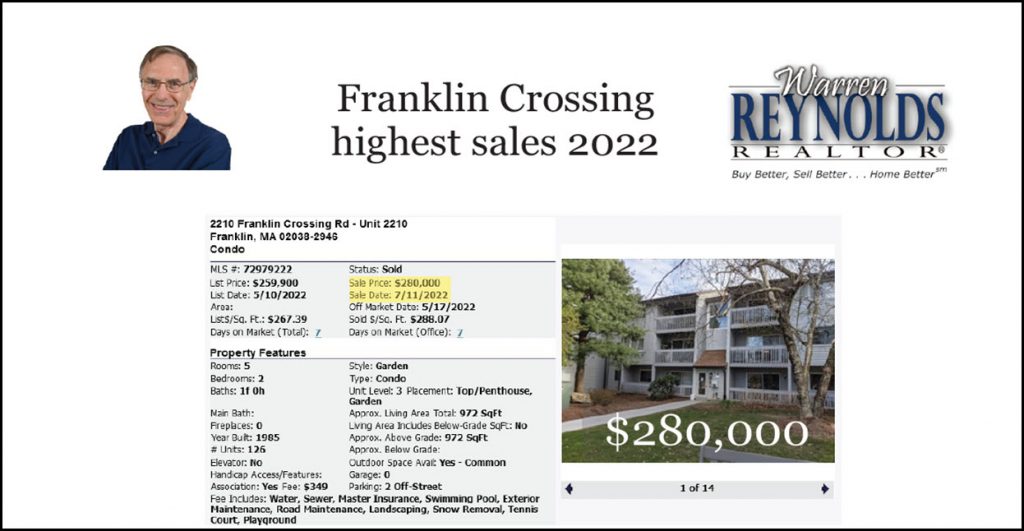 To date, the highest price paid for a home at Franklin Crossing is $280,000, the price paid for Unit 2210 which sold in July 2022. At an asking price of $260,000, Unit 2405 offers solid value!
Learn more about Franklin Crossing
Follow the hotlink in the image below to learn more about living at the Franklin Crossing Condos in Franklin, Massachusetts.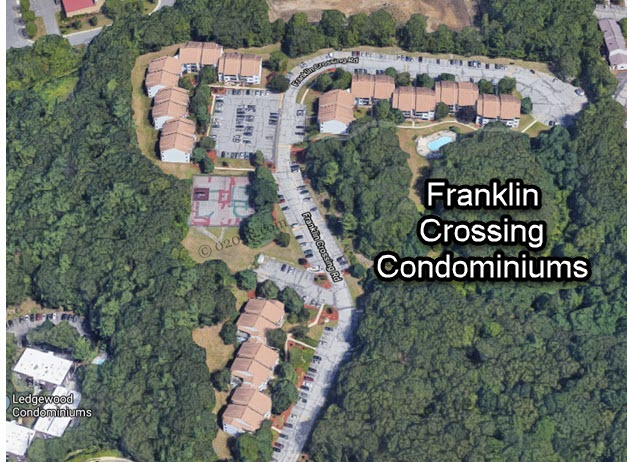 During the warm summer months, residents at Franklin Crossing enjoy the beautiful in-ground pool.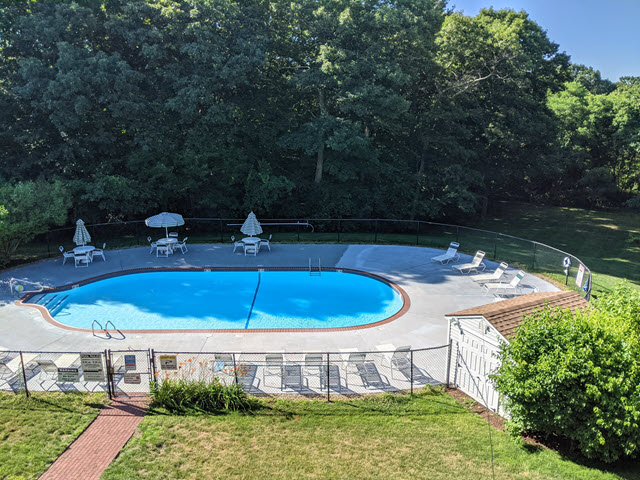 The pool is just steps away from Unit 2405!
If you have questions about the Franklin Crossing Condominiums or would like to set up an appointment to get inside Unit 2405, use the form below to contact us!
Copyright ©02038.com