What a difference the last five years have made at the Franklin Crossing Condos in Franklin, MA! The average sale price of homes at Franklin Crossing has jumped 53% since just 2017, and now sits at an all-time high of $256,233.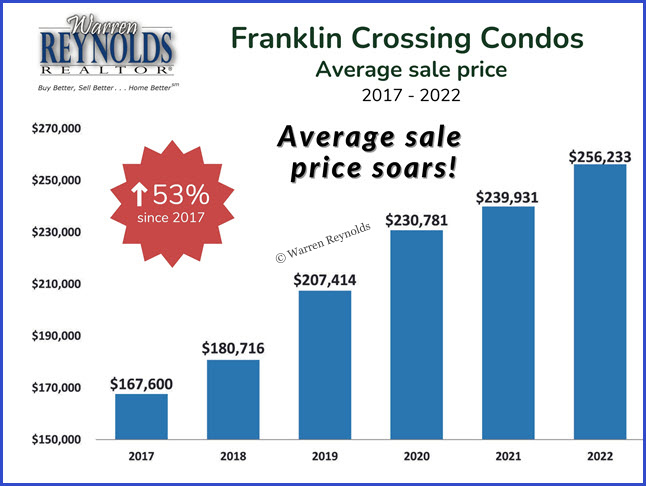 Long term view
The chart below shows the annual average sale price at Franklin Crossing going back to 2004.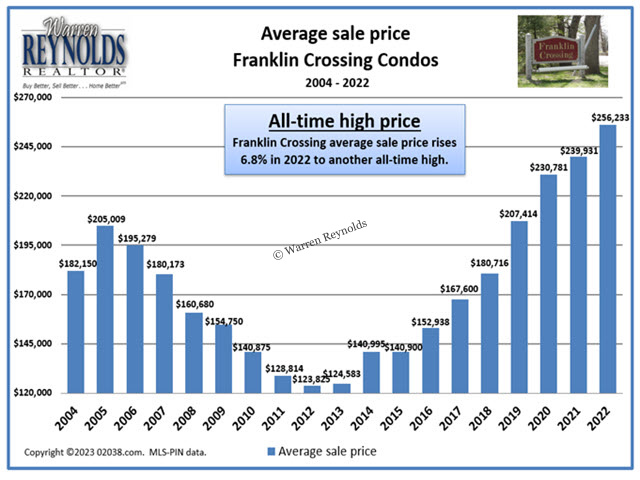 After peaking in 2005, the average sale price at Franklin Crossing fell sharply during the Financial Crisis of 2007 and the subsequent Great Recession. 2012 marked the nadir of Franklin Crossing unit values.
The ensuing price recovery has been very impressive. The average sale price at Franklin Crossing has more than doubled (+107%) since 2012's bottom!
Sales volume remains robust in 2022
Fifteen units sold during the year, down only one sale from the previous year's total.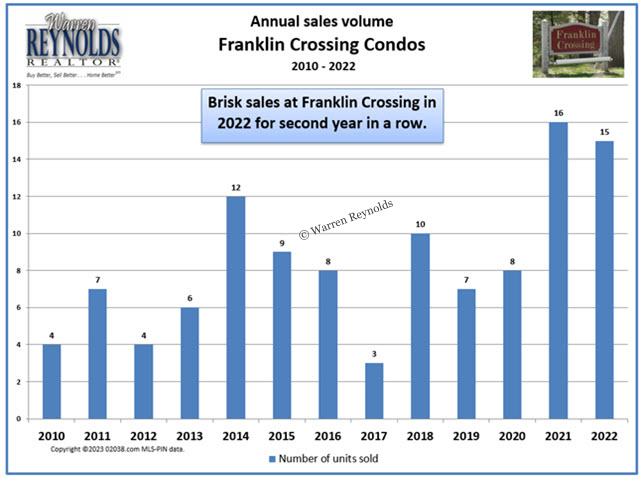 Annual sales volume the last two years at Franklin Crossing has been elevated, to say the least. Despite the recent run up in home values at Franklin Crossing, buyer demand for homes there has kept pace with supply. Buyer interest in this condo community has remained keen because Franklin Crossing offers relative affordability in the booming Massachusetts condo market.
Highest sale prices at Franklin Crossing in 2022
We are honored to have produced the two highest-priced sales at Franklin Crossing in 2022.
Each of these units were marketed digitally via YouTube videos and social media campaigns. This marketing drew a lot of buyer interest and each unit sold quickly.
Top broker at Franklin Crossing in 2022
We also are pleased to announce that we listed and sold more units at Franklin Crossing in 2022 than any other real estate broker!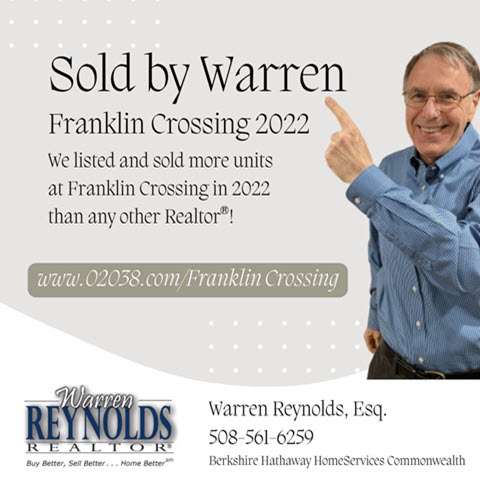 If you're thinking of selling your unit at Franklin Crossing, call/text us at 508-561-6259 for a free, no-obligation consultation. We'll show you how we'll help you achieve the most in your condo sale. Contact us today!
2022 Franklin Crossing sales report
Click/tap on the hotlink in the image below to download a review of all the units at Franklin Crossing that changed hands during 2022.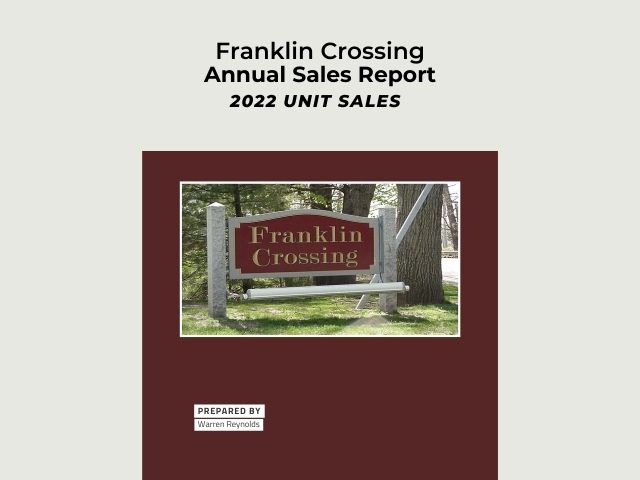 In the report, you'll see all fifteen of the units that sold in 2022. There was quite a range of selling prices with these units. The diversity in price points is mostly attributable to each unit's interior condition and location within their respective buildings.
For help and advice on Franklin Crossing Condos
Contact us for help and advice on any aspect of buying or selling at the Franklin Crossing Condominiums in Franklin, MA!
Copyright ©02038.com