The average sale price of homes at the Highwood Condominiums in Franklin, MA slipped 4.8% in the first-half of 2019, compared to the prior year's first-half average.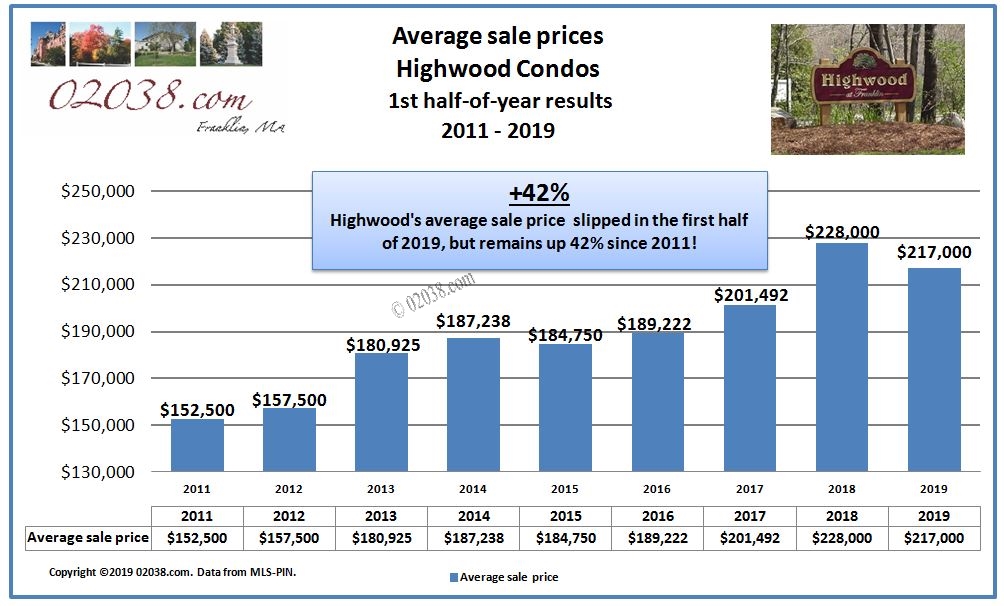 The decline came on the heels of very strong sales at Highwood for all of 2018 and leaves Highwood's current average sale price 42% higher than it was back in 2011.
Highwood's first-half 2019 sales
Below are all the units that sold at Highwood during the first half of the year:
Highest Highwood sale so far in 2019
At $234,000, 167 Highwood Dr was the highest priced Highwood sale in the first six months of 2019.
This condo had 1,122 sq ft of living area on two levels; there was no basement. The home offered two bedrooms with one full and one half bath.
Why the average sale price at Highwood dipped
Highwood has three associations (Highwood I, Highwood II and Highwood III). Each association has distinctive unit styles that sell at different price points. Highwood I and II feature many one level, garden-style condos that sell at lower prices. On the other hand, Highwood III has a number of larger units with basements that typically sell at price premiums.
The first half of 2019 saw none of the more-expensive Highwood III units change hands. And of the seven Highwood units that sold so far this year, four were the less-expensive garden units. Accordingly, 2019's average sale price was depressed. On the other hand, the sales during first half of 2018 had one expensive Highwood III unit and only two of the garden units in its sales mix; 2018's first-half average price was correspondingly boosted.
So 2019's average-sale-price decline looks to be a statistical fluke due to the more modest condos in its mix of sales. By year's end with more units having sold, the average sale price at Highwood will likely be back at or near all-time highs!
Buying or selling at Highwood
If you're thinking of selling your unit at Highwood, Contact Warren Reynolds for expert help with pricing and preparing your condo for market. Having listed and sold units at Highwood for over twenty years, Warren really knows this popular condo community!
For those interested in living or investing in Highwood, you can learn more about the Highwood Condominiums here. If you have any questions about the three Highwood associations or would like to see condos for sale there, Warren's here to help!
Copyright ©2019 02038.com